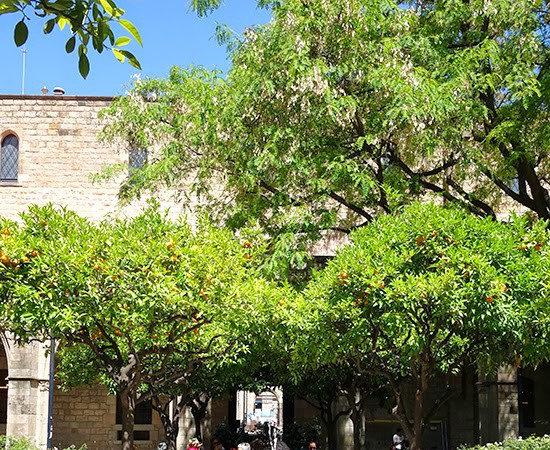 Shopping and Eating in Ciutat Vella, Barcelona's Old City
Yesterday started and ended at our new favorite Barcelona plaza! Jardins de Rubió i Lluch in El Raval just happens to be across the street from the apartment where we'll stay tonight with newly arrived Lauren and Matt. Orange trees, a public library, an art school, pharmacy college, medical school and cafe all fill this 14th century garden.
Shane and I walked from the garden across Las Ramblas (which I cannot bear at all…so crowded) and ducked over to a quiet roman plaza and a three-story sporting goods store called Decathalon. This kind of store can be so fun to explore in a foreign country. They had SO many things related to swimming and spending the summer at the beach. I picked up a bikini and rashguard for myself and a pair of tiny trunks for Ev.
From the sports store, we walked to the plaza in front of the Cathedral of Barcelona. The visitor's center here has an interesting interactive map that shows the city's growth and a nice gift shop of local crafts.
Spent some time browsing the antique market in the plaza. Like France, the market offered some great prices on silver-plate serving pieces.
Next, we crossed over to El Born and explored the Santa Caterina Market. Oogled tomatoes while eating a 2 euro paper cone of tiny dried sausages and crackers.
By now, it was time for lunch and we picked a small cafe in the market that seemed to be popular with painters and construction workers. For 10 euros, we had a very hearty three course lunch starting with chickpeas in tomato sauce and paella.
We had calamari and sausages for the main courses and then flan for dessert.
After lunch, Shane and I walked around the Born neighborhood as it closed up for siesta. We found one street that seemed to be the hub of a few tech startups.
Did some window shopping at fun jewelry stores.
In the afternoon, we met up with Rob – finally done with his conference. Our first round of tapas at a place called Casa Martino.
Carajillos (brandy and espresso) drinks along with grilled leek, grilled artichoke, marinated tuna, jamon and tomato bread.
The owners were super friendly!
After that appetizer, we walked back to Jardins de Rubió i Lluch to eat at a lovely cafe hidden in the plaza called El Jardi. A nice mix of tourists and locals with their dogs and families. Started with the homemade vermouth topped with soda water.
We shared generously-sized plates of beef carpaccio with sevilla oranges, potatas bravas, mini chorizos and a beautiful burata salad.
It was a perfect way to end our last night as a "trio" in Barcelona before our friends arrive later today.