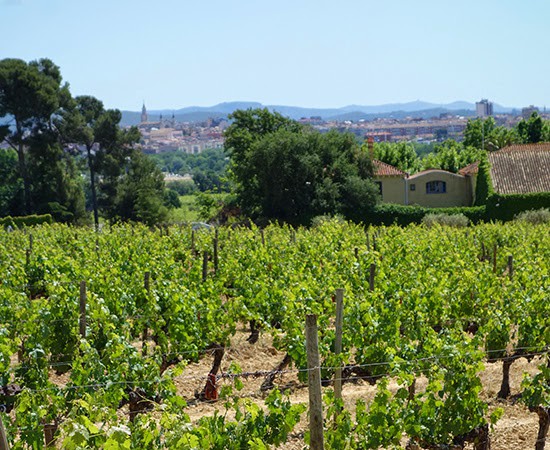 Eating, Biking and Wine Tasting in Penedès, Spain
Shoot! I'm falling behind on my reports from Spain. On Friday, we picked two more friends before setting off to explore the Catalan countryside: Lauren and Matt. With driving a rental car, logistics for five and a required minimum of four hours of eating a day (it's the Spanish national occupation), I've had barely a few minutes to look at the photos from our weekend adventures. I'm writing this tonight from an very elegant equestrian estate way up in the mountains toward the French border.
The whole idea with this route is that Matt and Rob bicycle for four days along the BCN 300 – a series of connected mountain bike trails in the small towns behind Barcelona – while the other three of us explore and then meet them in the new city for dinner each night. Our loop is Barcelona > Montserrat > Caldes de Monbui > Sant Esteve de Palautordera > Barcelona. So, on Saturday – the guys headed off by bike and we went wine tasting in the Penedes region. We stopped for a coffee in Vilafranca del Penedès and then went to meet our 11:30 tour at the Torres Winery.
First, there was a 15 minute movie about the Torres family. Then, we walked the vineyard with a handful of Japanese tourists and an enthusiastic young guide and who instructed on the intricate details of different vine cutting techniques. Probably almost an hour of walking at talking about viticulture techniques, the architecture of the facilities and visiting the cellars.
All while wearing very attractive neon green safety vests!
We had two tastings as part of our tour in a modern event facility as part of the Torres estate.
Downstairs, the most fragrant courtyard with trailing star jasmine providing shade around a fountain.
We took a solar-powered tram around the rest of the aging and bottling facility and finally ended with a family museum. An extensive tour, to say the least! By the time we finished our second wine tasting, we had been at the winery for more than three hours and it was getting late for lunch, even by Spanish standards.
Luckily, we were recommended to eat at a restaurant tucked away in a riding stable right across the street called Cal Cassoles.
We sat at a table overlooking another vineyard and ate a massive meal of red pepper hummus, cod carpaccio, grilled octopus, slow-roasted lamb shoulder, and crema castalan. All accompanied by two bottles of wine. The wine is so inexpensive here, Shana and Lauren thought they were ordering glasses – oops!
We watched the afternoon clouds roll-in over the Penedes countryside while eating and finally finishing with espressos.
Lunch finally ended and I drove the car (sober since I had only been sipping the wine here and there) up the road to Sant Marti Sorroca and the Ermita de Sant Joan de Lledó hilltop church.
Amazing views from us here of the whole valley between us and Montserrat. So green, it reminded me of being on the hillside in Maui…but with a lot more castles.
A quick drive over to Monistrol de Monserrat – a small "base camp" town below the famous monastery, where we reunited with our bikers after their long day of riding and had dinner together to de-brief on our big adventure days.