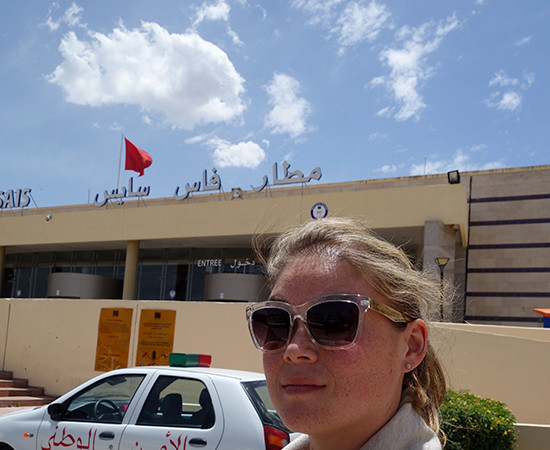 Matt, Lauren, Rob and I barely made it to our flight from Barcelona to Fes. We were running full-speed through the airport the minute the gate was supposed to be closing thanks to RyanAir's insane baggage drop-off lines. And at the same time, fairly grumpy because we loved Barcelona so much and didn't want to really leave. So we landed in Africa, in a state of intellectual and emotional unpreparedness for what lay ahead.
Fes is described by TripAdvisor as "a UNESCO World Heritage Site, that will transport you back to medieval times." Which sounds all lovely and romantic until you stop to think about what exactly medieval times are really like.
It was 93 degrees when our taxi dropped us off at the medina gate and two men rushed up to load our luggage into a hand cart and plow immediately into the tiny streets of the walled city – full of stray cats and the smells of cedar, varnish, orange blossom water and garbage. I was so shocked, it didn't even occur to me to take photos during this rush. We wove through countless corridors until landing in a three foot wide alleyway with a four foot tall steel door. The door opened up directly into tiny, tiny stairs of our medina home. 700 years old – imagine a shoebox placed vertically with 60% cut out for a courtyard and four floors on one side and three on the other. (It's impossible to accurately describe, I'll share some photos which also don't describe it well tomorrow).
After several earlier confirmations that the house would have good wifi, we were told that unfortunately copper thieves had cut the wires and that the service would definitely be restored "tomorrow." This set us off in a new panic – with only 90 minutes before Rob's big all-team Skype call for work to track down and install sim cards, figure out a combo of tethering and/or cafe wifi. It was a miracle!
We sat in that cafe with glasses of orange juice and hot mint tea for a few hours, watching donkeys loaded with goods go back and forth, and moms walk their kids home from school. It was a good way to try to ease out of our shock. Back at the house, we rested for a bit from the heat of the day and decided to have a picnic dinner on the terrace.
Lauren and I had basically run out of energy to be embarrassed by this point. We dove straight in to the market street near our house – taking the live chickens and goat heads in stride along with an entirely new currency. We bought tomatoes, cucumbers, olives, garlic, olive oil, three kinds of handmade bread (a cornbread, a thick crepe stuffed with cheese topped with tomato and onion and a kind of thin cheesy crepe cooked on a cast iron dome) and sweets stuffed with almonds in orange flower water syrup – all for less than $5. In this decidedly non-tourist part of the market, people were kind and helpful (maybe a little surprised by us too). Especially the women vendors who took no nonsense from anyone and insisted on giving us the real price.
This was the best meal! We ate on the roof with a mixed feeling of being completely overwhelmed, homesick for Spain and victorious in our day's tech and food shopping accomplishments.
The 90 degree heat started to dissipate and early signs for tomorrow's storm approached. Cute kids on neighboring terraces flirted with us.
Goodnight, Morocco!