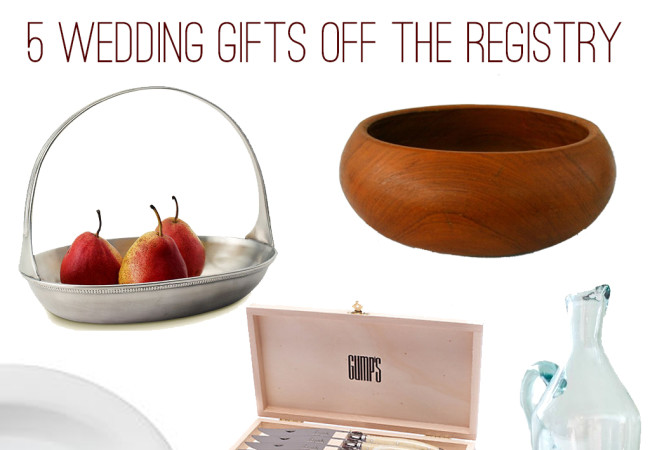 5 Off-the-Registry Wedding Gift Ideas
Wedding season is just heating up here in California, where late summer and early fall weather tends to be nicer than June. And, with it, time to consider buying wedding presents. I think if I had a different job than running my current company, I would be a registry consultant at Gump's in downtown San Francisco. I've been married 7 years and have thrown, conservatively, 200 dinner parties – so I think I can safely be called something of an expert.
I love giving a wedding present that is memorable, durable and something you wouldn't buy for yourself. So, not a rice maker. When you find registries that have been already picked over or limited to items that are too practical, sometimes you have to go rogue. Here are my five best picks for buying a memorable, classic off-the-registry wedding gift. And don't forget to include a gift receipt for returns just in case: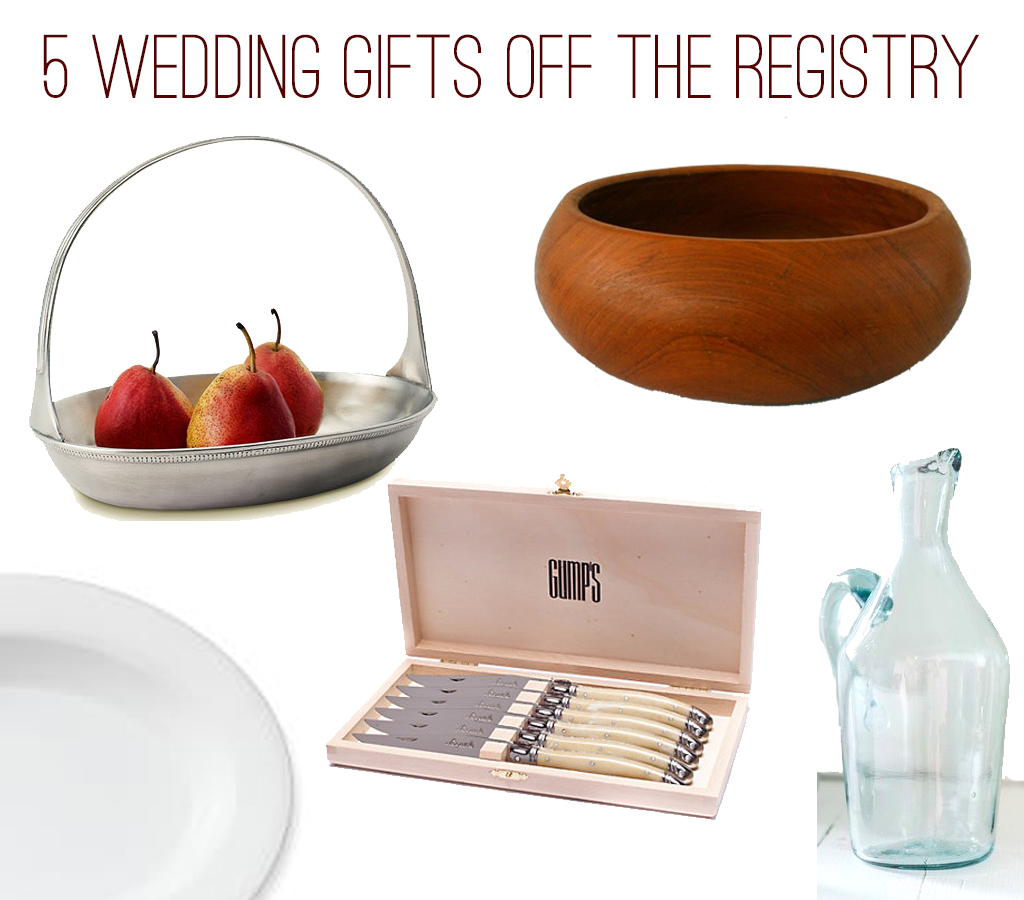 1. Match pewter oval basket – $225. I registered for this at my wedding and use it all the time. During the week, it holds garlic, ginger and onions for ready use on the kitchen counter. At dinner parties, the basket is repurposed to hold napkins in a buffet or hot rolls on the table. In indestructible, no-polish pewter, this basket is a real heirloom piece.
2. Solid teak salad bowl – $75. High quality salad bowls, carved from a single piece of wood are hard to find these days but will last decades with good use and oiling.
3. Laguiole steak knives – $165. This set of 5 authentic french Laguiole steak knives with mother of pearl handles comes in a wood box imprinted with Gump's classic San Francisco logo. Ours are still super sharp and really beautiful.
4. White platter – $35. You can always use another big white platter, even if your only entertaining is putting out chips for an annual Super Bowl party. If the bride's registry doesn't include one, you're pretty safe with a basic option from Williams-Sonoma. Or, if you think they already have a platter, a big wood cutting board that can double as a cheese plate is great too.
5. Hand-blown glass pitcher set – $104. A nice sized, good quality glass pitcher is great to have both for drinks and for using as a vase. This set is quite "artisanal" from Portland, via Mexico. Buy it with eight glasses for a set that's perfect for brunch or outdoor entertaining.