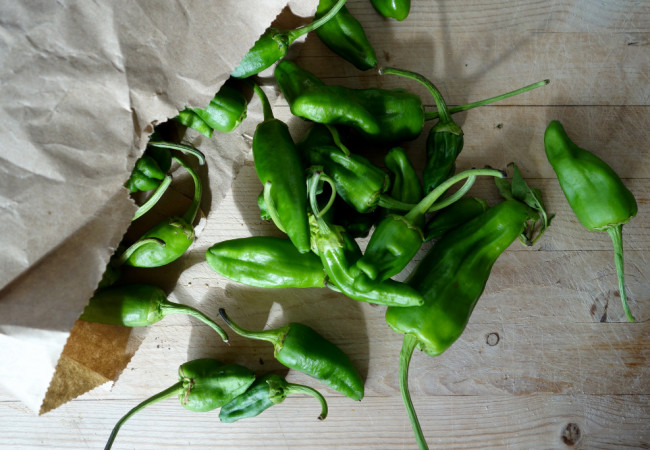 A Spanish Dinner Party Prepared in One Rápido Hour
As much as I like to prepare and cook ahead, sometimes a dinner party creeps up on me. I had invited Lauren and Octavia over for dinner on Thursday and then proceeded to get super busy with client work all week. By the time 5:00 rolled around, I had done absolutely zero to prepare for guests arriving at 7:00. Not a problem!
Menu
Vermuth tasting
Blistered padron peppers 
Young mahon cheese from Spain
Ripe tomatoes with Oregon sea salt
Warm rustic bread
Pink champagne float with raspberry and mango sorbet
Step 1: Shop
Quick run to Whole Foods for cheese first. I was delighted to see padron peppers for sale – the same that Lauren and I had prepared for a dinner party in Barcelona just a couple months ago. Of course, these cost $4 a basket instead of the less than a dollar a pound in Spain. Next, over to Safeway across the street for 5 lbs of mussels, bread, shallots and parsley. I always ask the fishmonger for a new bag of mussels from the back to ensure the freshest, most delicious ones. Already had ripe tomatoes, wine and ice at home. By the time I was back, it was 5:45.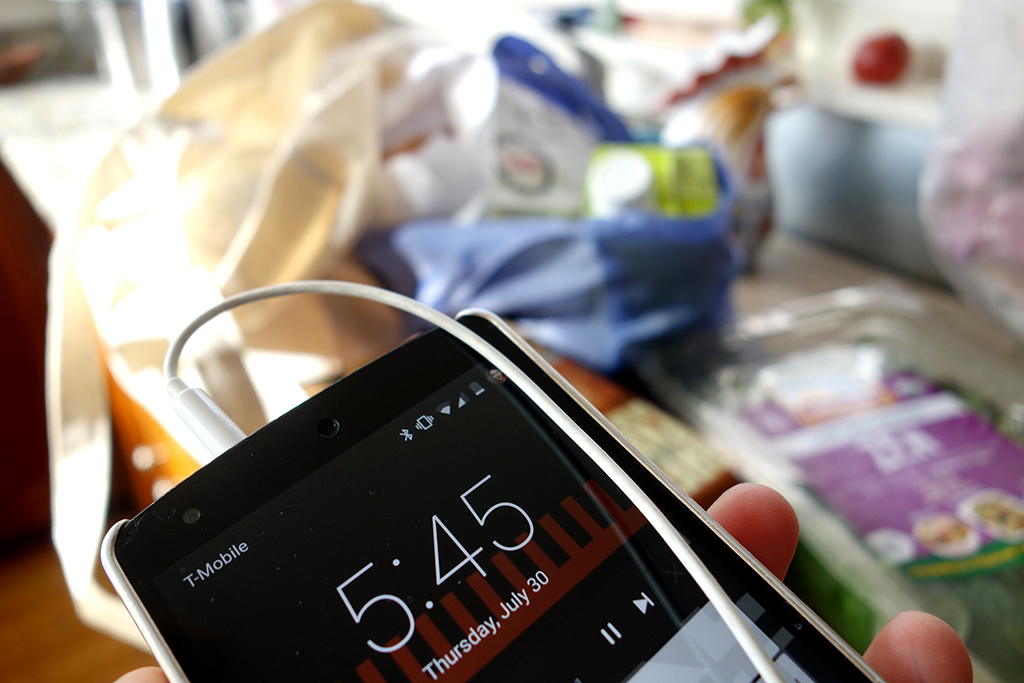 Step 2: Set the table
For this casual dinner with friends, I put out wicker placemats, cloth napkins, glasses, regular tableware, silver flatware and a couple tealights. No need for flowers or extra fuss.
Step 3: Prep
I emptied the mussels from their festive purple net into a colander to pick out any that were already open or looked weird. A couple still had "beards" that needed to be scrubbed off. Rinsed well.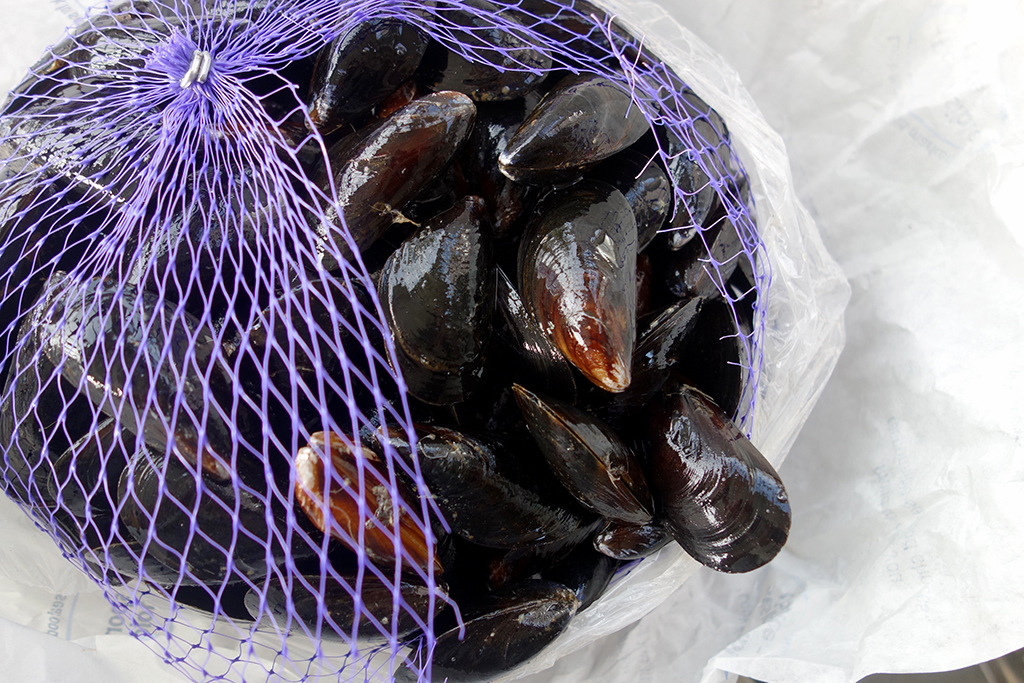 In the biggest pot I have, I made a broth for the mussels using plenty of garlic, shallots, butter, olive oil, parsley, white wine and ripe tomatoes. Added smoked paprika and a few padron peppers to give the classic mariniere sauce a Spanish flavor.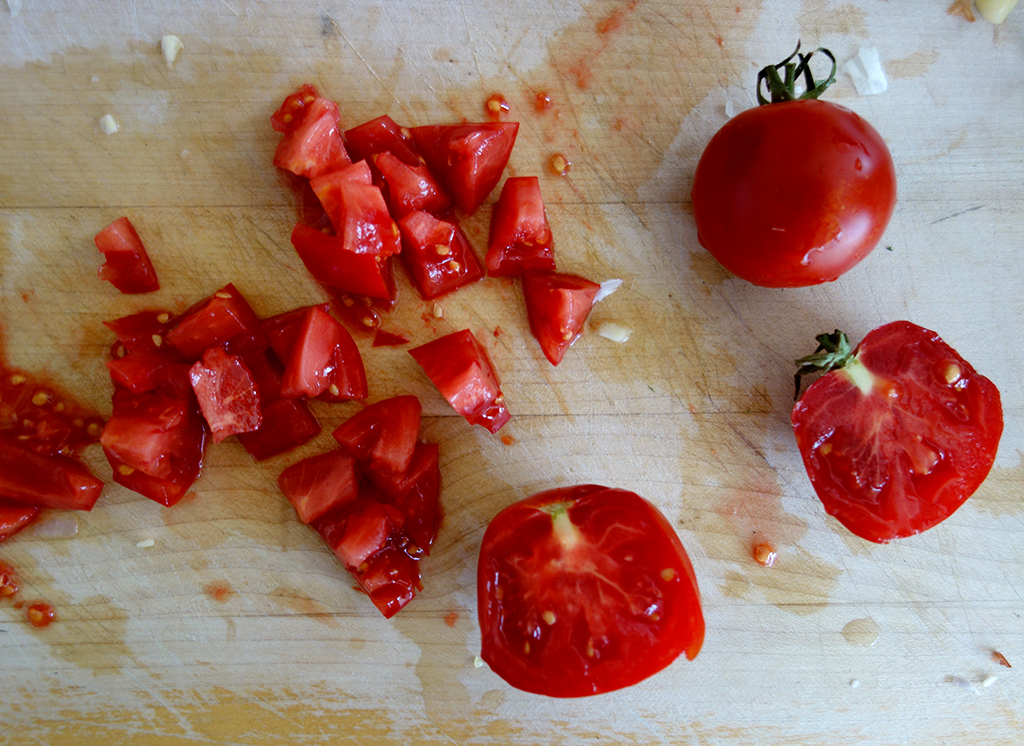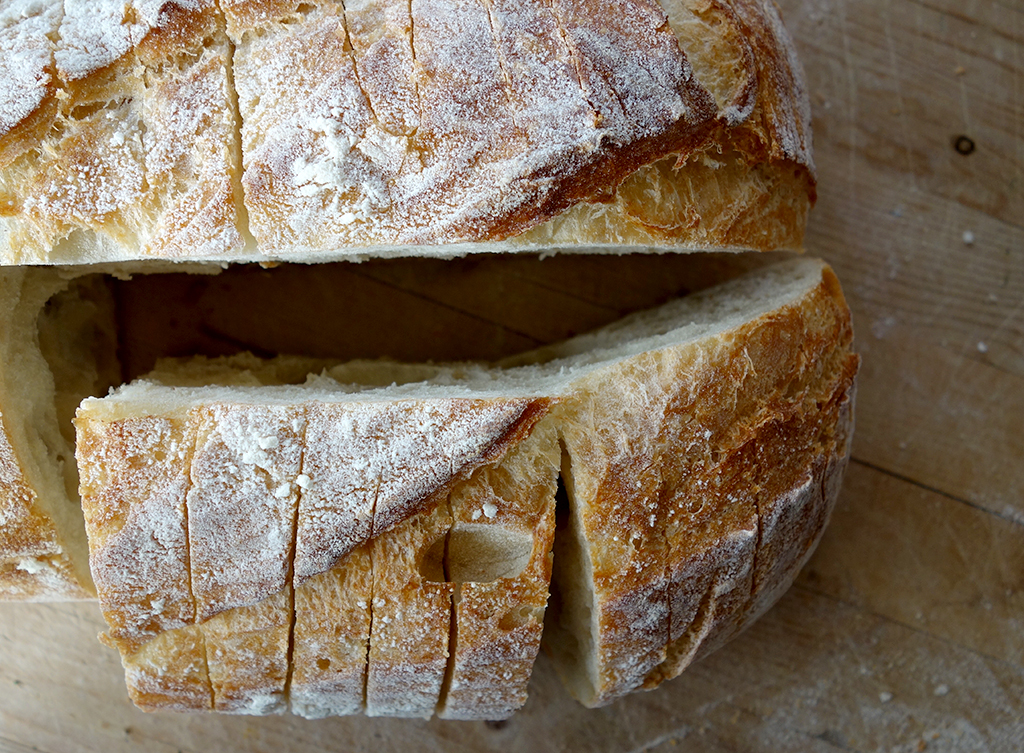 Set the broth to simmer while cutting a loaf of bread into slices, putting out cheese and tomatoes on a wood board and cleaning the kitchen.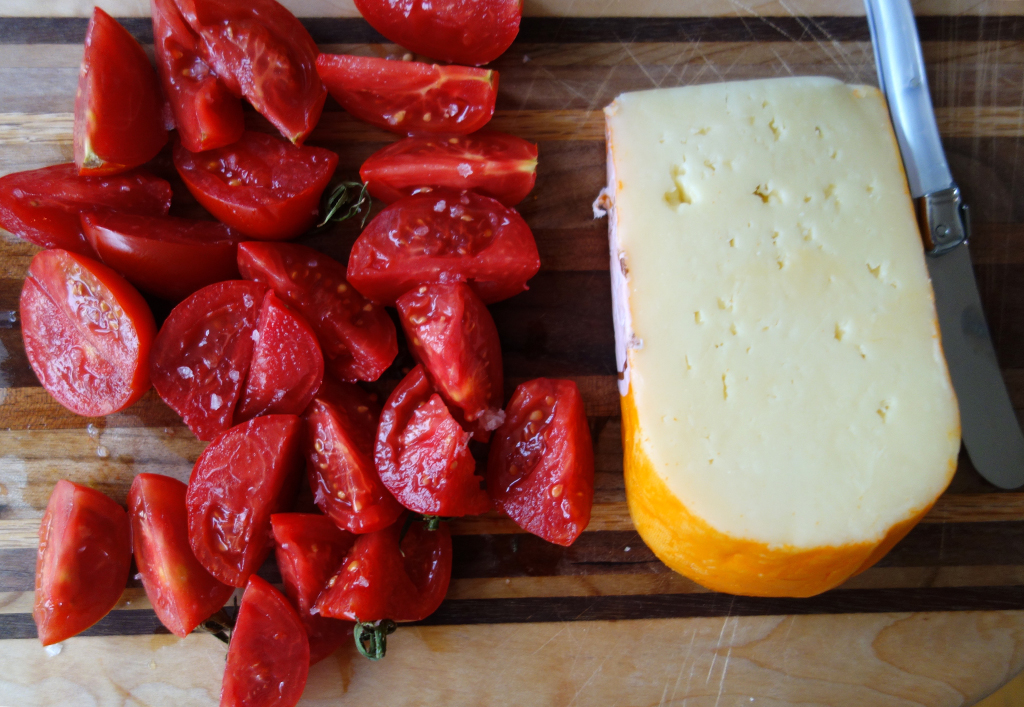 Step 4: Appearances
I tossed on a clean shirt and freshened up my makeup. Rob cleaned the bathroom. By 6:24, everything was somehow done and ready. I had time to answer a few emails and relax before Lauren and Octavia arrived.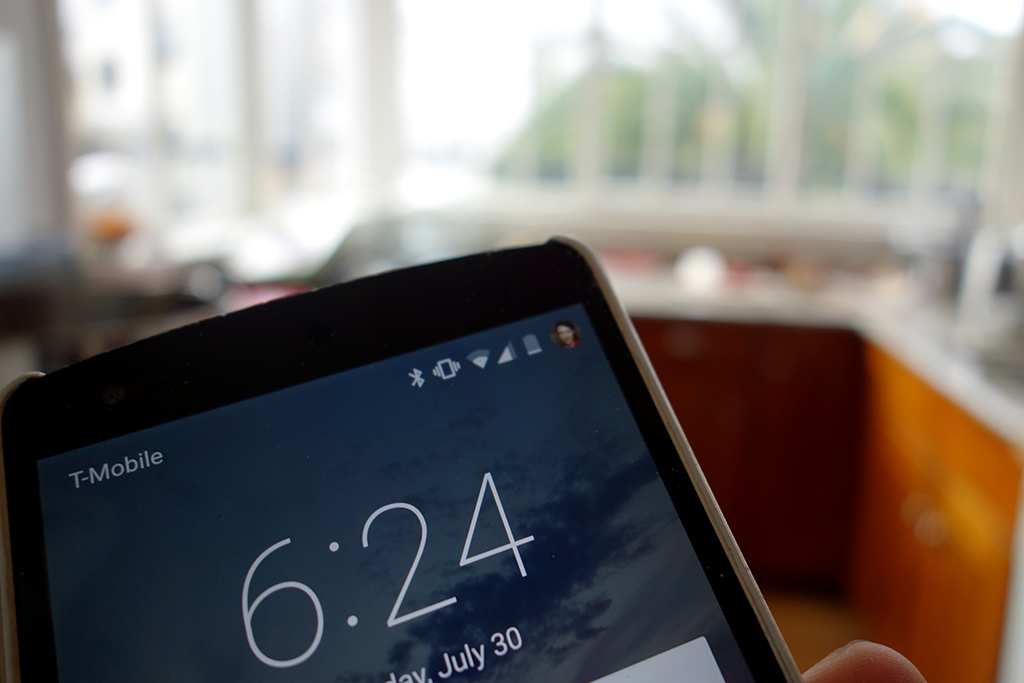 Step 5: Party!
Lauren brought four bottles of dry and sweet vermuth for us to try to replicate the lovely vermuth we had in Spain; two Italian Martini brand and two local California Gallo brand. Into small glasses with ice, an olive on a skewer and a splash of soda water.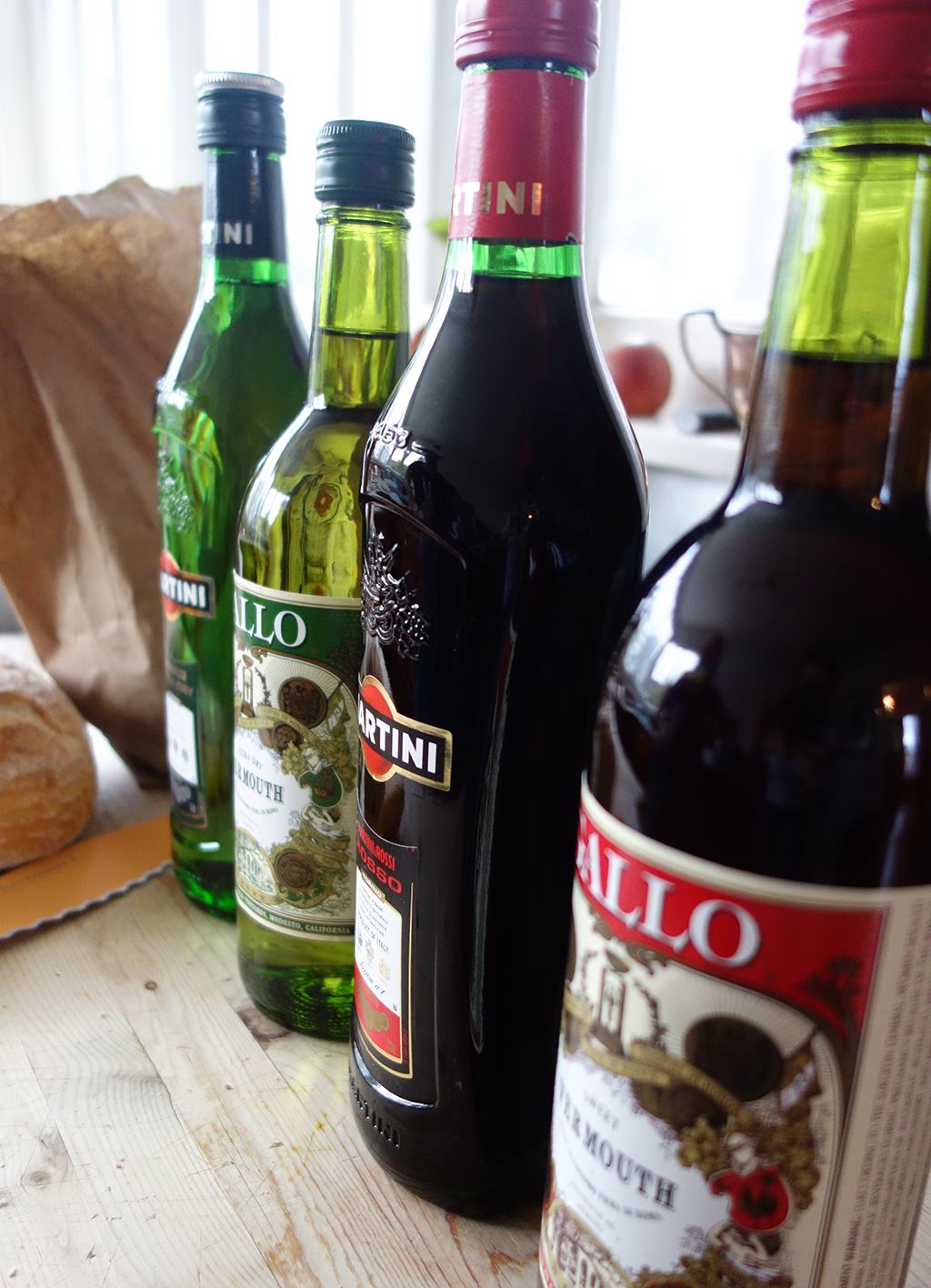 Lauren had proven her padron pepper roasting skills in Barcelona, so I she was tasked with cooking up a batch of the emerald delights in a pan with olive oil.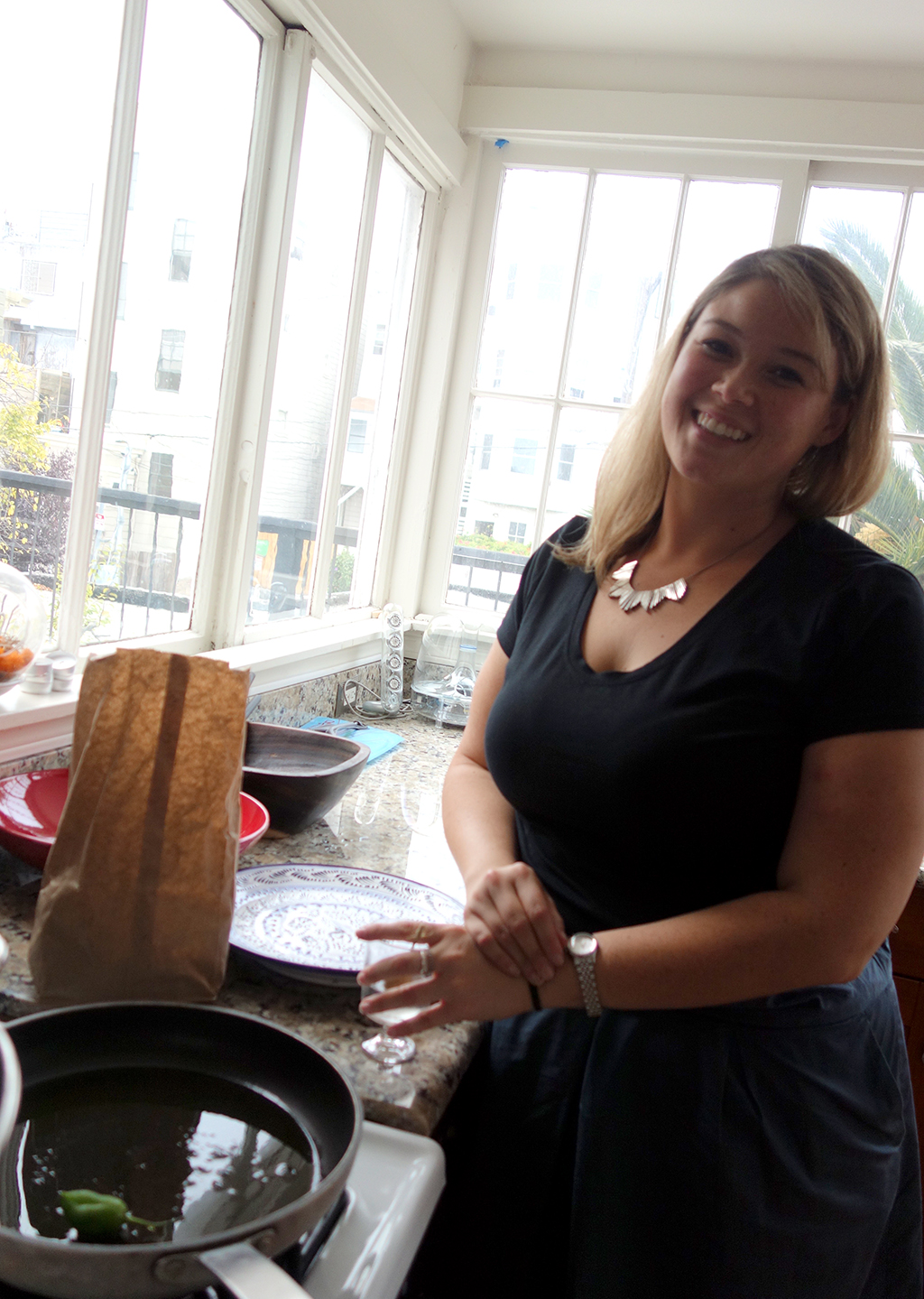 I turned the oven on to warm up while we enjoyed the roasted peppers with vermuth cocktails in the living room. The peppers have a "russian roulette" quality where one in every 10 or so is actually spicy – a fun bit of danger to bring to appetizers. Brought the broth up to a boil and added the mussels on top to steam. Everyone came back to the kitchen to refresh their drinks and help ladle up big bowls of mussels with the delicious white wine broth.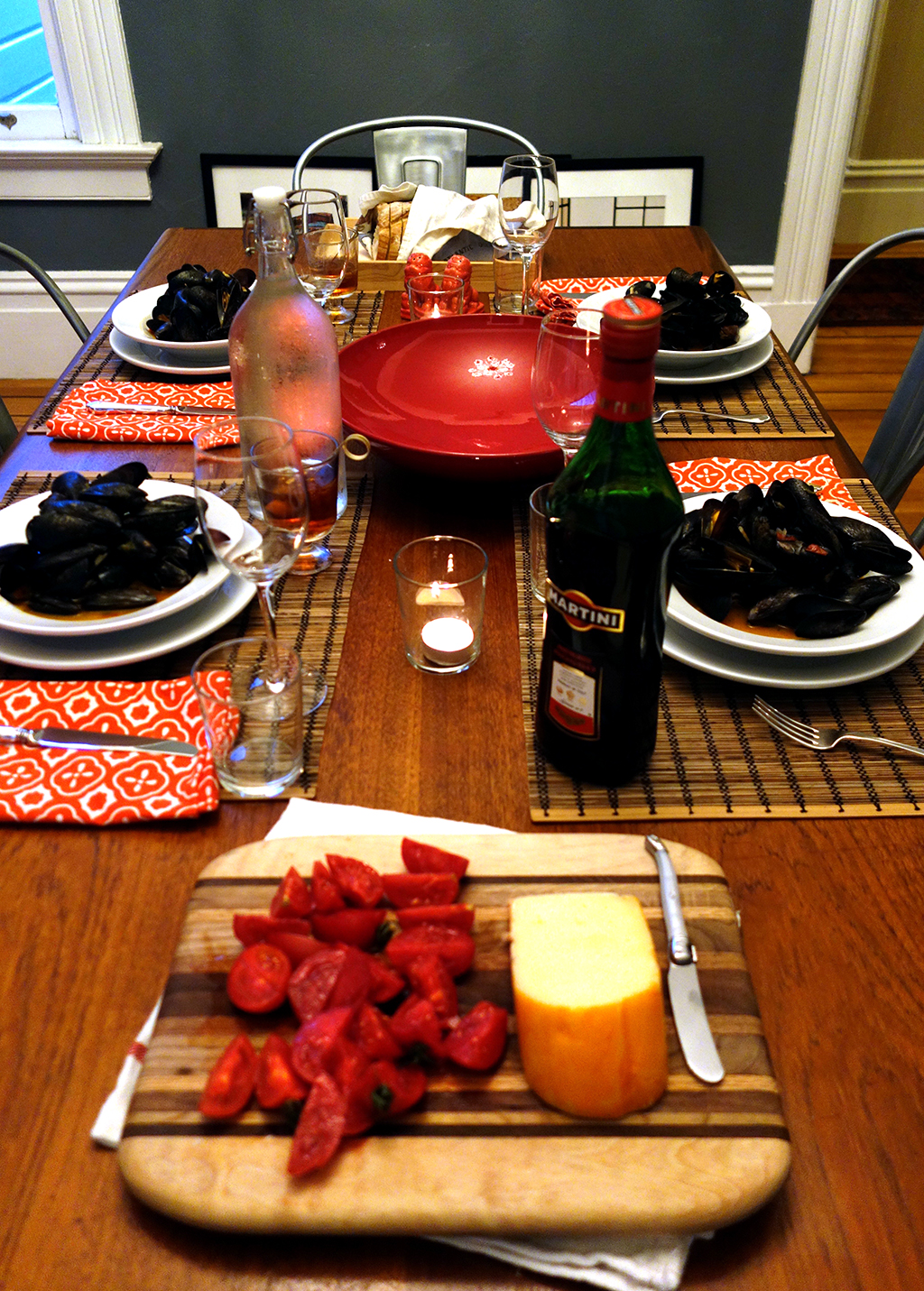 A nice inexpensive bottle of rose with dinner. It is beginning to sound like we drank massive amounts, which is authentically Spanish for sure and also kind of true, but remember that each glass of vermuth and wine was tiny. I don't have a hangover at all today.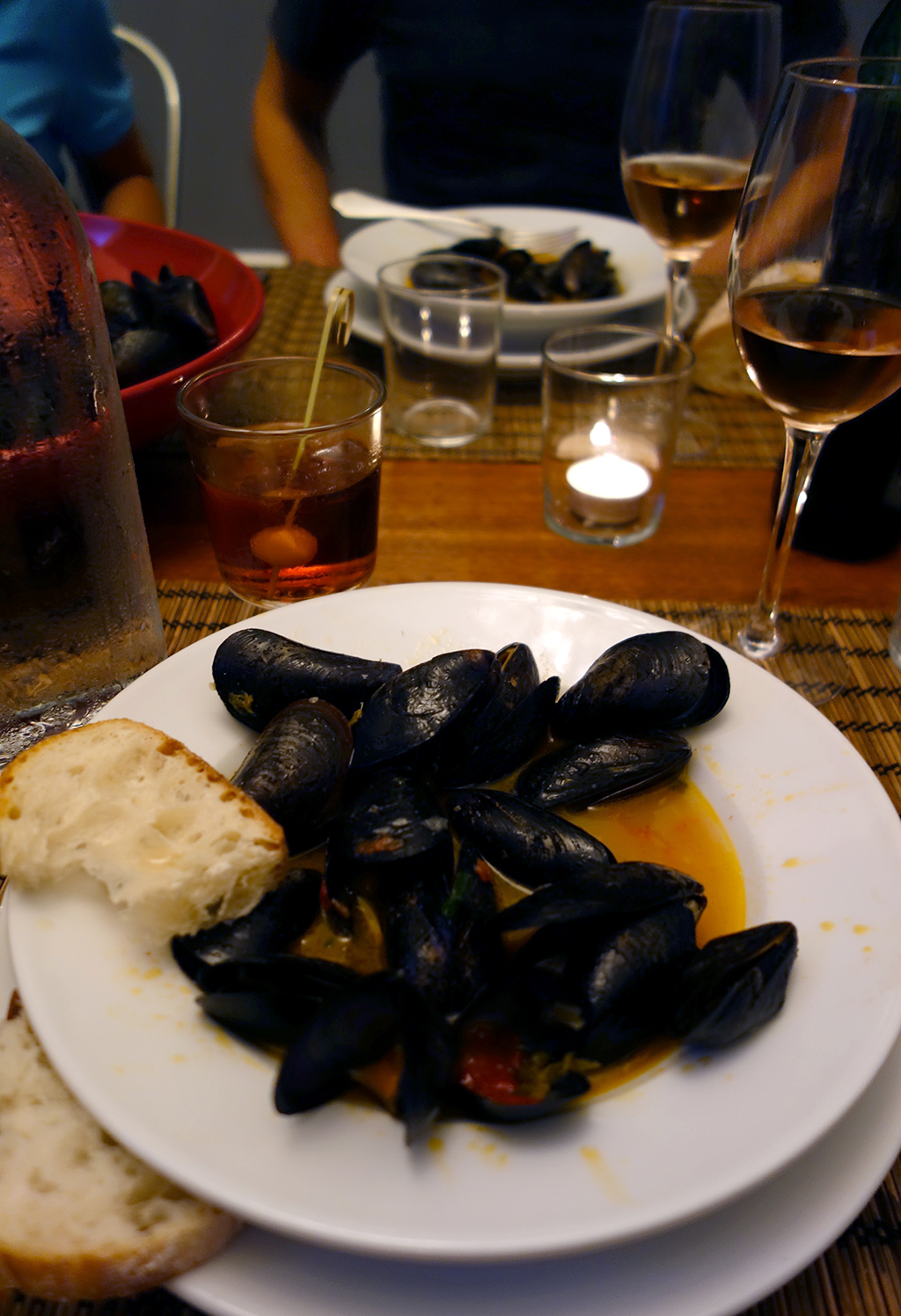 The four of us managed to finish all five pounds of mussels with no problem, building up a huge pile of shells in the middle of the table. We talked and laughed about boating around the world, Lauren's supermodel-level popularity in Morocco, riding motorcycles, tech startups and the ever-changing list of San Francisco's problems.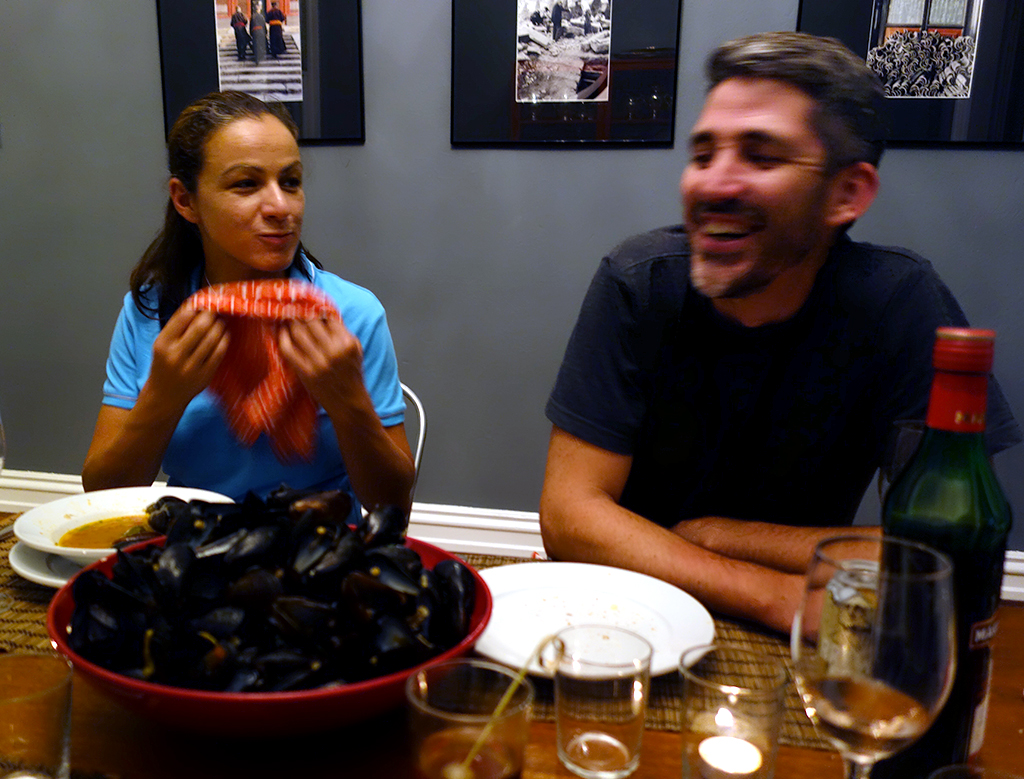 For dessert, Octavia made pink champagne floats with raspberry and mango sorbet, coconut and fresh raspberries. Delicious!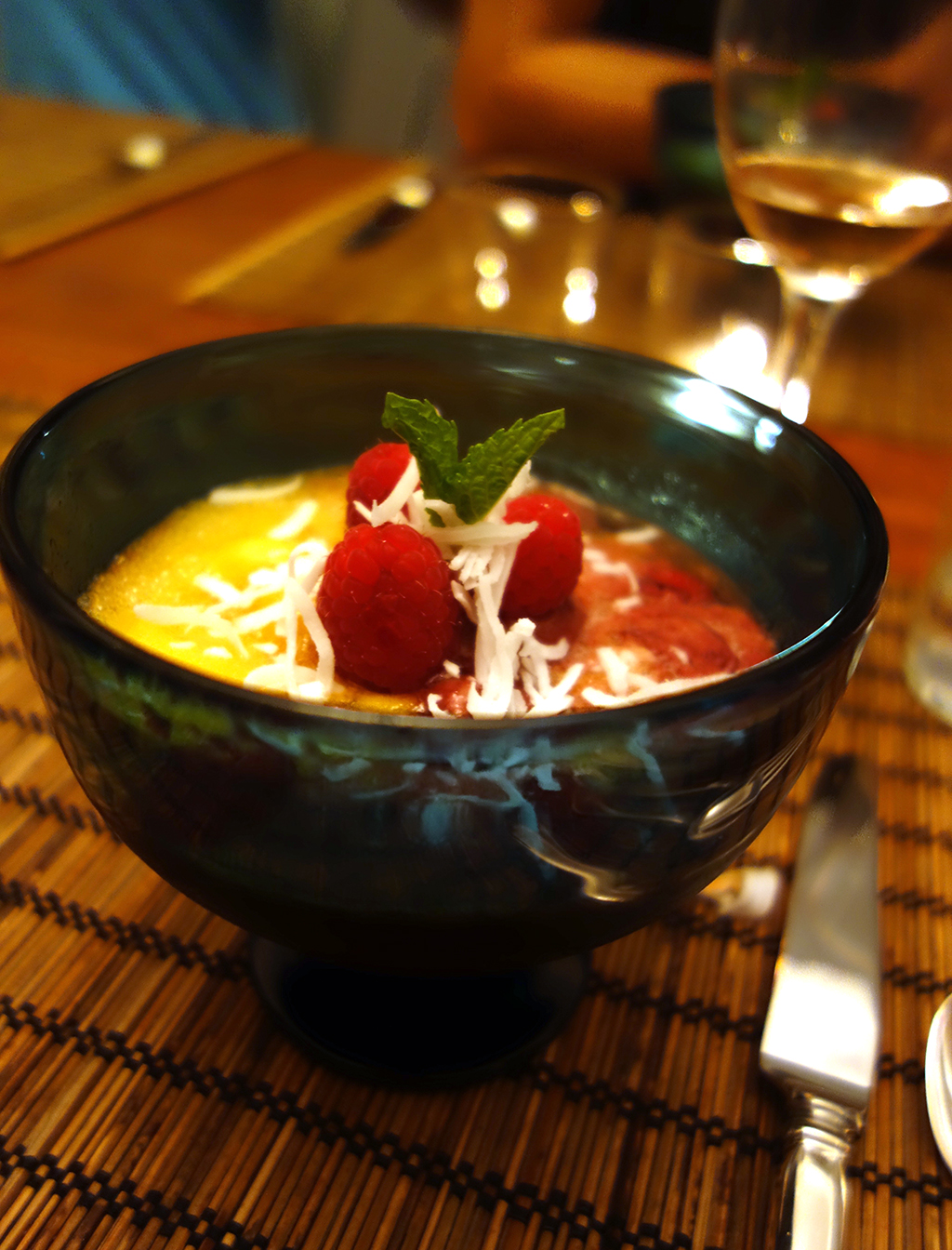 Shortly after 10, Lauren and Octavia departed into the night for their waiting Lyft rides home. I washed the silver and dried it and then left all the rest to deal with in the morning.