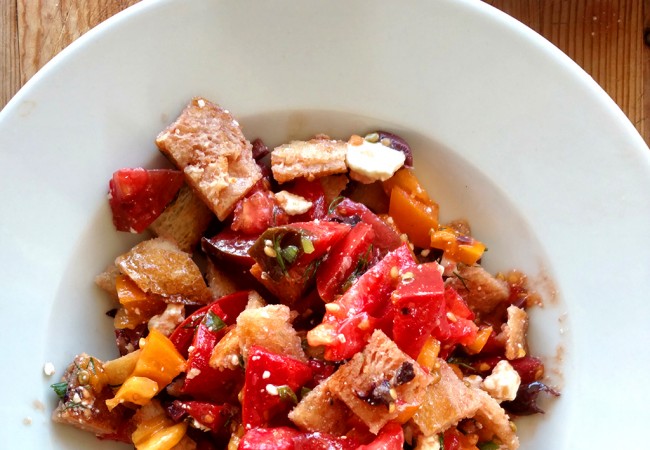 Bruschetta Salad: Another Easy Work from Home Lunch
A good work from home lunch for me is made with fresh produce, in less than 10 minutes and easy to eat with one hand – so you can keep typing with the other!
This panzanella-style tomato salad starts with the same prep I use for bruschetta but instead of topping slices of bread with the mixture, you toss the hot bread straight in with the rest. It's a great way to eat a whole bunch of late season heirloom tomatoes in one sitting.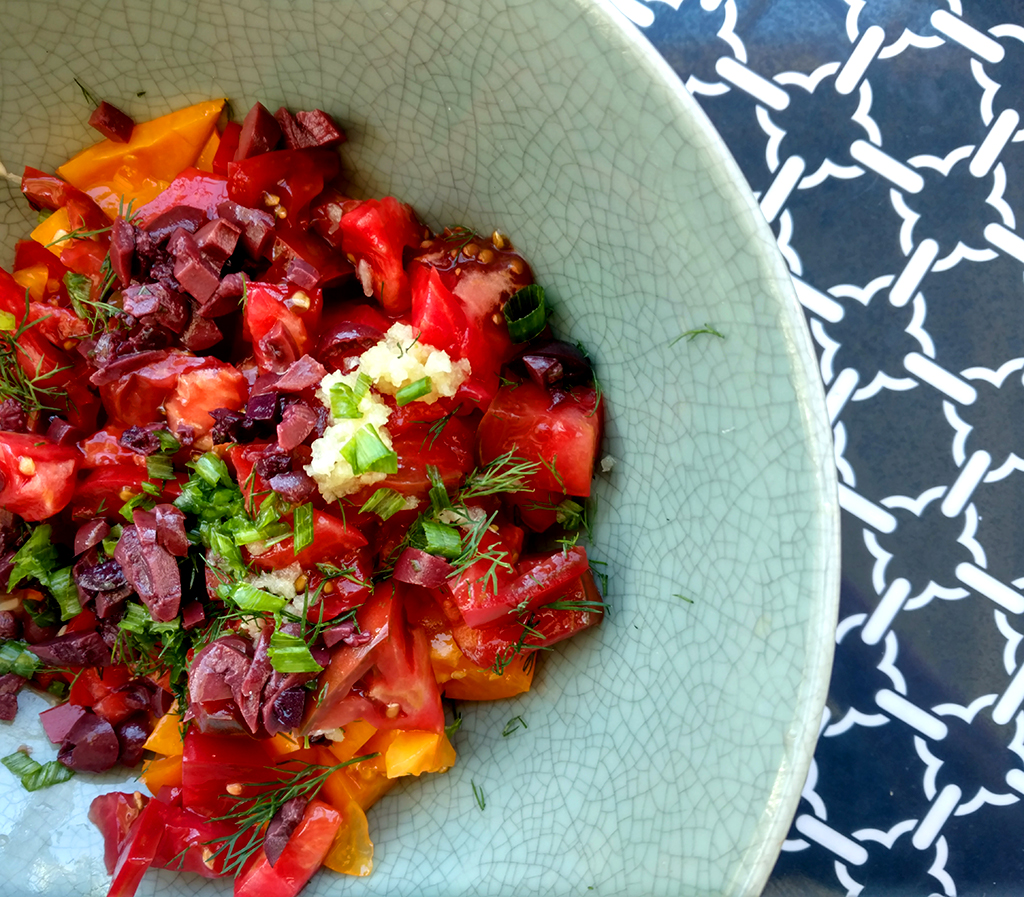 Bruschetta Salad
Serves 2
3 medium size, ripe farmer's market tomatoes
1/4 cup of olives, chopped
1 clove of garlic, grated or finely minced
2 tablespoons of feta cheese
Fresh herbs if you have them. Basil is best. I used dill and green onion today.
Olive oil and a splash of balsamic vinegar
2 pieces of bread, whatever you have on hand.
Cut your bread into large cubes. A rustic loaf is best, but any sliced bread will do fine. I used sliced sourdough today. Splash a bit of olive oil in a pan and warm the bread on low heat. Meanwhile, chop the tomatoes, olives, herbs and garlic and toss in a bowl with olive oil and vinegar. I add the feta at the same time, which has a better taste – however, it would look more elegant to use the cheese as a topper at the last minute.  Season as needed, you don't usually need extra salt with the olives and cheese. When the bread has lightly browned in the pan, add it to the tomato mix and toss everything together. Eat right away while the bread is still warm and delicious.