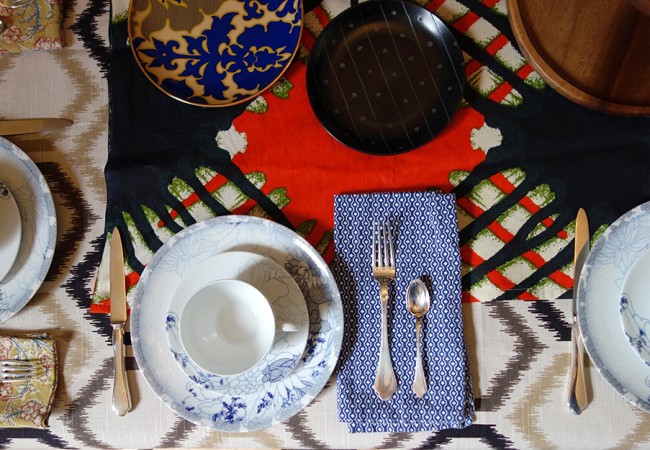 An Elegant Kenyan High Tea Baby Shower
Two weekends, two lovely baby showers for Jackie with inspiration from East African culture. As mentioned in the last shower's recap, Jackie is epidemic researcher with the CDC and has spent time living in Kenya, Malawi and Benin for her important work. For this baby shower in San Francisco, we had even more researchers and public health colleagues as guests.
Margaret and I decided to change the menu from the peanut stew and ugali buffet we served for 12 guests last weekend. This was a smaller group with 9 total and it felt like we should have something more cozy. After a bit of research online Thursday night, we found a recipe for Kenyan chai (spiced tea) and were inspired by this glamorous annual Kenyan fundraiser event benefitting women's education to create our own high tea menu.
Menu
Sparkling water or vodka tonics with mint and lime to start
Curry chicken salad on tiny Acme rolls
Cucumber sandwiches with herb cream cheese
Berbere hummus and cheese tea sandwiches
Scones with whipped cream and lemon curd
Coconut macaroons
Fresh berries and grapes
Flourless chocolate cake and ice cream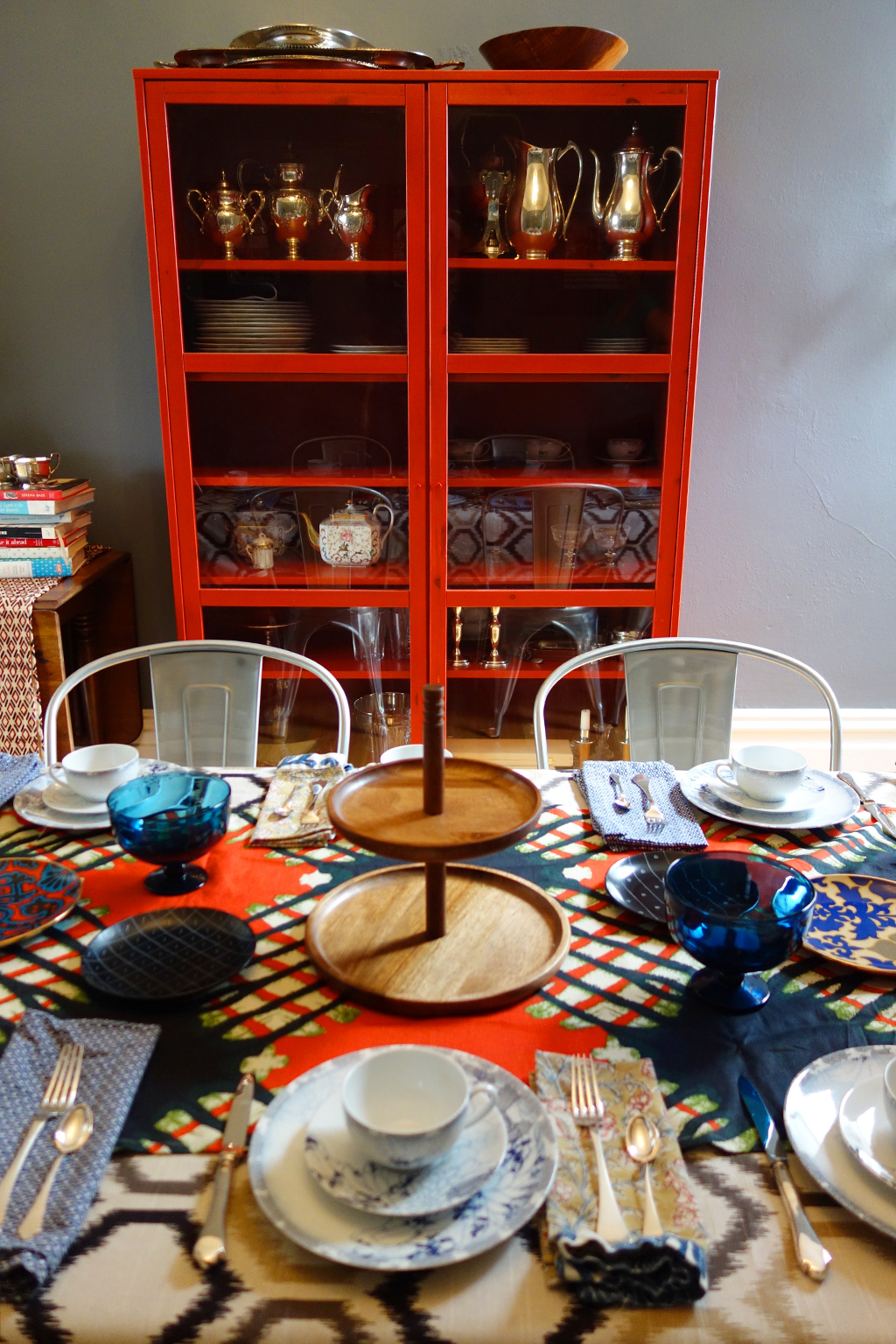 First step, I made curry chicken salad the night before – it is always better the next day – and set the table with the same linens we sewed from African fabrics along with my wedding china. The tropic flowers were holding up okay from last weekend's party. Good enough, at least to be featured on side tables.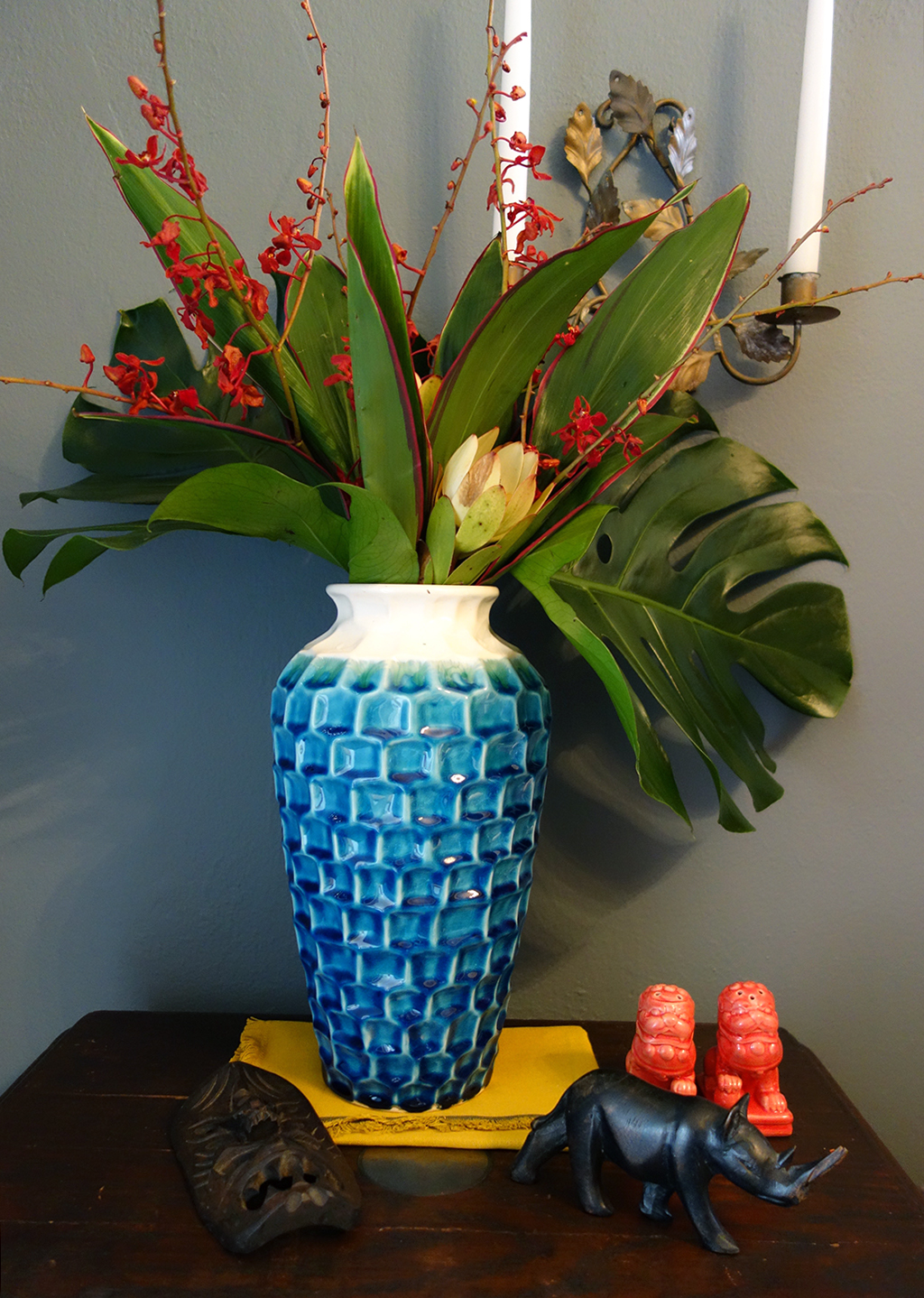 The next morning, Margaret and I met up around noon. She had baked the chocolate cake at home and I had tested out variations on the chai tea recipe after making a run to the bakery for rolls. We got to work on the tea sandwiches right away. These are hummus, seasoned with Ethiopian berbere spice, on wheat bread with cheese.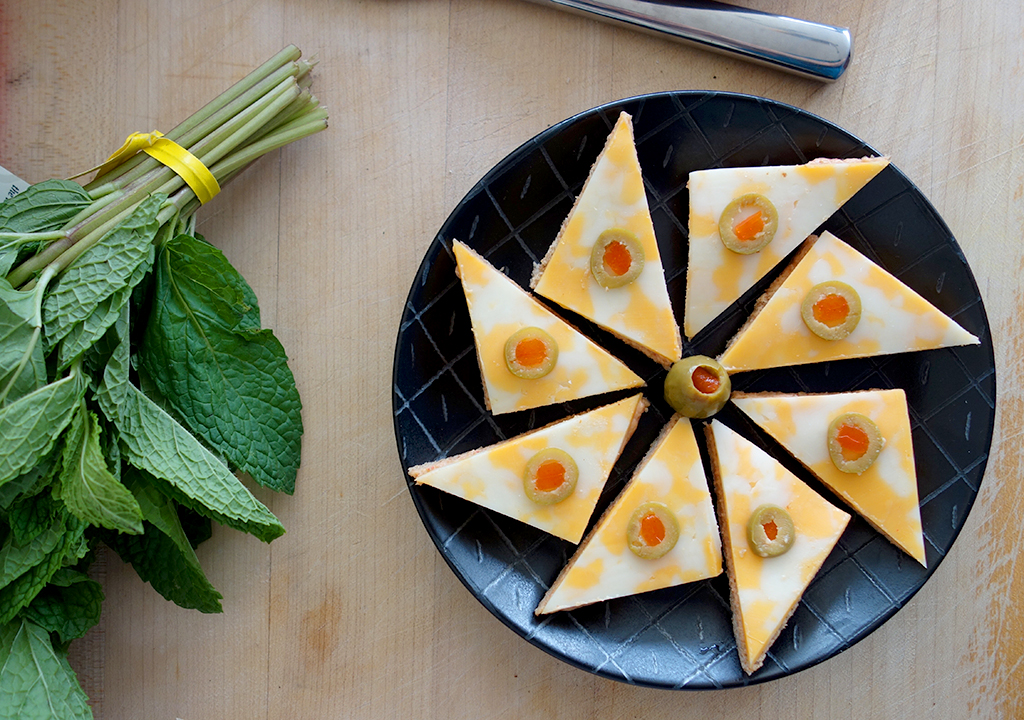 We also started a huge pot of chai tea using the Kenyan recipe found online, creating our own "masala" spice mix with fresh ginger and whole cinnamon sticks along with allspice and black pepper.  It cooks down to the most gorgeous caramel color and smelled divine.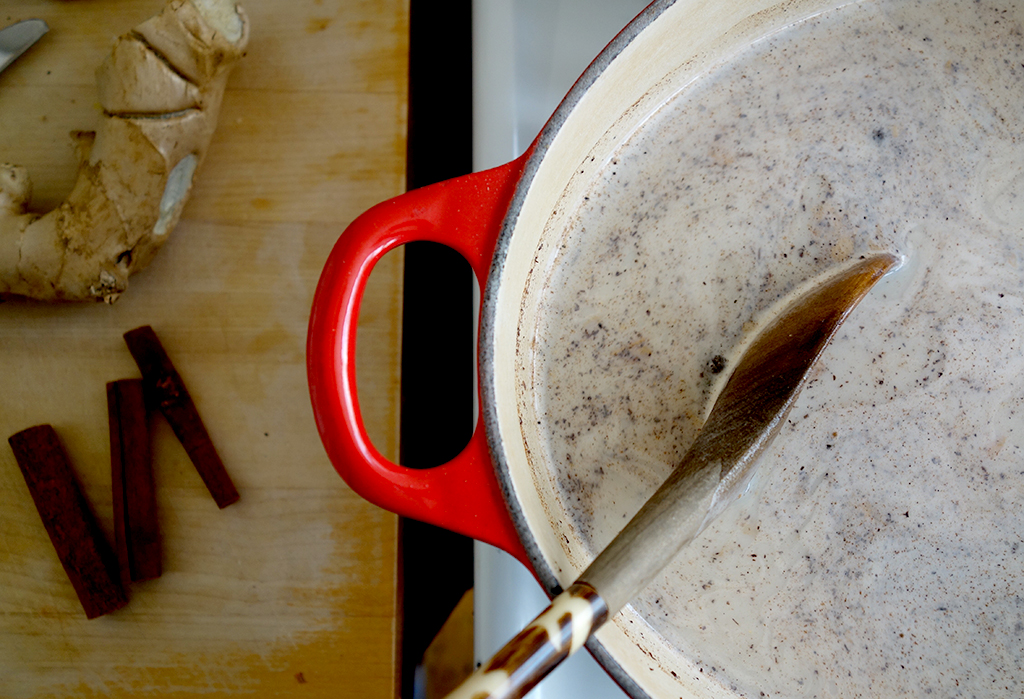 Margaret took on the cucumber sandwiches – making a herb cream cheese with fresh dill, cilantro, green onion and lemon zest and then layering the cucumber into elegant tiles.
I made a pitcher of vodka tonics and prepared glasses on a tray with fresh mint and lime.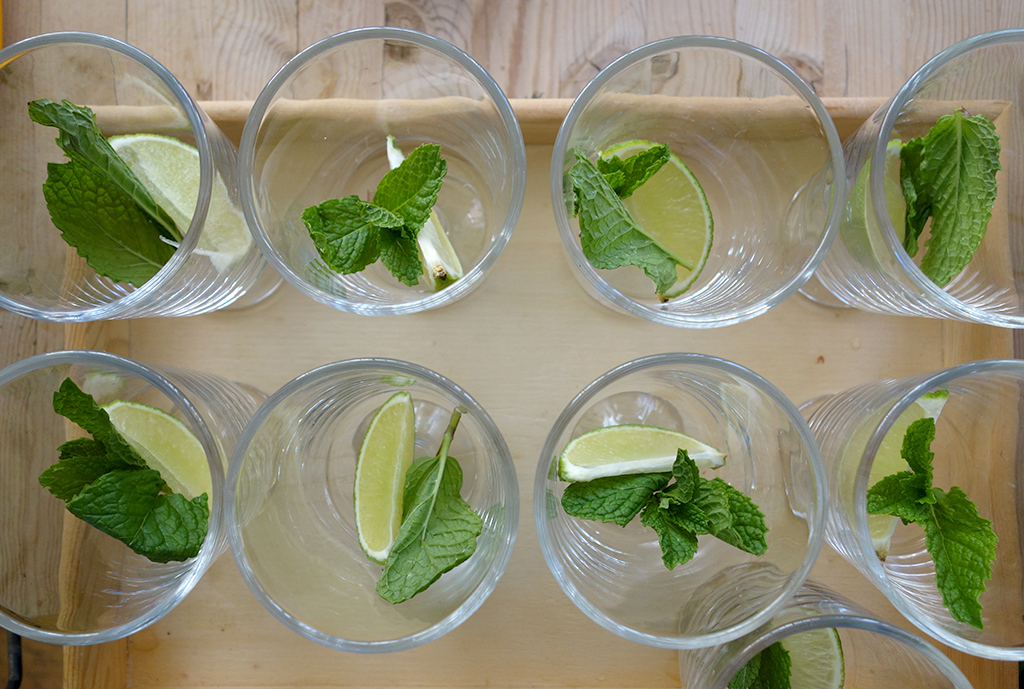 Took a quick break to get changed into party clothes and then the final to-do before guests arrived. We finished filling the tiny rolls with curry chicken salad right as Jackie rang the doorbell.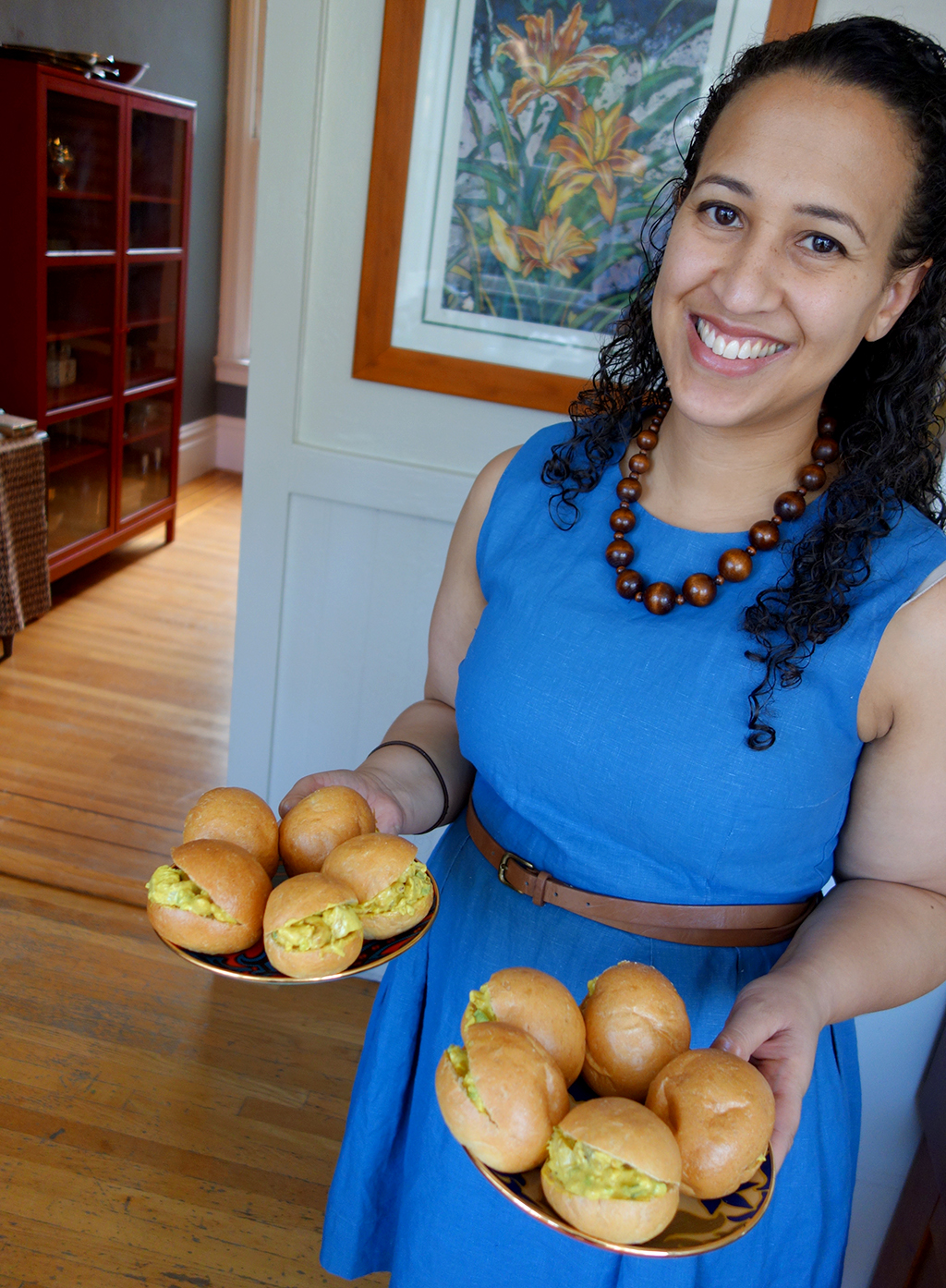 One last check of the table and we sat down to drinks while waiting for the guests.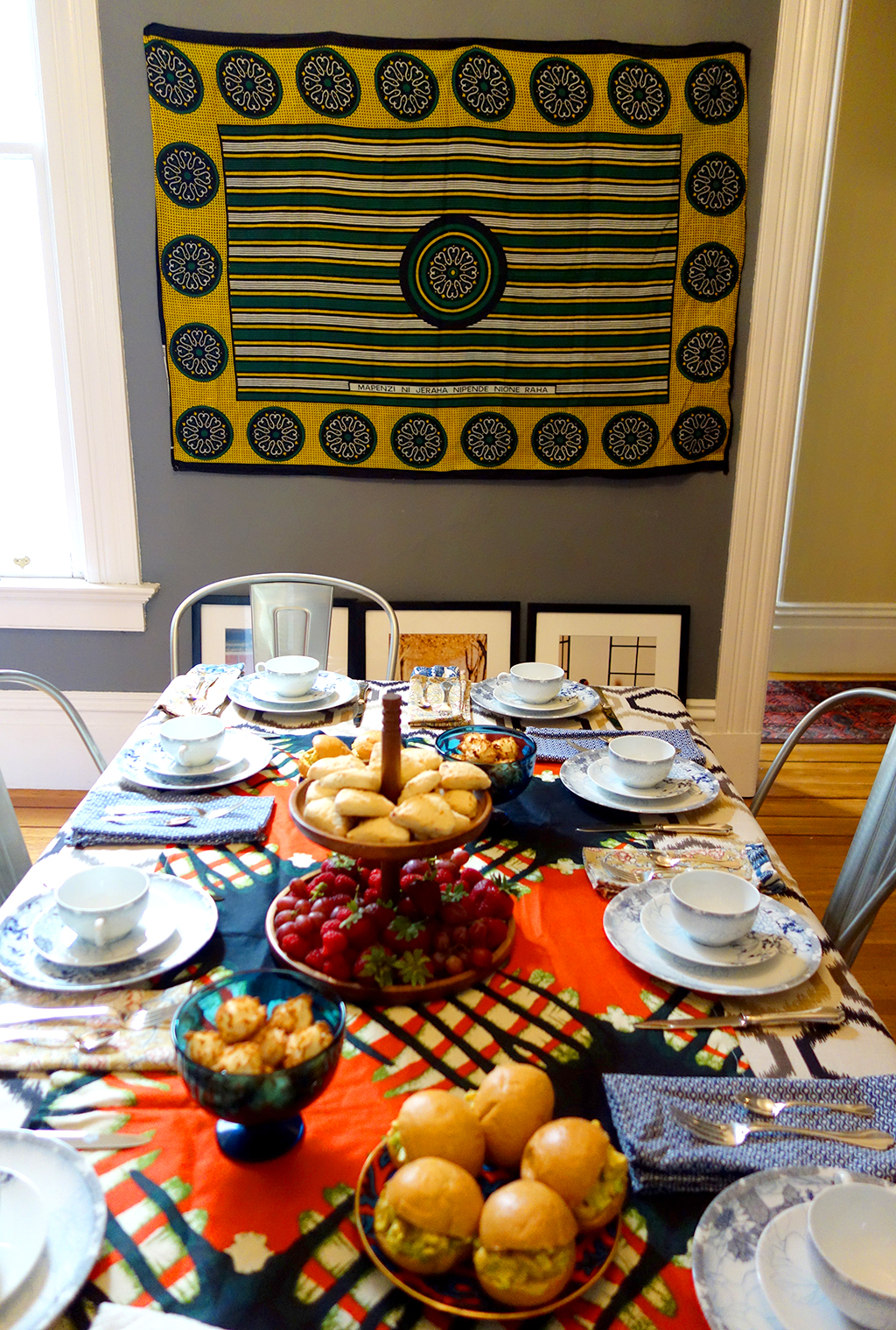 What a spread! Once we were all here, the party moved to the dining room and Margaret helped pour hot cups of the delicious chai for our guests. Everything was so good, especially the tea and the curry chicken salad.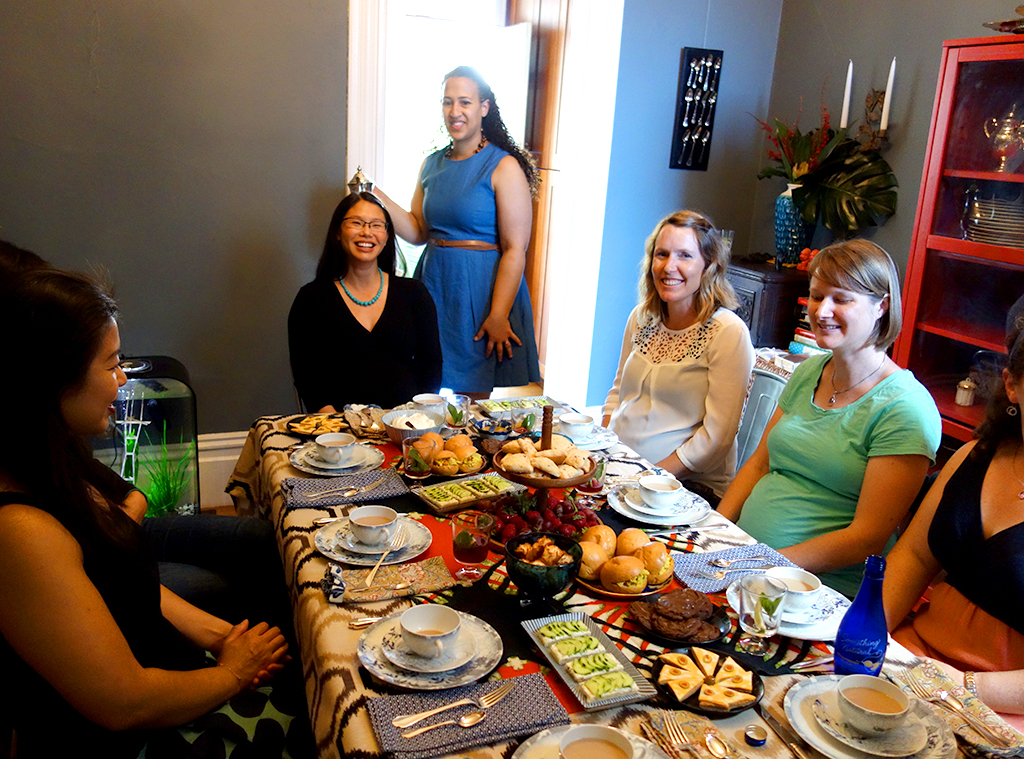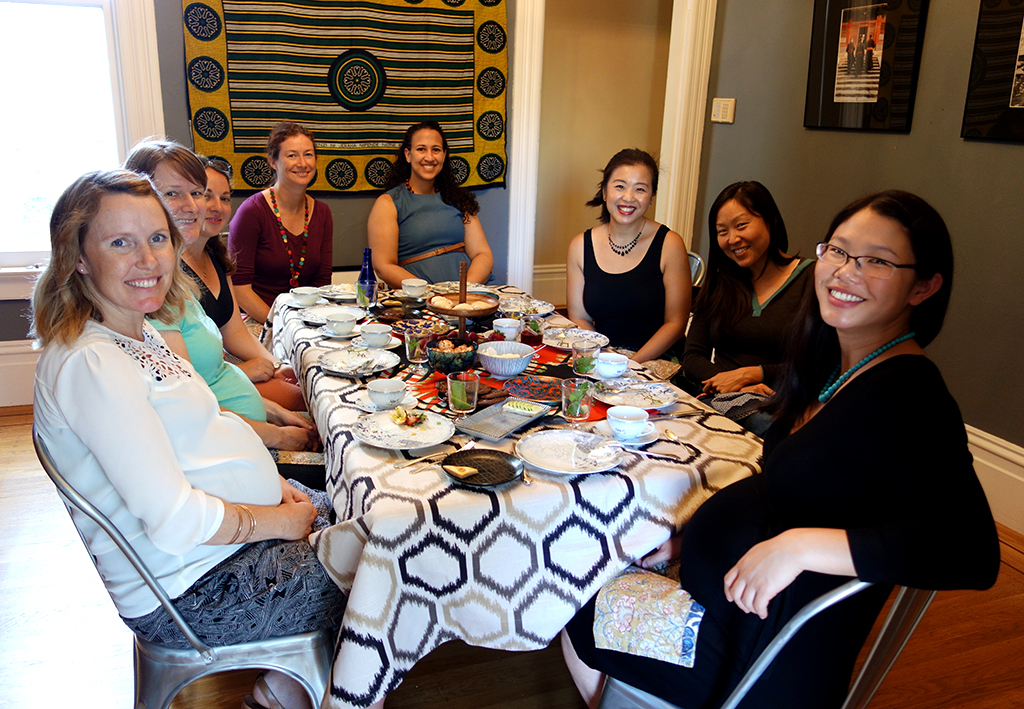 Stuffed to the gills from the tea party spread, the group moved to the living room to chat and work on making wood bead bracelets as the activity.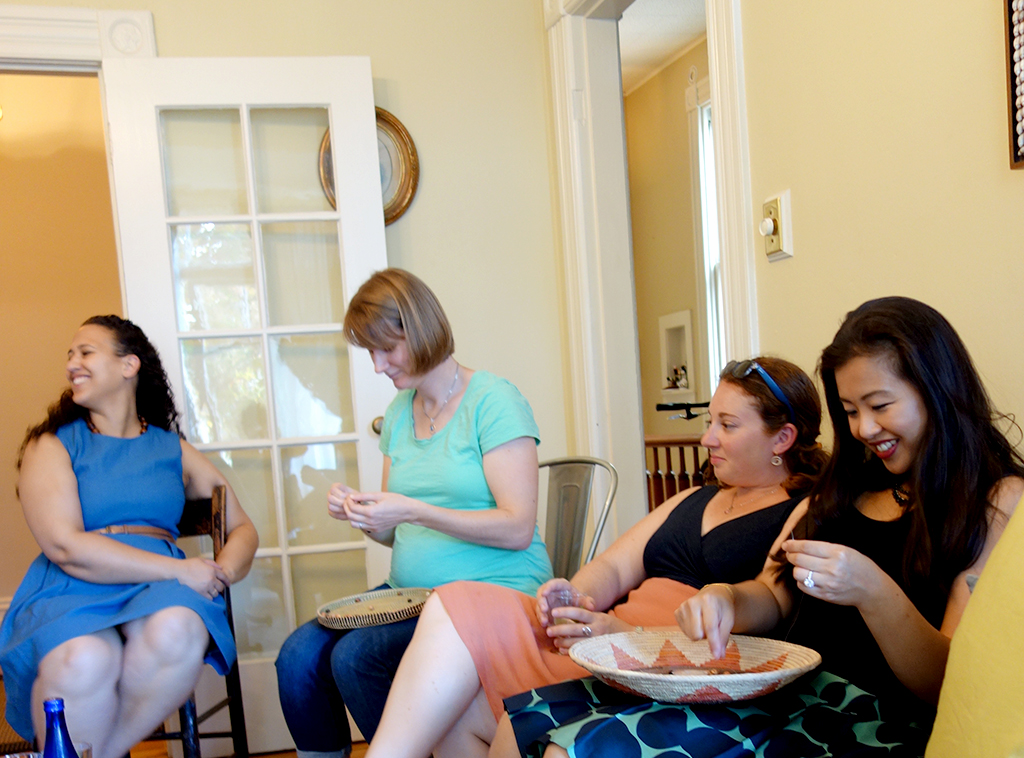 Jackie received adorable gifts including all kinds of baby clothes and shoes.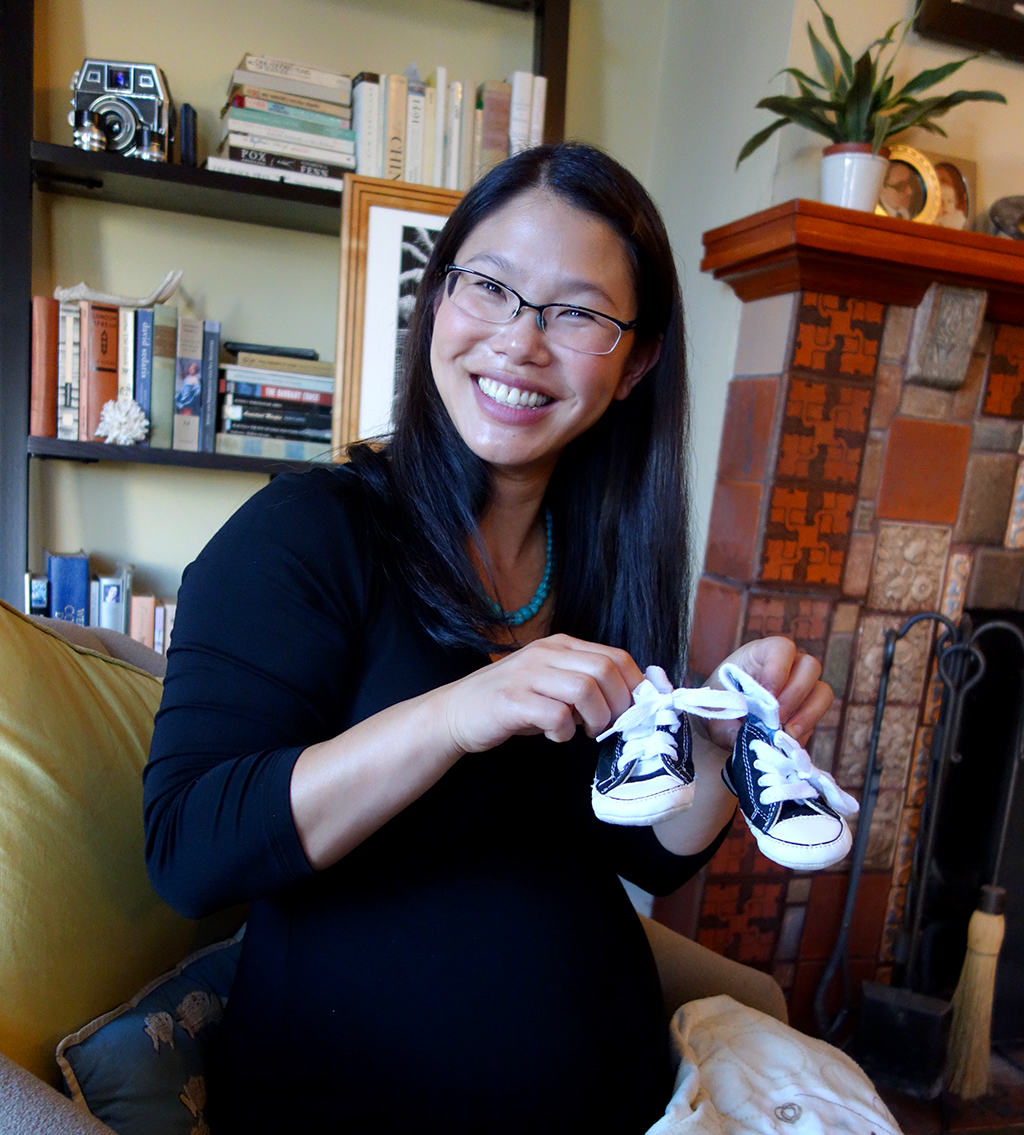 Margaret's bittersweet flourless chocolate cake was just the thing to round out our menu. She's become famous for the recipe!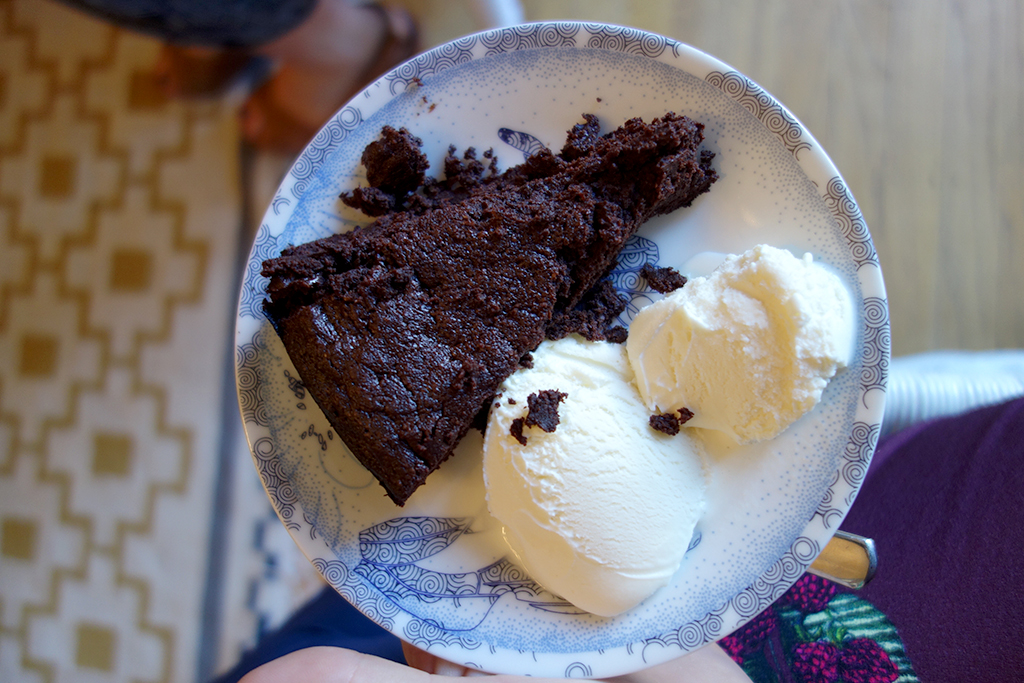 Finally, one last photo with all the guests in front of Margaret's beautiful fabric from Mozambique. Yes, there were no less than three pregnant ladies at the party, and at least half of the guests are working on cures for disease and cancers. A very talented group!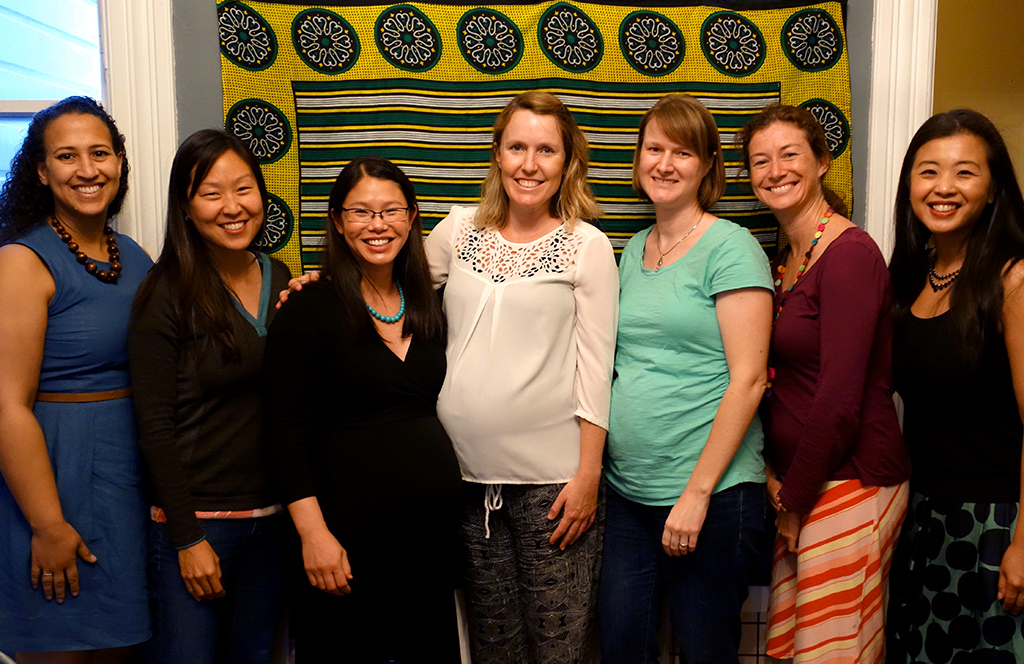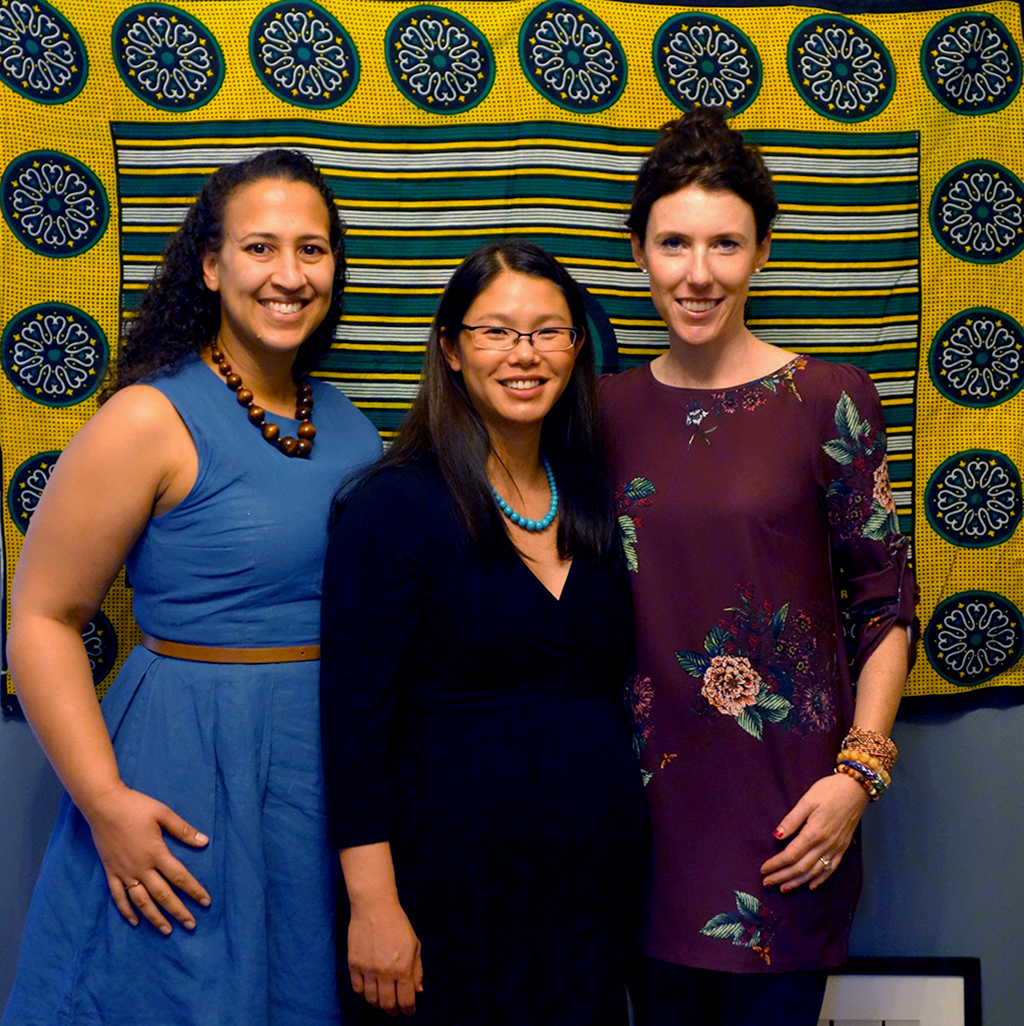 We loaded Jackie into her car with all the gifts. Jean and Margaret stayed to help get a load of dishes into the dishwasher and to polish the silver before heading down the street for a much deserved manicure/pedicure after all this party planning.
I can't quite decide which version of our East African baby shower I liked best. The first had the added benefit of my Mom's gorgeous house and all her treasures from Ethiopia…and that peanut stew was so tasty. The second was aided by the delicious chai and the tiny + delicious "lady food" format of a high tea. Which did you prefer?