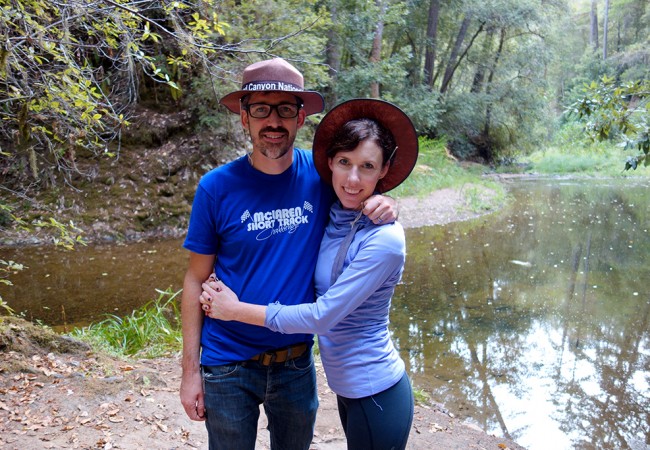 Birthday Camping at Portola Redwoods State Park
Less than an hour from the bustling center of Silicon Valley is a lovely state park with tall redwood trees, ferns and – most shocking of all in this California drought – running streams. Portola Redwoods State Park was the site of this year's camping weekend for my birthday. It was so nice of 10 friends to come join us for the fun!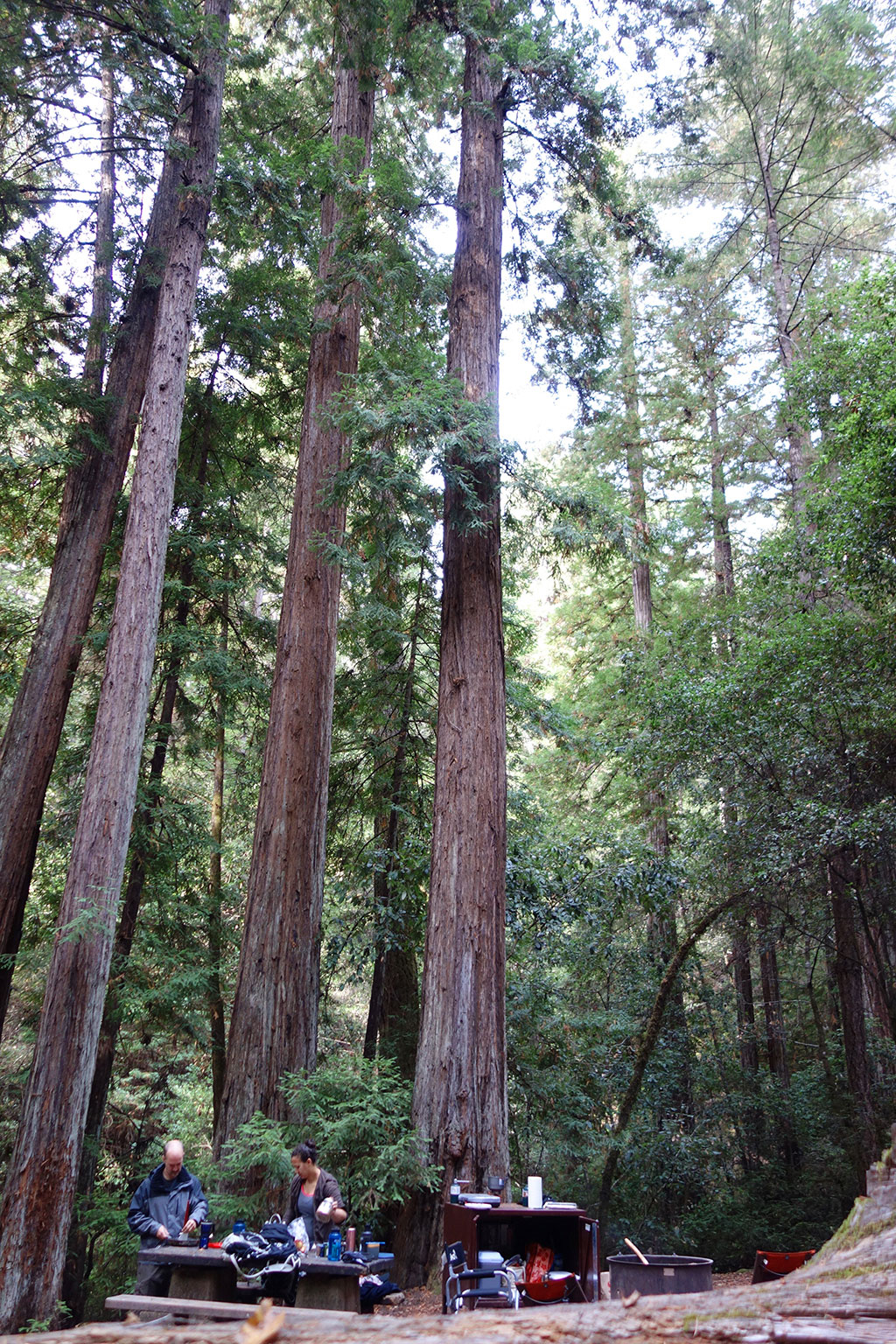 Rob, Margaret and I arrived at the campsite at nearly 9pm – we got a late start because our second Daisy Girl Scout troop meeting ended at 6:00. Greg and Kevin were already there – with lots of firewood and cute lanterns strung around the site. We set up the tents and turned in for the night.
In the morning, we had a quick breakfast and then set off on a 6 mile hike along coyote ridge to tarcreek trail and back. Hidden in the redwood groves is a 100 year old logging camp – which was fun to discover along the way. Trent and Ev had arrived right before we returned and joined in for lunch of mini sandwiches with pain epi bread from Acme Bakery, salami, cheeses, pickled beets and other delicious things.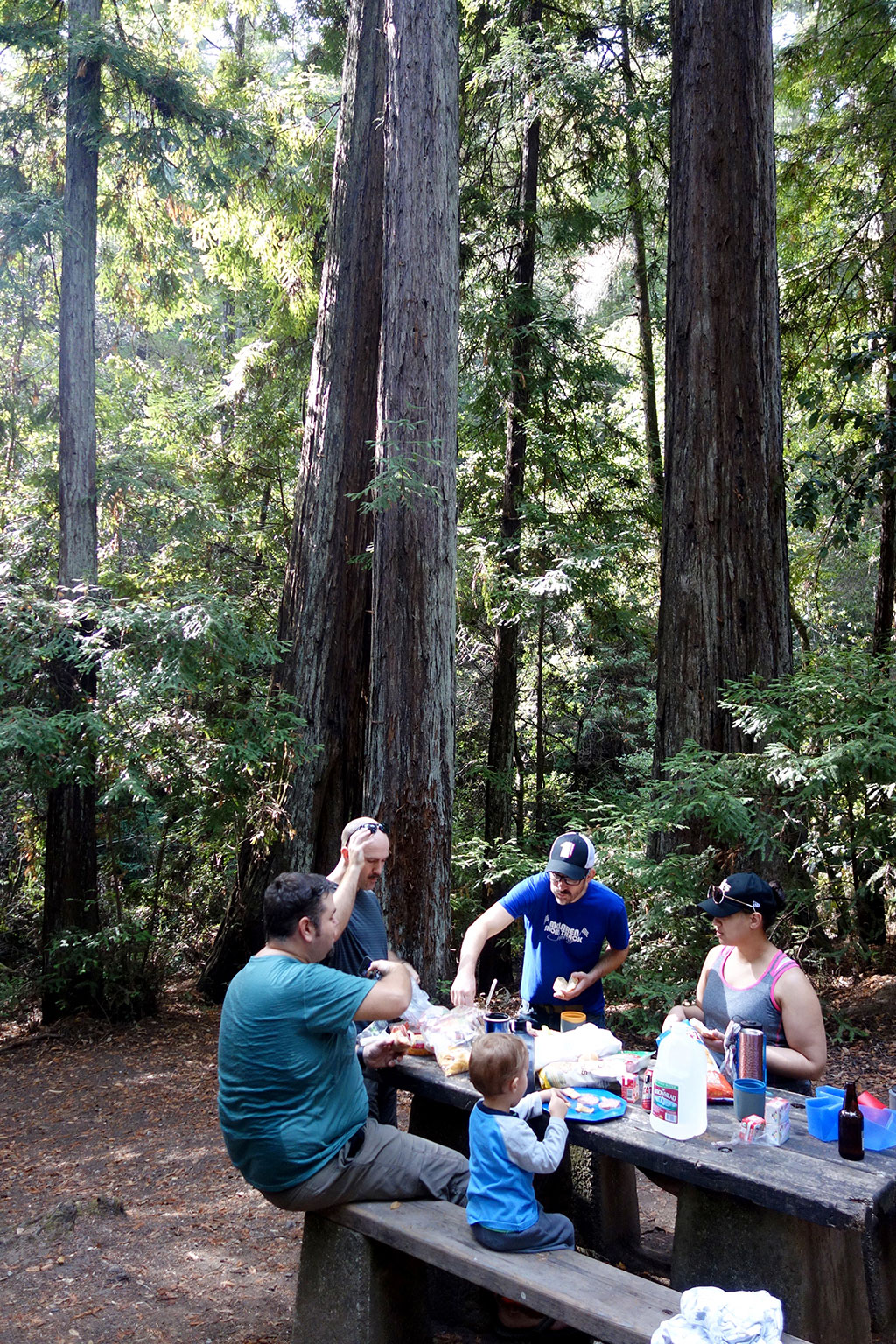 Jackie and Pierre arrived shortly after and we all hiked down to the river, where Ev splashed around with a couple acorn grinding holes left by Native Americans a long time ago and the rest of us hunted crawdads. Rob and I bought these cheap ranger hats at the Grand Canyon on our honeymoon and they continue to be my favorite thing. So dorky. So adorable.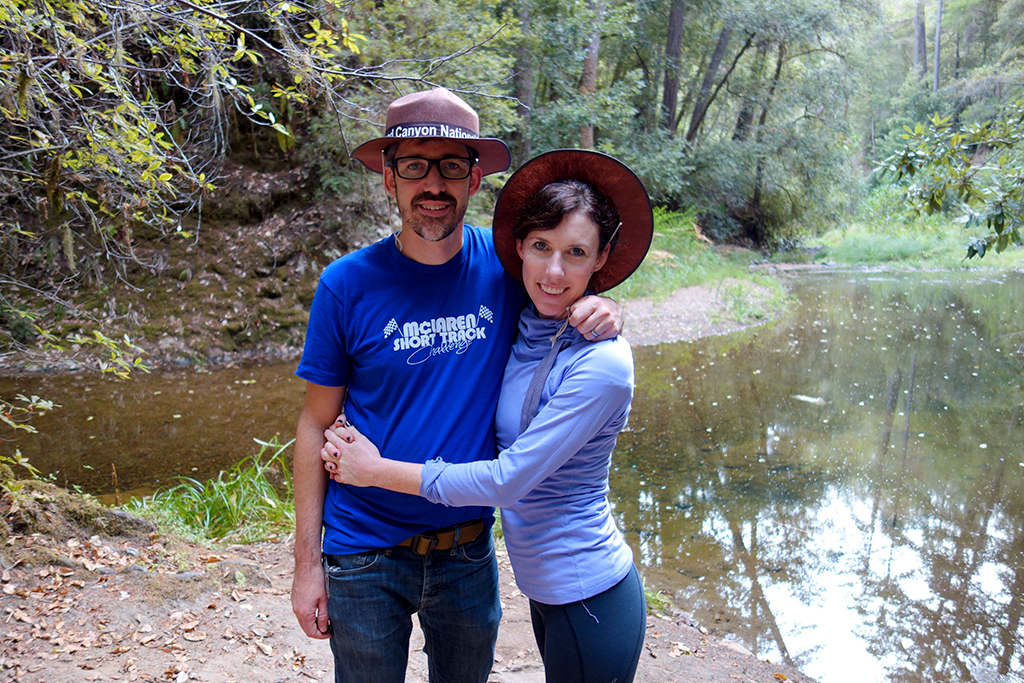 We stopped in at the visitor center too. This park was the site of a dramatic gold-rush-era love triangle and then a campground for the Shriners and there are still mystical Islamic symbols tucked around the grounds.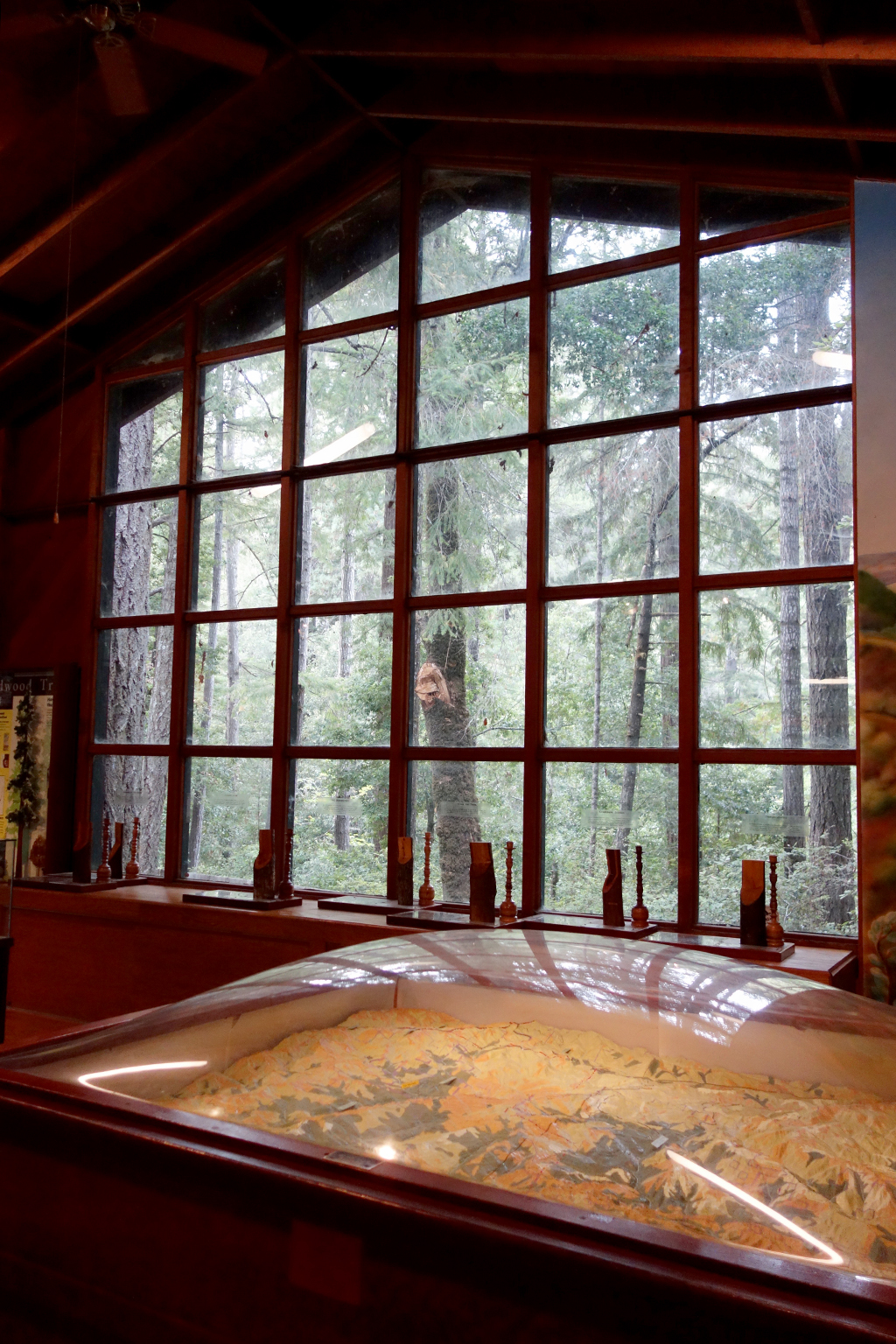 Jackie, who is due in just a few weeks with a baby, was a great sport to come out for the weekend. She hiked all over – including inside the burned out redwood trunks.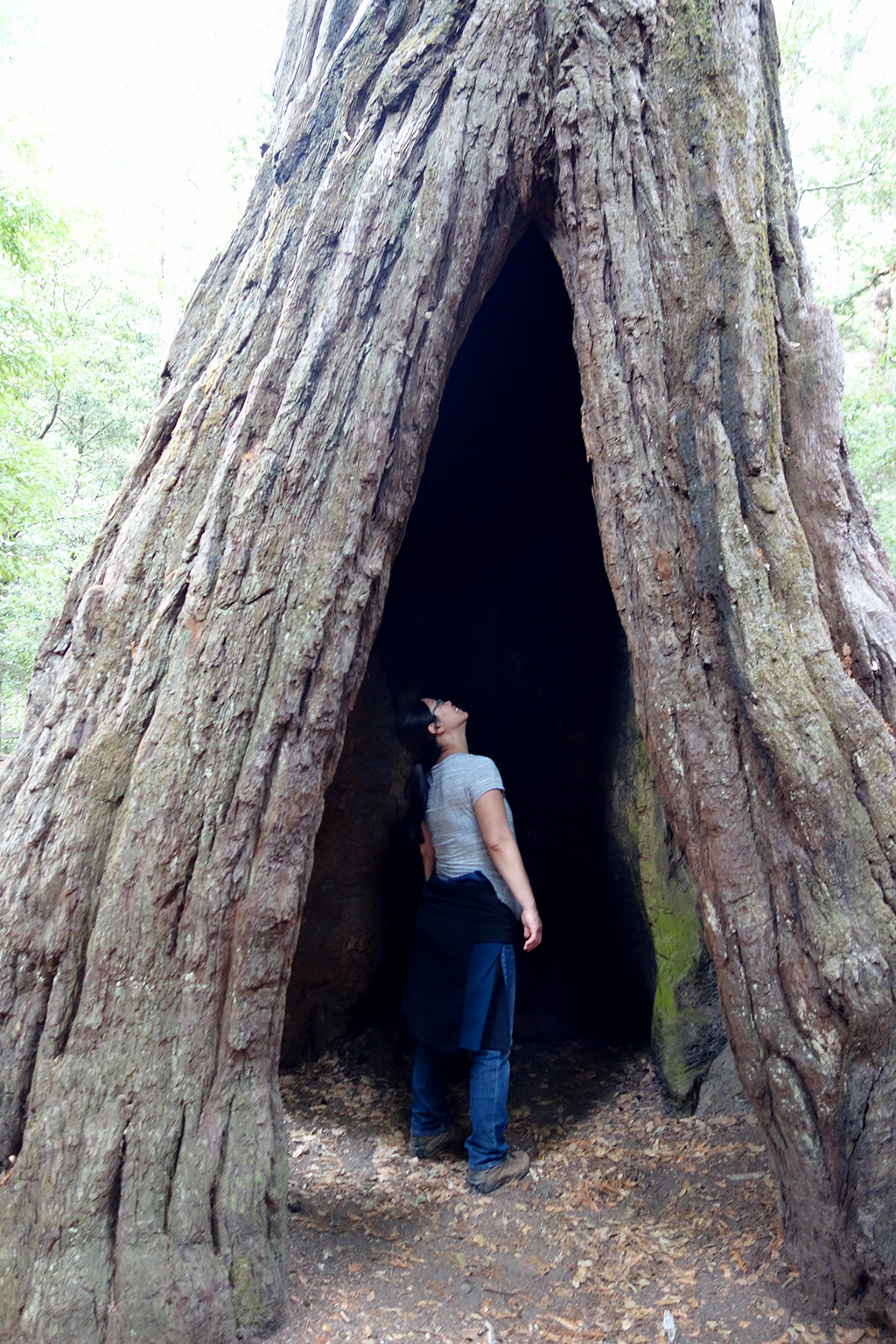 Back at the campsite, it was time to start up the bonfire again and break out some drinks before dinner.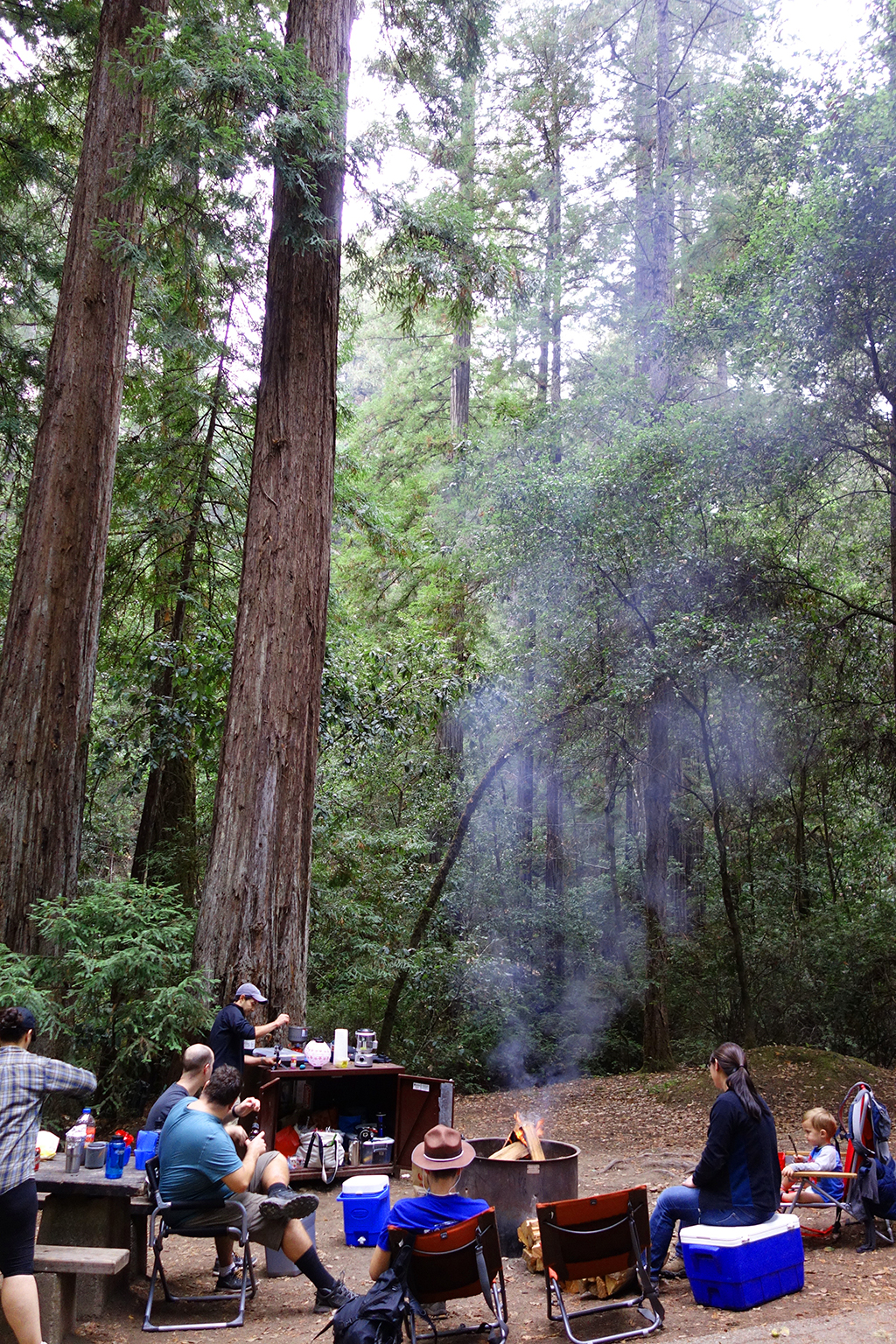 I tried, somewhat successfully, to teach everyone how to make friendship bracelets. Camp-style means that the string is tied to your knee directly.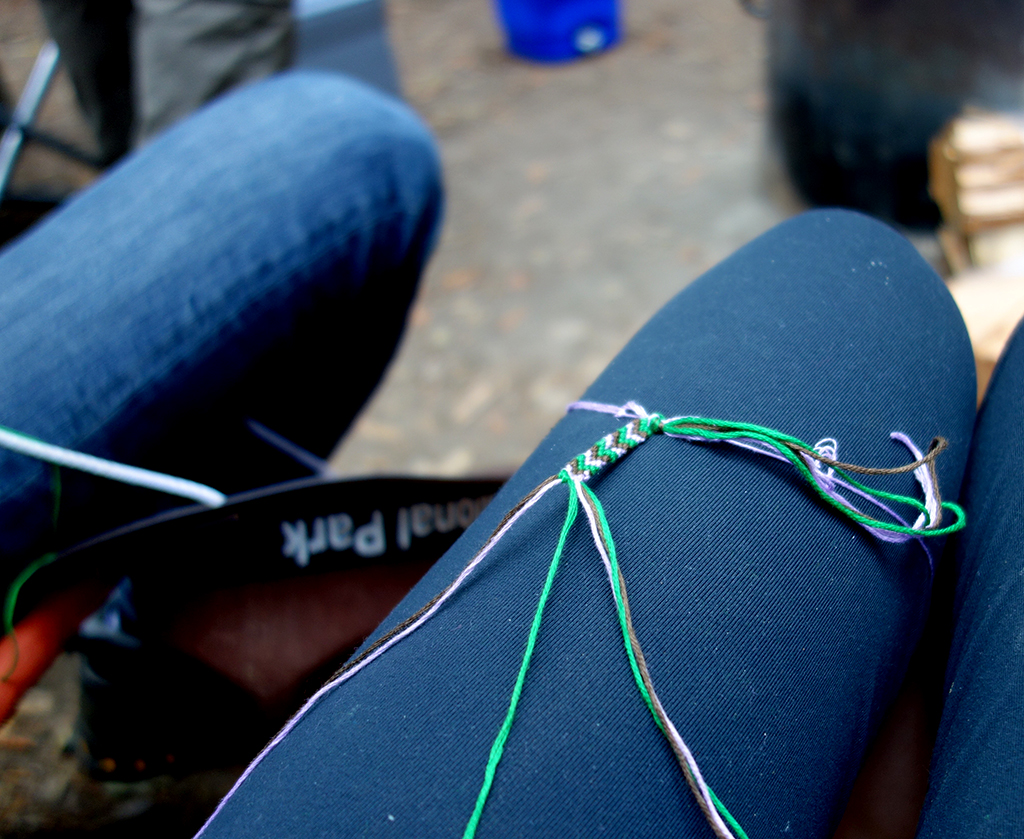 Dinner time! I was so, so pleased to see that these locally-made Leon's Hot Franks were strung together in this long chain. Quite festive and perfect for our "weenie roast" over the fire.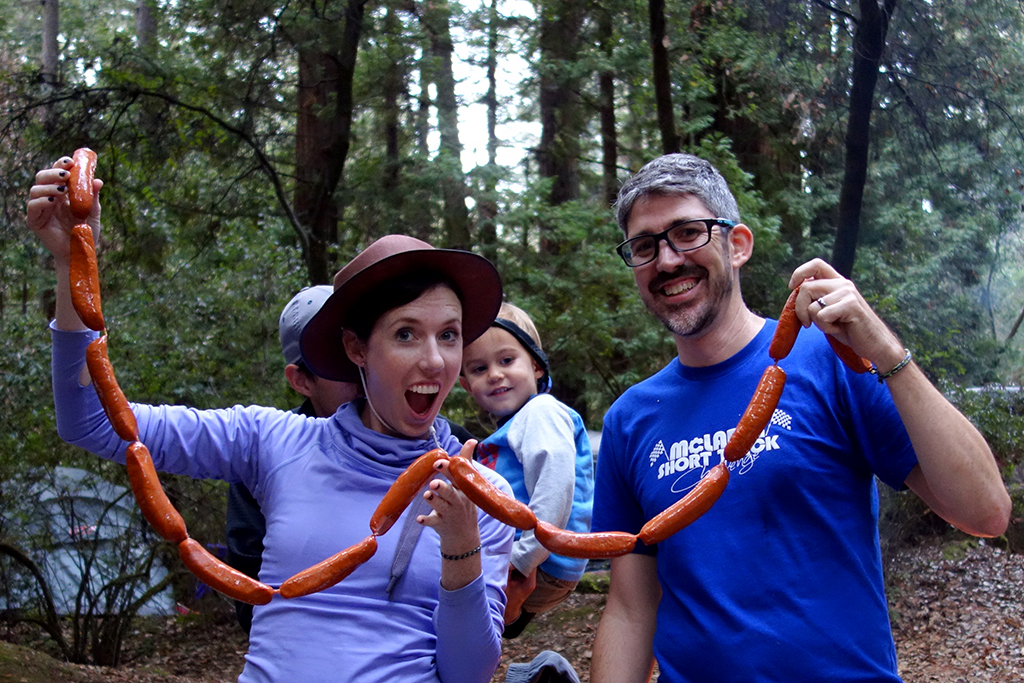 The hot dogs cooked marvelously over the bonfire.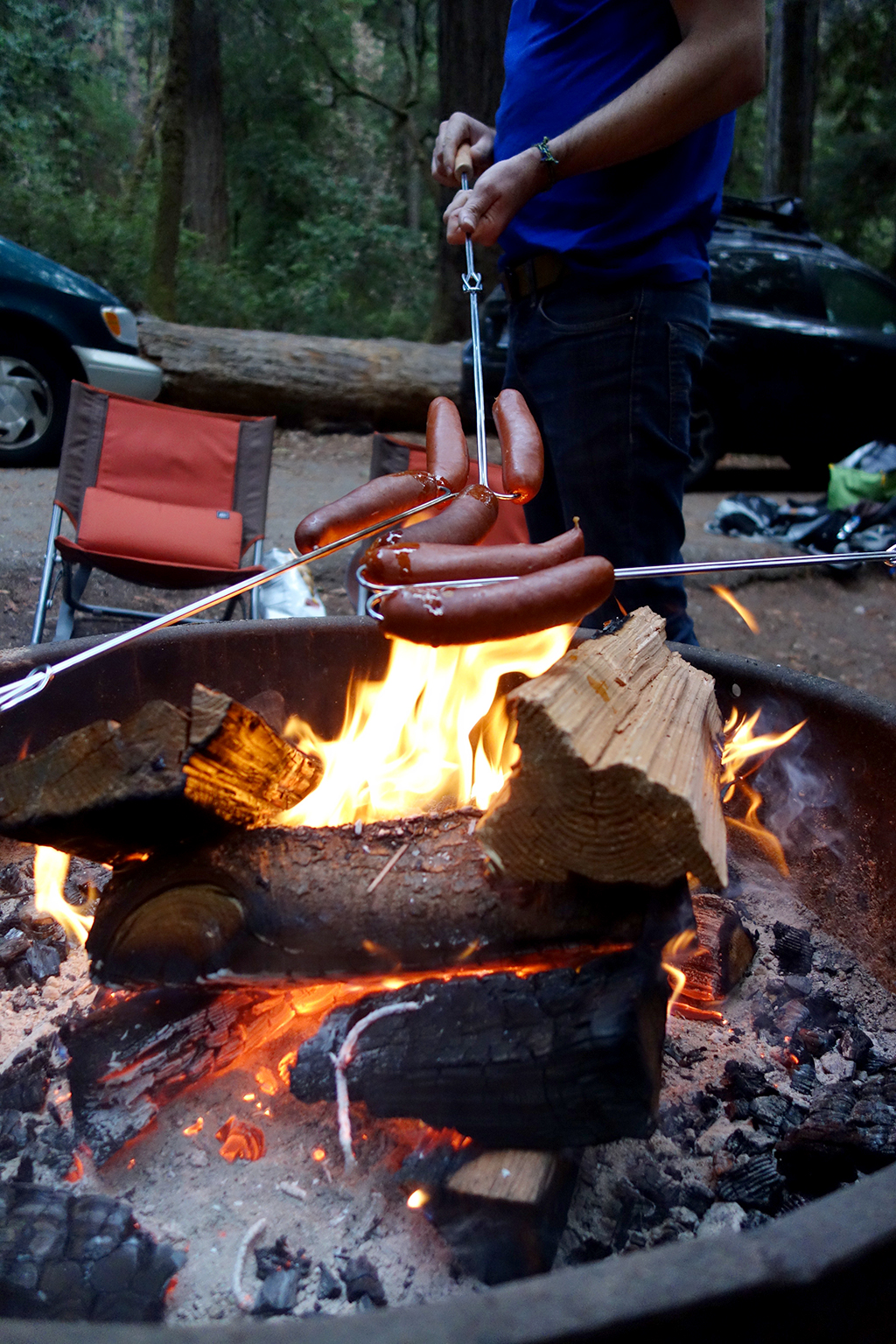 Little Ev even got in on the action. He was a super camper at only two and a half years old.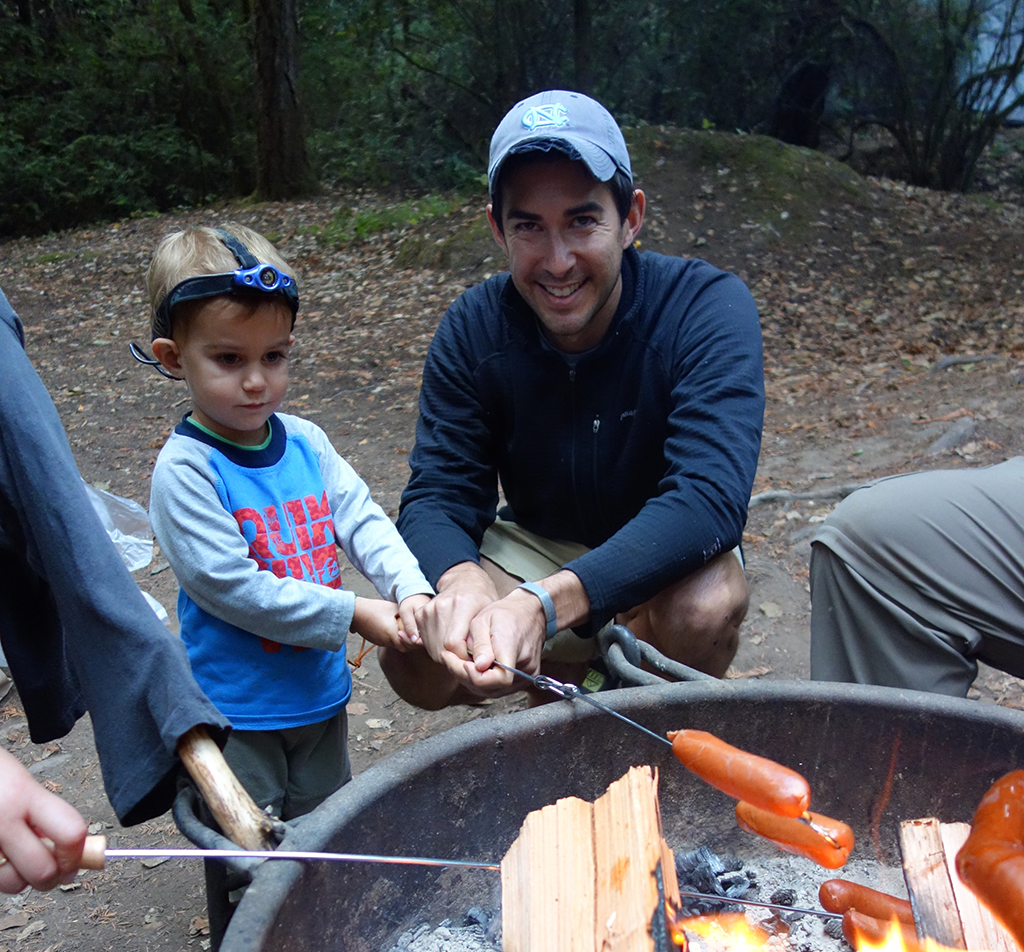 Yum! We served the hot dogs (and they were spicy!) on fresh Acme Bread buns with truffle mustard, sauerkraut and a pickle spear. Our friends were supposed to bring salad for dinner to counteract this decadence, but fell sick at the last minute. Poor us, we had to eat so many hot dogs 🙂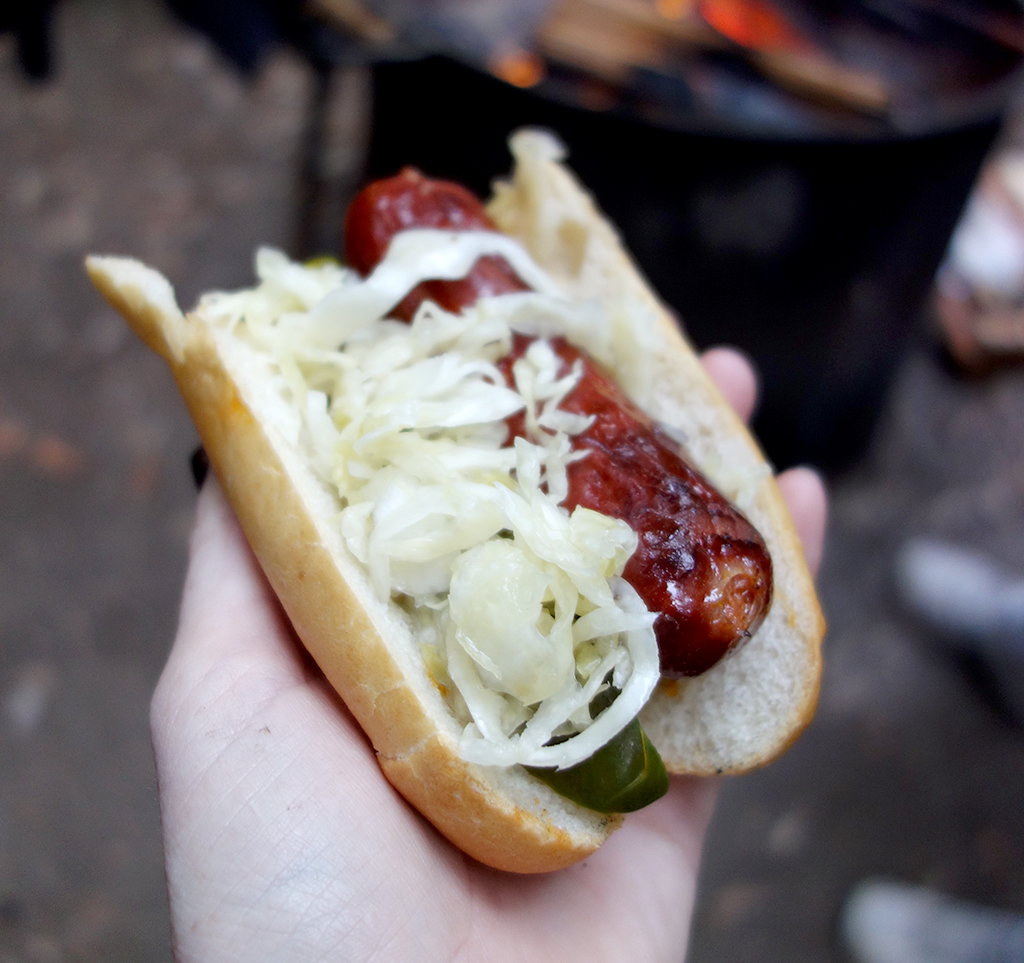 After a break for the sun to go down and people's favorite camp stories to come out – we started in on s'mores. Trent brought really good marshmallows, graham crackers and chocolate bars along with peanut butter and Nutella. Ev loved his first s'more experience. It took about five wipes to clean off all the marshmallow stuck to his face.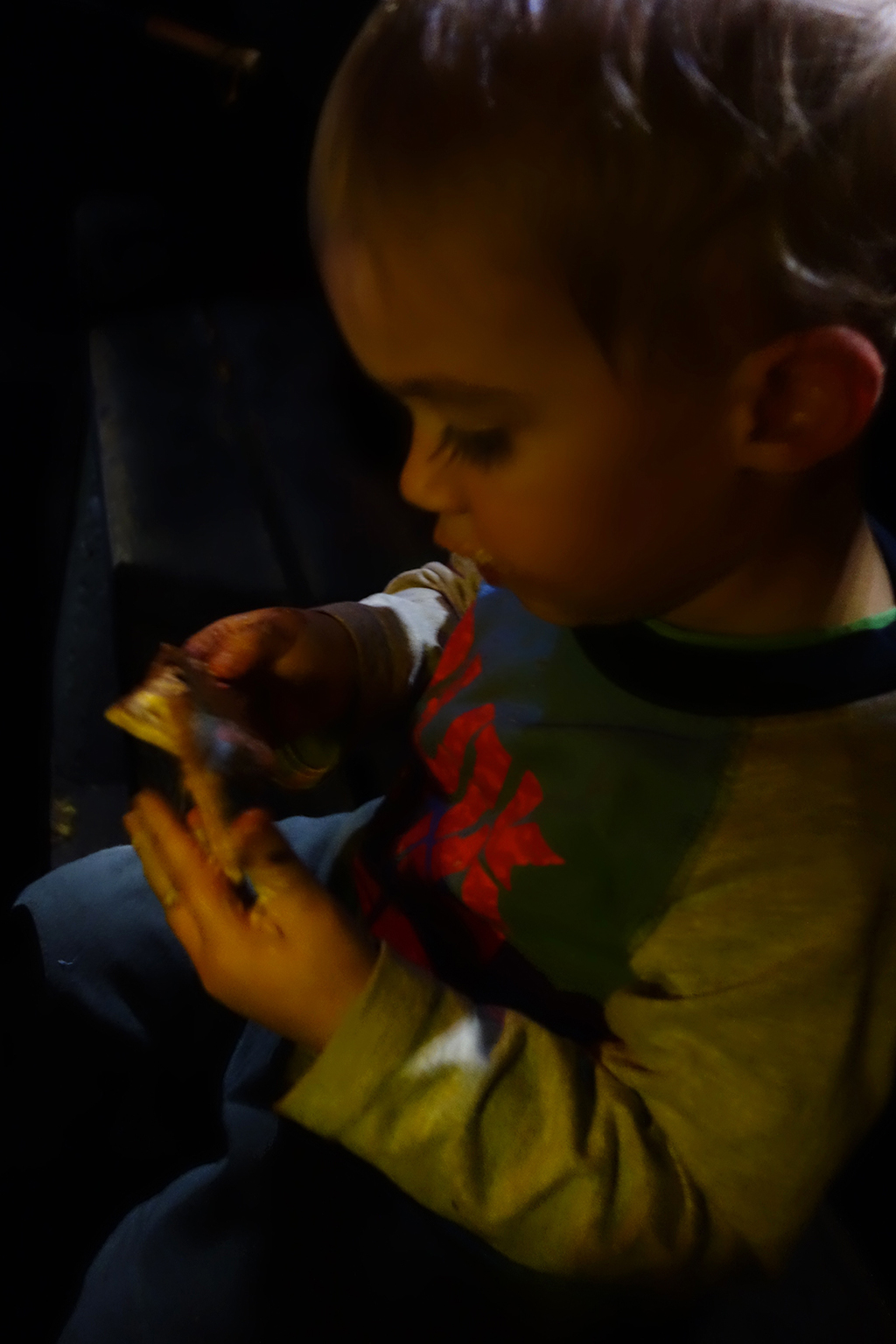 Sunday morning, Jackie made us all an incredible breakfast with fresh mellon and hashbrowns, bacon and eggs cooked around the fire. I was too busy eating it all up to take a photo of her spread.
Thank you, thank you to our kind friends for making my birthday celebration a fun one once again this year!