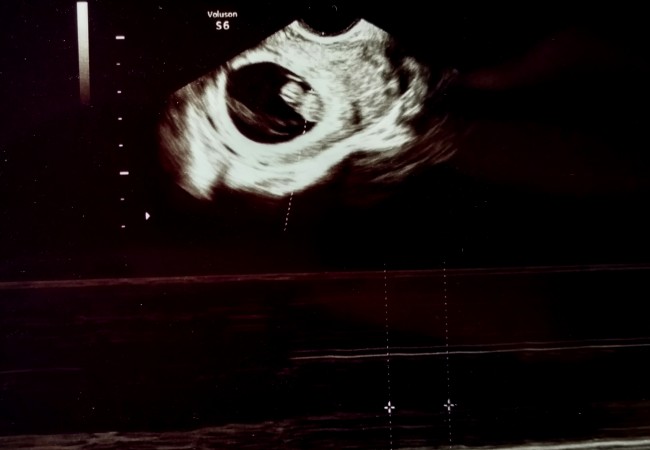 Our 5 Year Fertility Story
Researchers have measured that fertility issues are as stressful to women as having cancer, AIDS or heart disease. In my worst moments – when I was sad and disappointed and crashing down from all the medications – I would think to myself that infertility didn't feel like "dying" but "not living." It seems overly dramatic now but that's the uniquely painful reality of a health issue with a potent blend of secrecy, stigma, doubtful insurance coverage and mood-altering hormones.
In the clear light of six months into a happy pregnancy – with a tiny person with hiccups endlessly kicking my hips as I type – it is easy to have the perspective and confidence to talk about our situation that I lacked during our five years of fertility struggles. I still don't feel all that comfortable sharing the details so publicly – but it's Infertility Awareness Week and I hope that my story can help reduce the fear I felt about the process for someone else.
Unlike many women my age and in the technology sector, I was not surrounded by other stories of infertility. Instead, we had friends and family who seemed to all be able to conjure up babies with the snap of a finger. And on the internet, everyone seems perfect. When Rob and I started trying in 2011 we assumed it would be a breeze. Three years later, after 36 individual months of disappointment, many awkward responses to questions about our plans and several baby showers hosted for friends, we finally had the courage to talk to our regular doctor about it. He ordered some basic tests and sent me to acupuncture – starting a worthless six months of drinking expensive powdered Chinese herbs and being stuck with – sometimes flaming – needles.
I don't know why it was so hard to finally take the leap to see a reproductive endocrinologist. It felt like an admission of failure, an irreversible step toward expensive and painful treatments, weirdly guilty. I can only say that even though those things were sort of true – I wish we had done it sooner. In a year of treatment, I had every possible test, Rob had surgery under anesthesia and we went through six cycles of IUI. We told a small group of close friends. Their support was generous and kind, but it did hurt just that little bit more to have additional people feel sad with us each month. Thankfully, Rob's insurance surprised us by covering almost all our costs. And, by now I had launched my own company and didn't have to try to hide all these doctor's appointments from my employer. Infertility is technically covered under the Americans with Disabilities Act, but that doesn't mean that it isn't still a major career risk to even mention it, especially in a place like Silicon Valley.
A year later, we had the painful conversation with our doctor about it not working and needing to explore other options. I had finally come to a place where thinking about the possibility of our life without kids didn't make me cry – or at least not cry for hours. We had priced out $18,000 IVF treatment options – which I had said we would never do – and considered going to Spain for the process.
The night before our last official test day, we were going to a beer-tasting fundraiser for the parks. I decided to test early so I could drown my sorrows in delicious microbrews when we saw our first-ever faint line on a pregnancy test. About nine more home tests, two blood tests and two ultrasounds confirmed it – our last IUI had beaten the odds and worked! We are so, so lucky and so, so happy! A bit of good karma (and good genetics) have meant I've had zero morning sickness, stretchmarks or other pregnancy issues. Rob teases me for taking so many selfies of the bump, but it's a symptom of still being joyfully in awe of the fact our treatments worked. I really never thought I would have this.
Looking back, I think one of the biggest downside of our fertility issues is that it stopped me from being truly, genuinely happy when a friend would announce a new pregnancy. I know now the joy they wanted to share but I was fighting my own selfish moodiness.
My advice for others: don't be afraid. Go straight to a reproductive endocrinologist for expert opinions at the start. Talk to your ob-gyn about fertility even if you're years from wanting to try for a baby. Learn everything about your own reproductive biology that you should have been taught in middle school with this book.
Despite the five years it took us to get here, I know we're still one of the lucky ones. I'm grateful to the nurses and doctors at UCSF and to everyone who supported us throughout the process. And, even more thankful for Rob, who went through the endless appointments, invasive procedures and shots with me every step of the way.
Photo of our six week ultrasound, with the baby looking very much like BB-8.