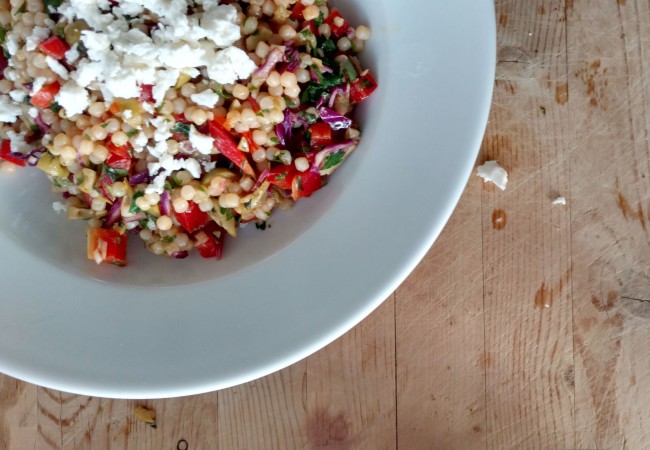 15-Minute Pearl Couscous Salad with Turmeric and Preserved Lemons
This is my new favorite pasta salad! So bright, flavorful and healthy. The recipe idea came to me as a mash-up of classic Morrocan preserved lemon and olive chicken tagine and Turkish kisir (tabbouleh salad).  Those delicious complex flavors of Mediterranean and North African cuisine – mint, preserved lemon, turmeric, olives, spieces and parsley – blend into something delicious that tastes like late spring. Pearl couscous is also often called "Israeli couscous" or "Ptitim."
Warm Pearl Couscous Salad with Turmeric and Preserved Lemons
3 servings as a meal, 6 as a side. 15 minutes to prepare.
Salad:
6 ounce box of pearl couscous
1/2 chopped red bell pepper
1 cup chopped red cabbage
1/2 cup chopped flat leaf parsley
1/2 cup chopped fresh mint
1/4 cup chopped green olives
1 chopped stalk of green garlic (or substitute two green onions)
Feta cheese to taste
Dressing:
1 minced preserved lemon (very affordable at middle-eastern markets or to make yourself)
Juice from 1 fresh lemon
1/4 cup olive oil
1/4 cup minced yellow onion
2 teaspoons of turmeric
Fresh ground black pepper
Start by toasting the couscous in a pan with a bit of olive oil per the package directions. Add 2 cups of water, cover and reduce the heat to simmer for 12-15 minutes. Meanwhile, blend together the ingredients for the dressing in a small bowl and set aside. Chop the vegetables and herbs for the salad. When the couscous is ready, add it straight to the vegetable mix while hot and stir. Add the dressing while still warm and top with feta cheese. The saltiness of the olives, cheese and preserved lemon means you don't likely need to add more salt, but give it a taste before serving.
Also terrific cold the next day – the turmeric will have dyed everything a deeper yellow color overnight. I suggest adding the fresh herbs along with the cheese right before serving for maximum impact if you're making it ahead.