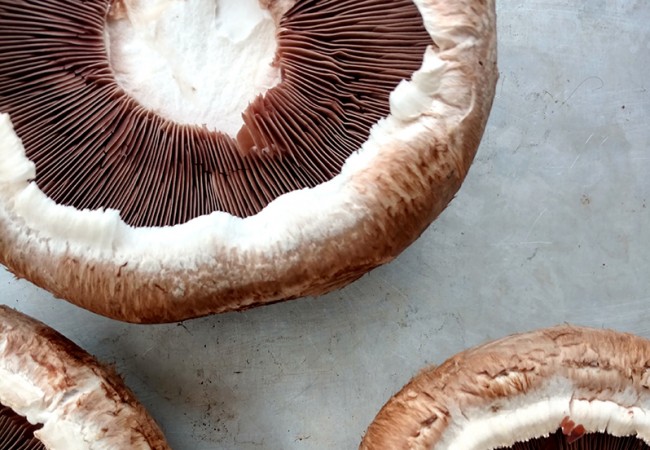 A Hearty Winter Pescatarian Dinner Party
This was my first real dinner party of the year and the first with this loud-and-proud baby bump in tow! While Rob was away on business in London, I invited a favorite graphic designer of mine who had just moved here from Barcelona along with her boyfriend Gustavo and three other terrific friends: Lauren, Maryam and Ambrish. A cross-section of conversation representing no less than Indian, Persian, Mexican, Spanish and Chinese cultures.
Menu
Warm slices of baguette
Portobello mushrooms topped with polenta and blue cheese inspired by Ina Garten
Lemon dill salmon baked in parchment paper
Green salad with truffle vinaigrette
Lemon creme fraiche pie
Coffee and tea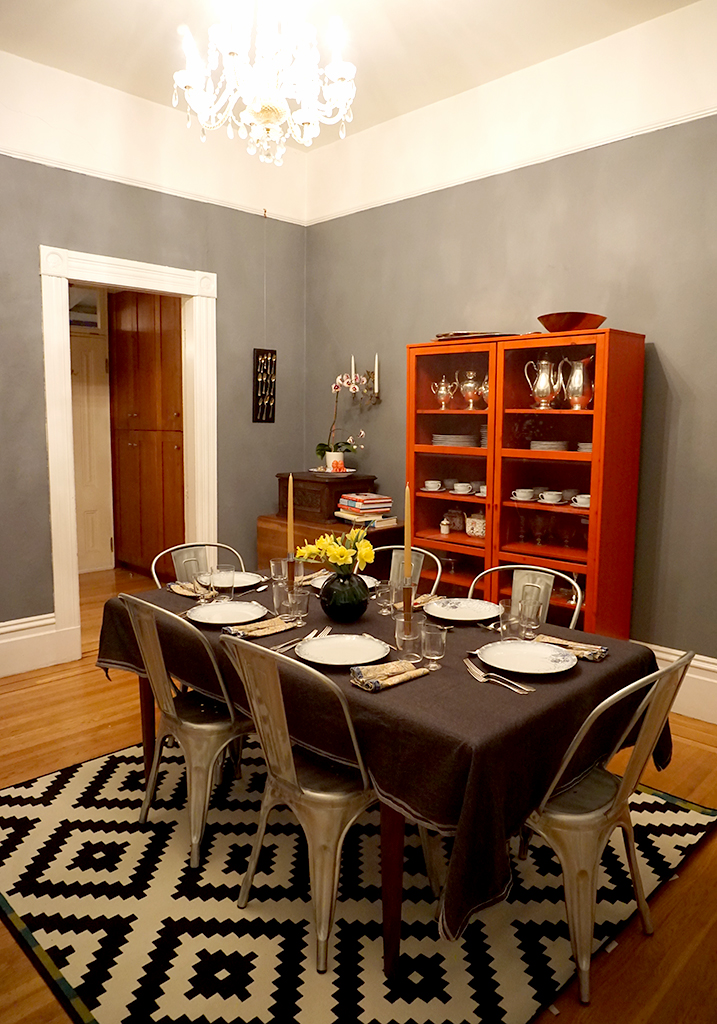 Night before:

I prepared a bag of dried Christmas beans – a beautiful, spotted variety of lima beans that I get for $1 at farmer's market – in a large pan of water to soak overnight and set the table with a dark tablecloth, yellow napkins, natural beeswax taper candles and my blue wedding china. Planned the menu and shopping list before bed.
Morning of:
I worked from home all morning with the beans cooking for 2.5 hours before running to the grocery store at noon for a can of quality stewed tomatoes, six portobello mushrooms, fresh mixed greens, lemons and blue cheese. I already had polenta, green onions, feta, red onions, garlic, oregano, pesto, dill and vinaigrette supplies at home. Guests were bringing the dessert, wine and bread for the party. Obligatory bump-running-errands picture!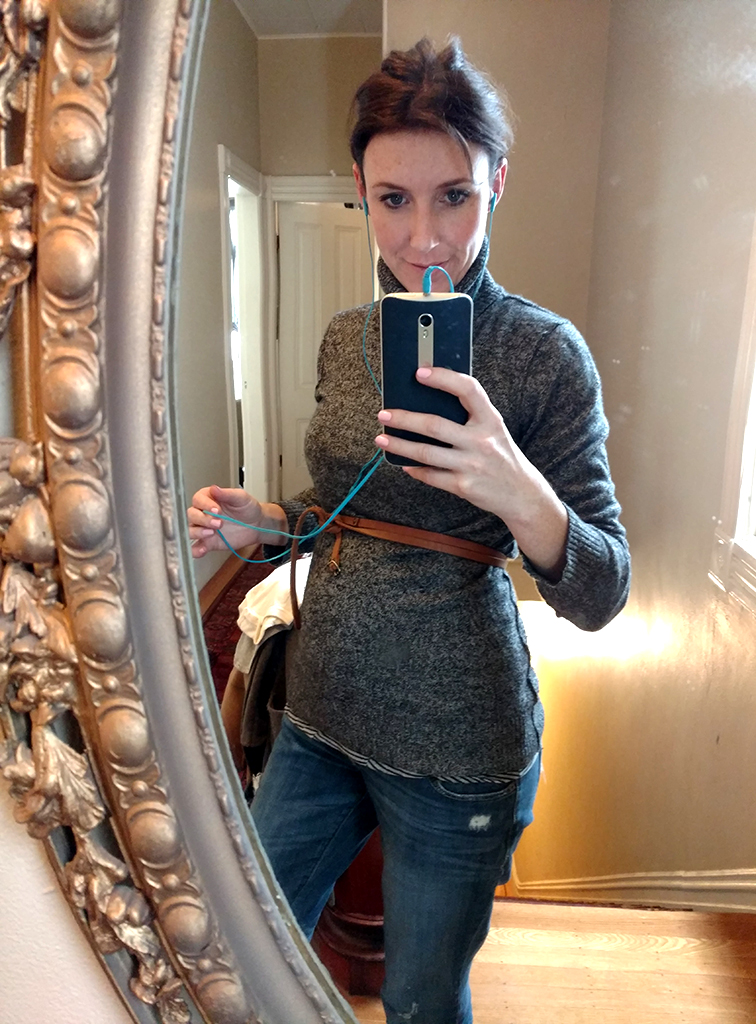 A few hours before:
This entire menu is make-ahead, giving you plenty of time to enjoy the party and the food. I cooked for about an hour at 3:00 for a 6:30 party start, but you could also do everything the day before. I started the tomato sauce on the stove to simmer for an hour and put the portobello caps in the oven to pre-cook with a bit of olive oil and balsamic. My polenta-stuffed mushroom recipe is a hack version of Ina Garten's make-ahead recipe. Aren't they gorgeous!?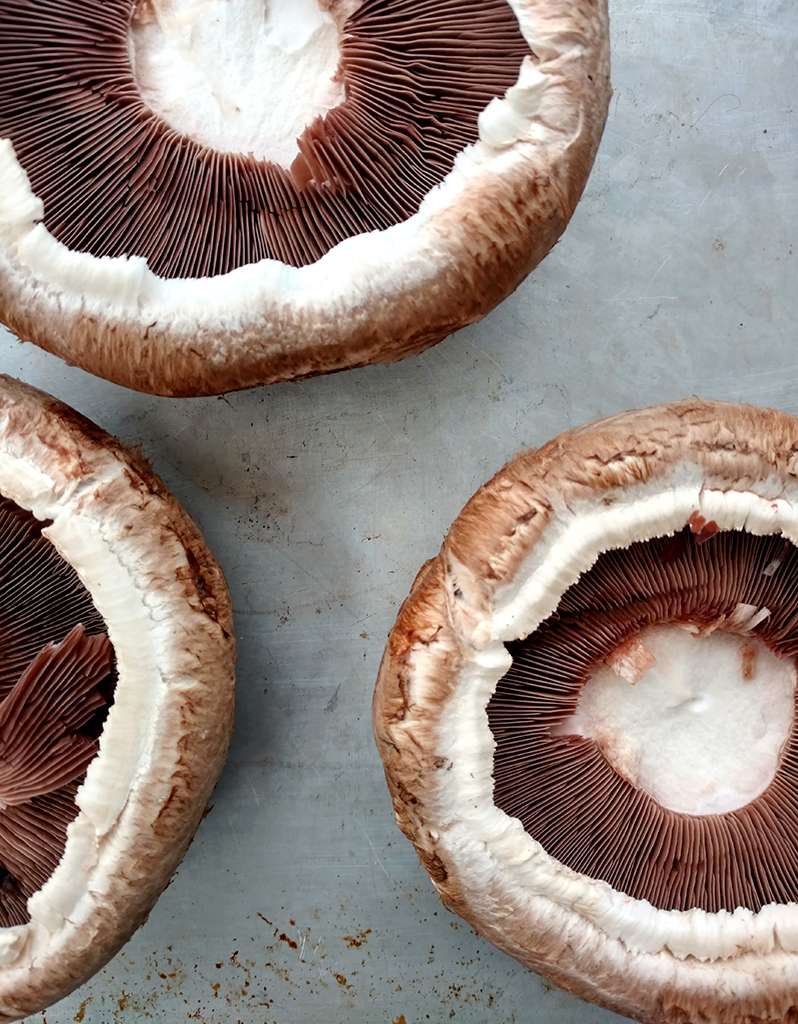 While that proceeded, I made the polenta on the stove top and drained the Christmas beans. Drained the mushrooms of their "juice" after they baked for about 15-20 minutes (it's delicious added to the polenta mix) and stuffed the caps with the polenta topped with blue cheese, green onion, lemon zest and a few mushroom pieces. Covered and set-aside, that dish is done until you warm it up before serving.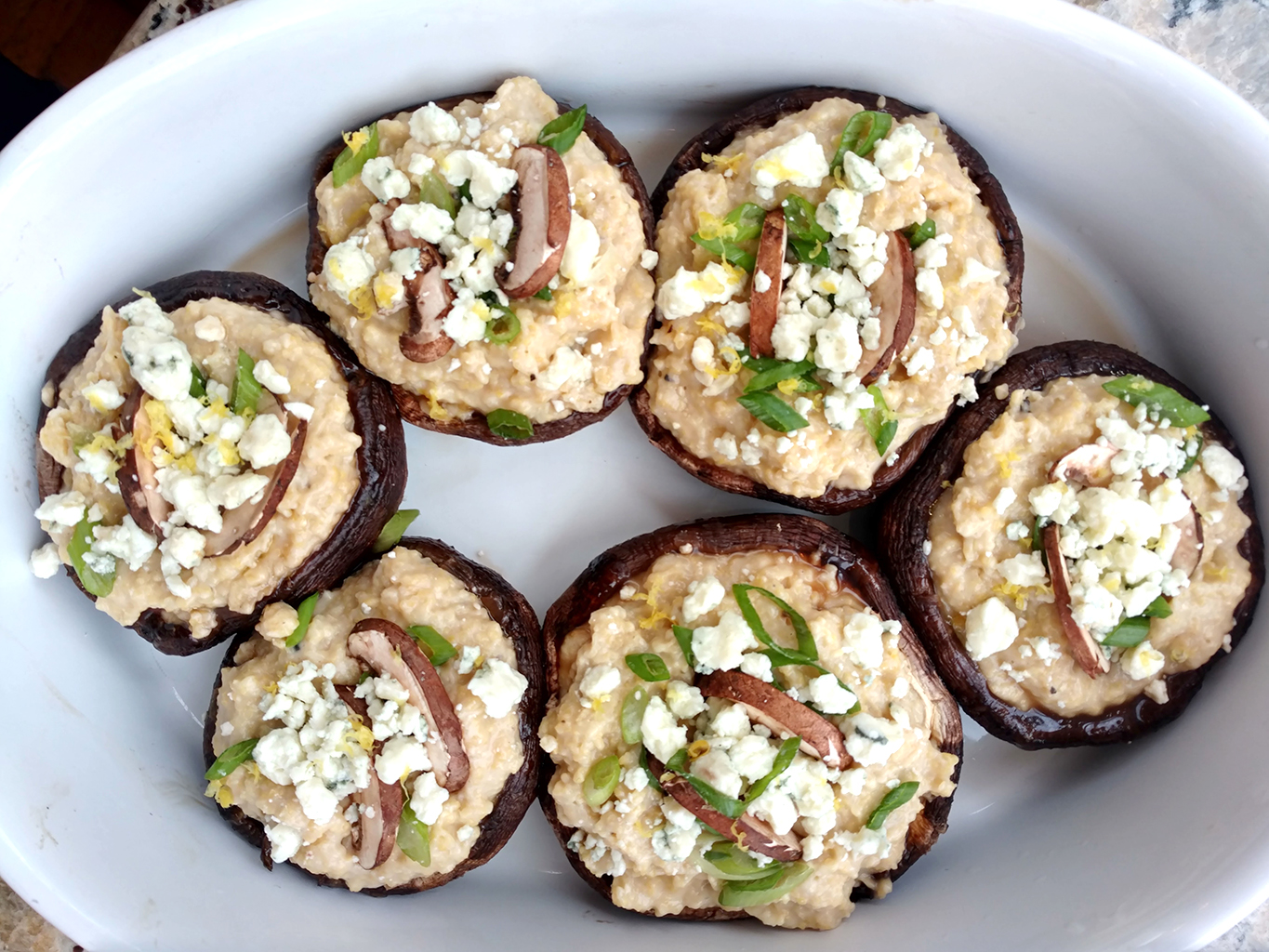 Next, I cut a 1.6 lb piece of salmon into six slices. Placed lemon and dill in between each piece on a sheet of parchment paper. Added a bit of salt, pepper and olive oil before folding it up to a sealed envelope. Into the fridge with that, ready to bake for 30 minutes before serving.
I made the salad's vinaigrette and put some glass bottles of water in the fridge to cool before going back to work. At 6:00, the kitchen was all staged and ready for the party.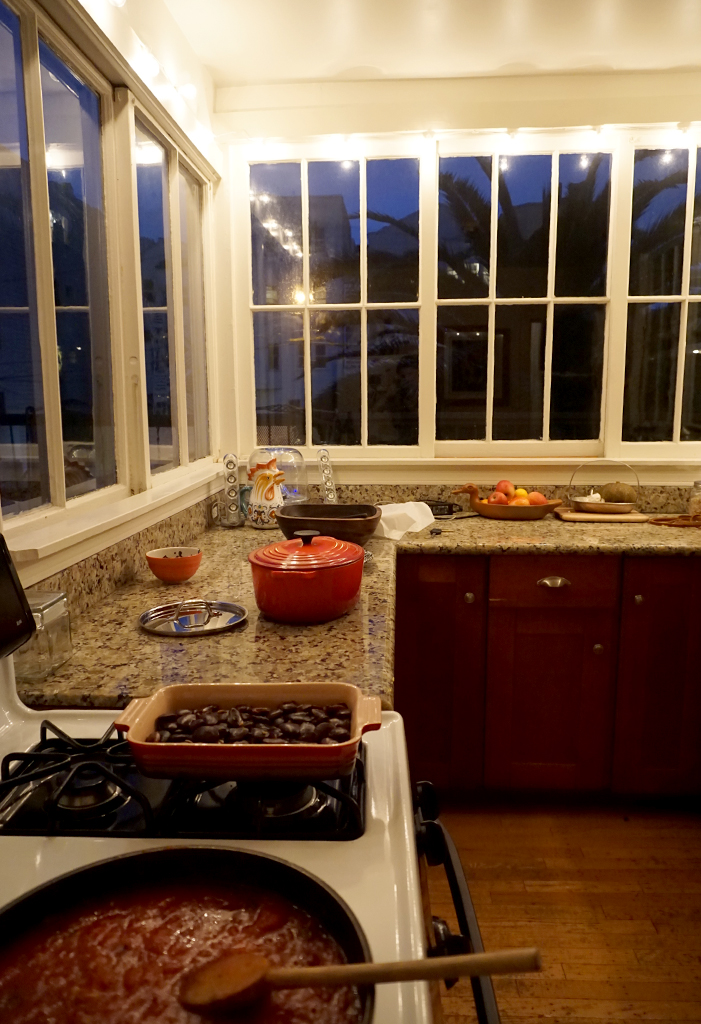 Launch time:
I warmed up the oven and put the tomato + feta beans in to bake about 30 minutes before the guests were scheduled to arrive. Took coats and doled out drinks before taking the beans out, putting the fish in and having everyone sit down to share this hearty appetizer at the table. Mushrooms went in the oven about 15 minutes before the fish was done. Just enough time to open a new bottle of wine, a new bottle of cold water and to dress the salad before the main course. The fish "envelope" is fun to unfold table-side with a bit of theatrics.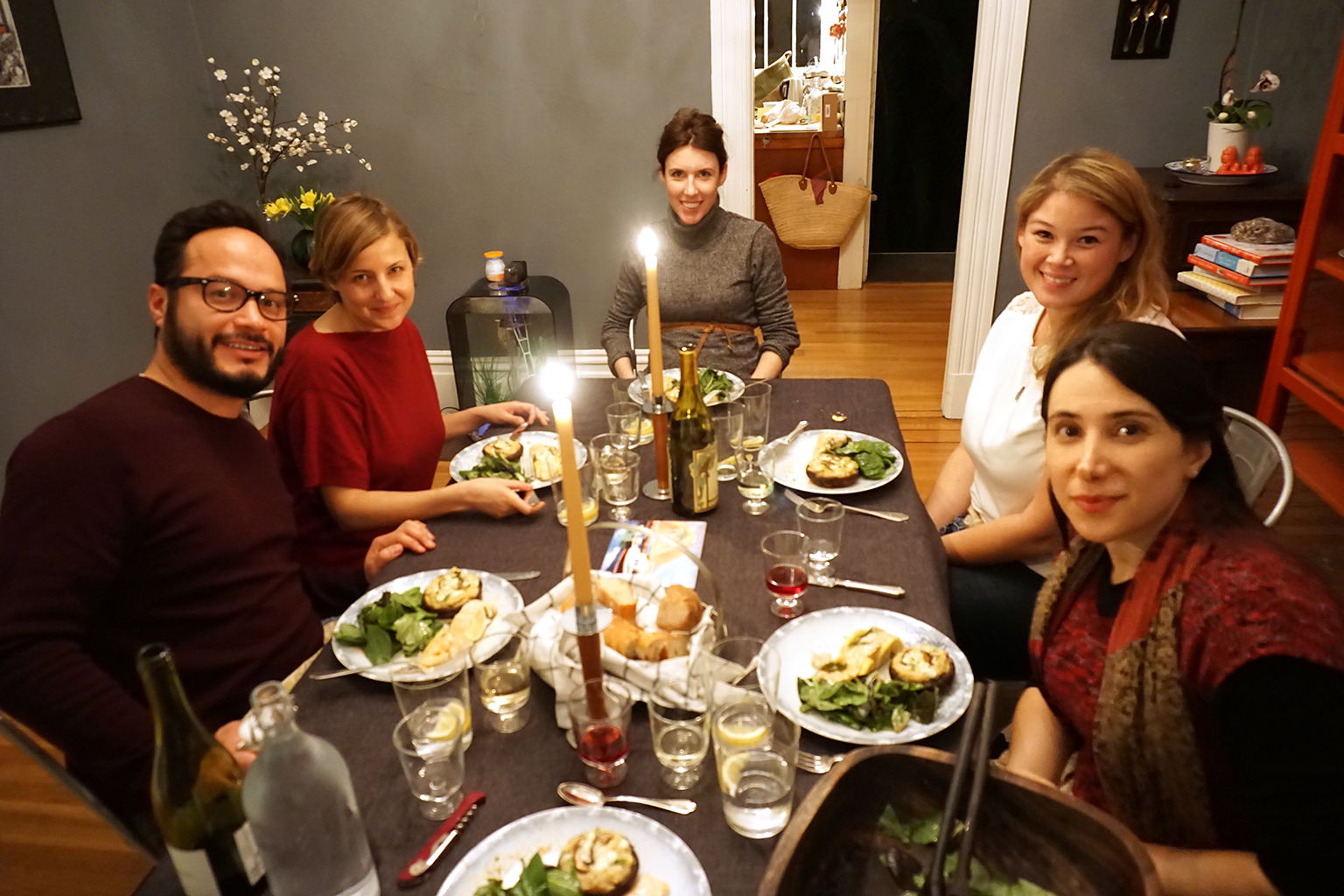 For dessert, I made a pot of coffee and a pot of decaf tea and enlisted Lauren to help cut up the delicious lemon pie. By 9:30, we were all absolutely stuffed to the gills and ready to venture back home.
My rule with picking up after a party is that only putting up the perishable food and washing the silver by hand are required that night. Everything else can wait until the morning. I love the way a quiet house feels after a lovely party.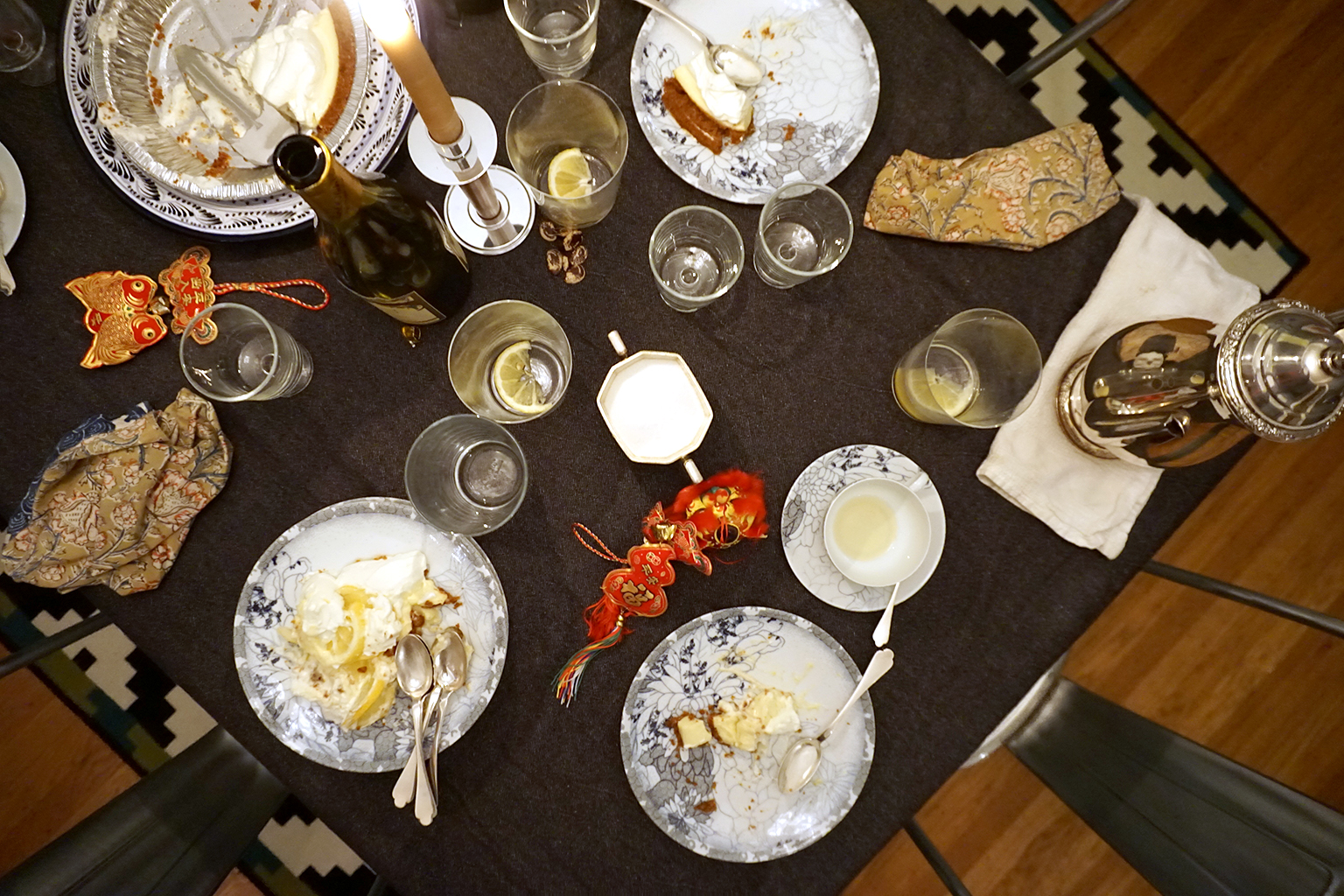 Thanks to Katie, Gustavo, Maryam, Ambrish and Lauren for a fanstic dinner party and fascinating conversation!