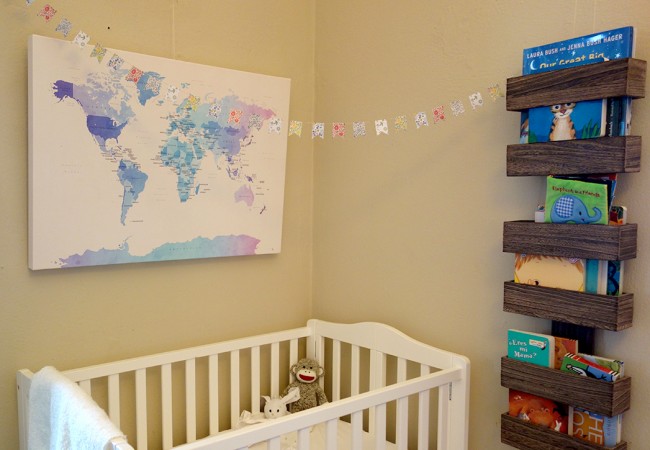 Our Simple San Francisco Baby Nursery
100+ year old San Francisco apartments often have what's called a "double parlor" room off the formal living room area. These cozy rooms usually have no external windows – making them a warm haven from the fog and street noise – but also darker and difficult to photograph well. We've just finished converting ours from a guest room/TV room to a room for the baby. We really did only a little to update the room for our new arrival.
This is the view from the long entrance hall. The Ikea day bed pulls out to be a king sized bed. It's topped with new soft gray sheets and pillows I re-covered in a soft Japanese fabric. The drawers below are filled with diapers and blankets. There's a changing pad tucked away on the side.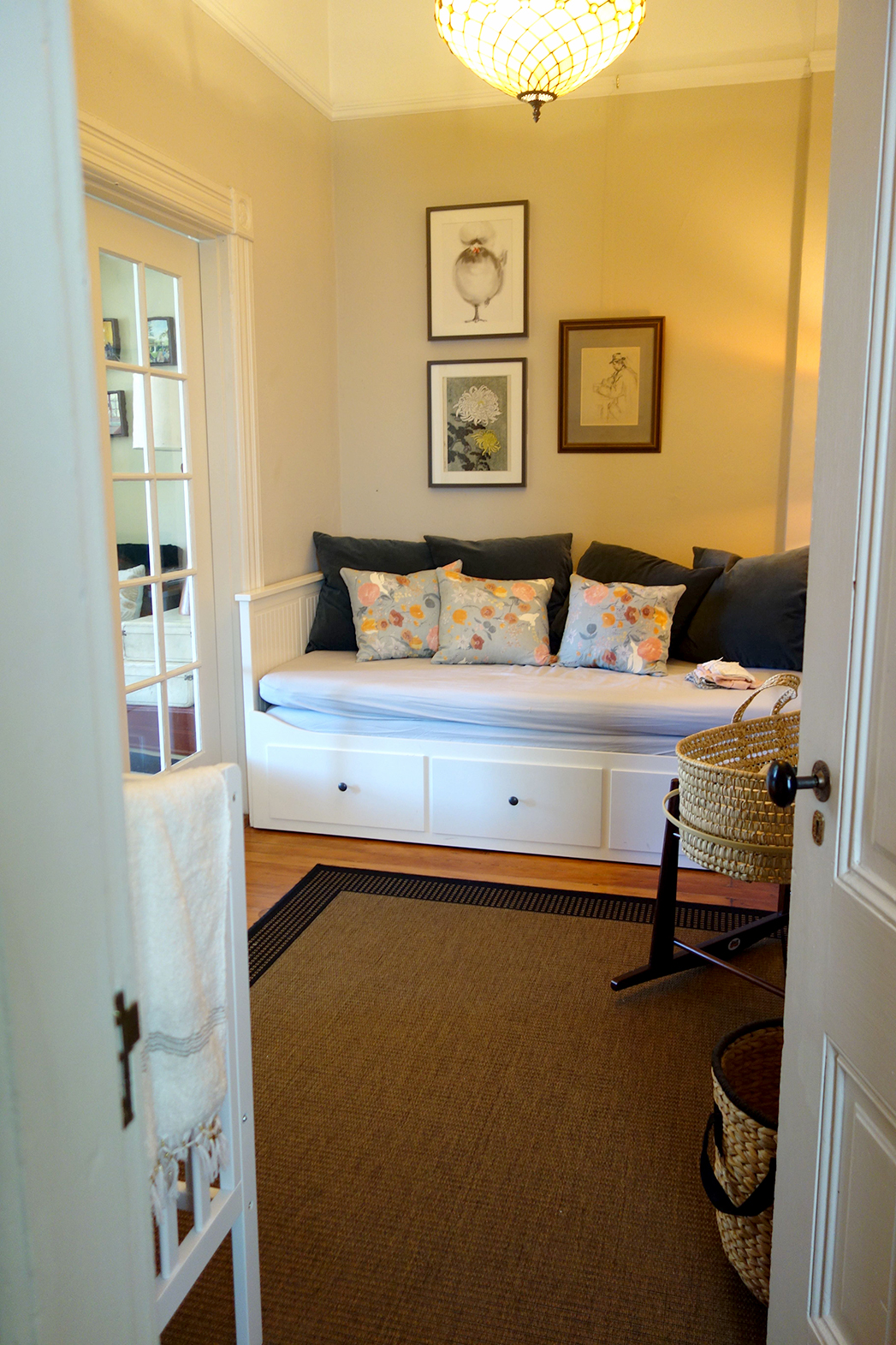 The fabric is a double gauze from Nani Iro called St. Moritz and so, so pretty.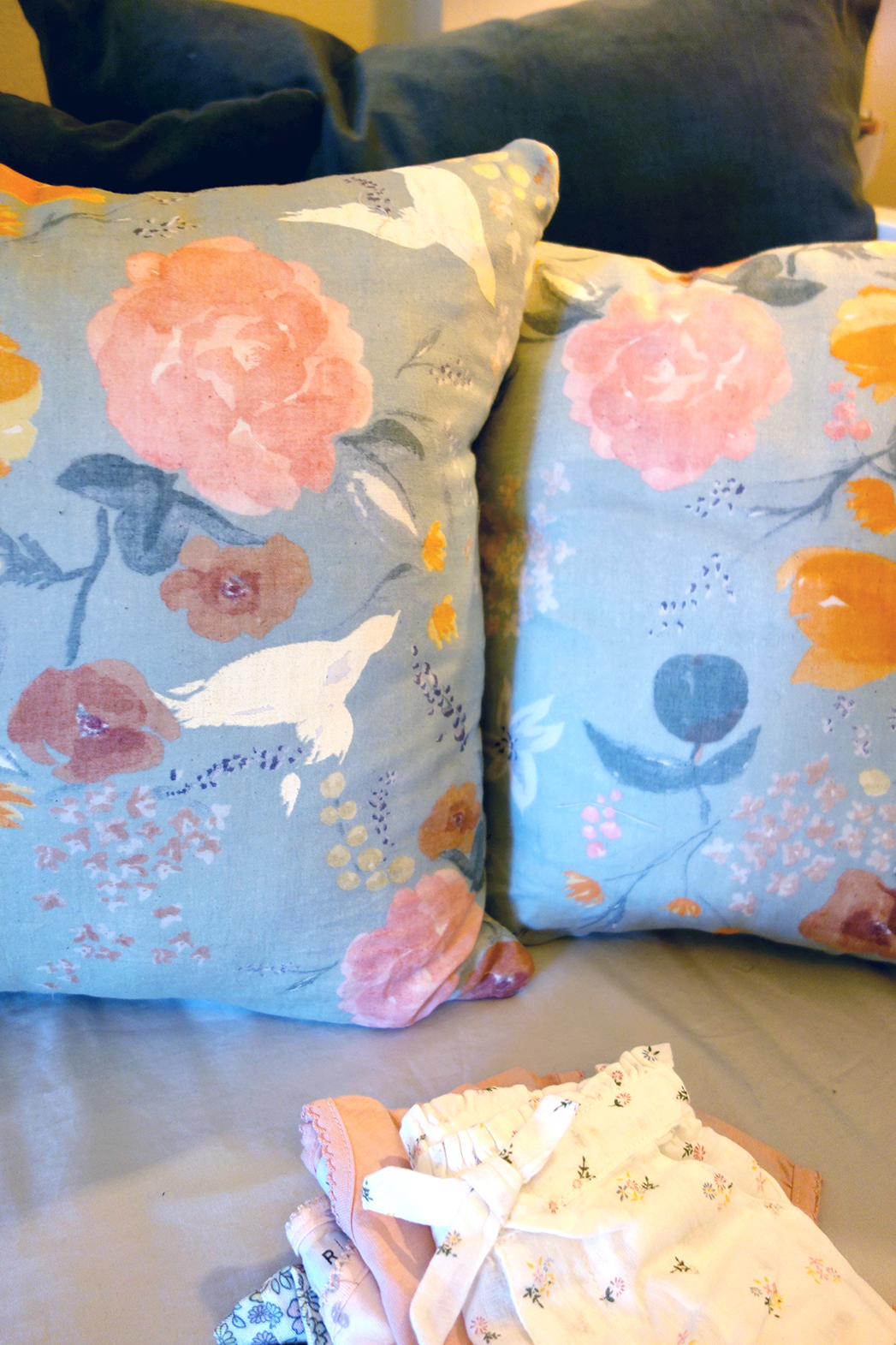 The other corner of the room has a simple white mini crib (it even folds flat!) and a watercolor world map Rob picked out. We have a few more things to frame and hang over on the side. Baby books are in a wood magazine rack we bought when we first moved to the city years ago. The white blanket is from our trip to Chefchaouen, Morocco and is part of the colorful, layered womens' dress there. There are a couple more swings and rocking devices tucked in under the crib for now.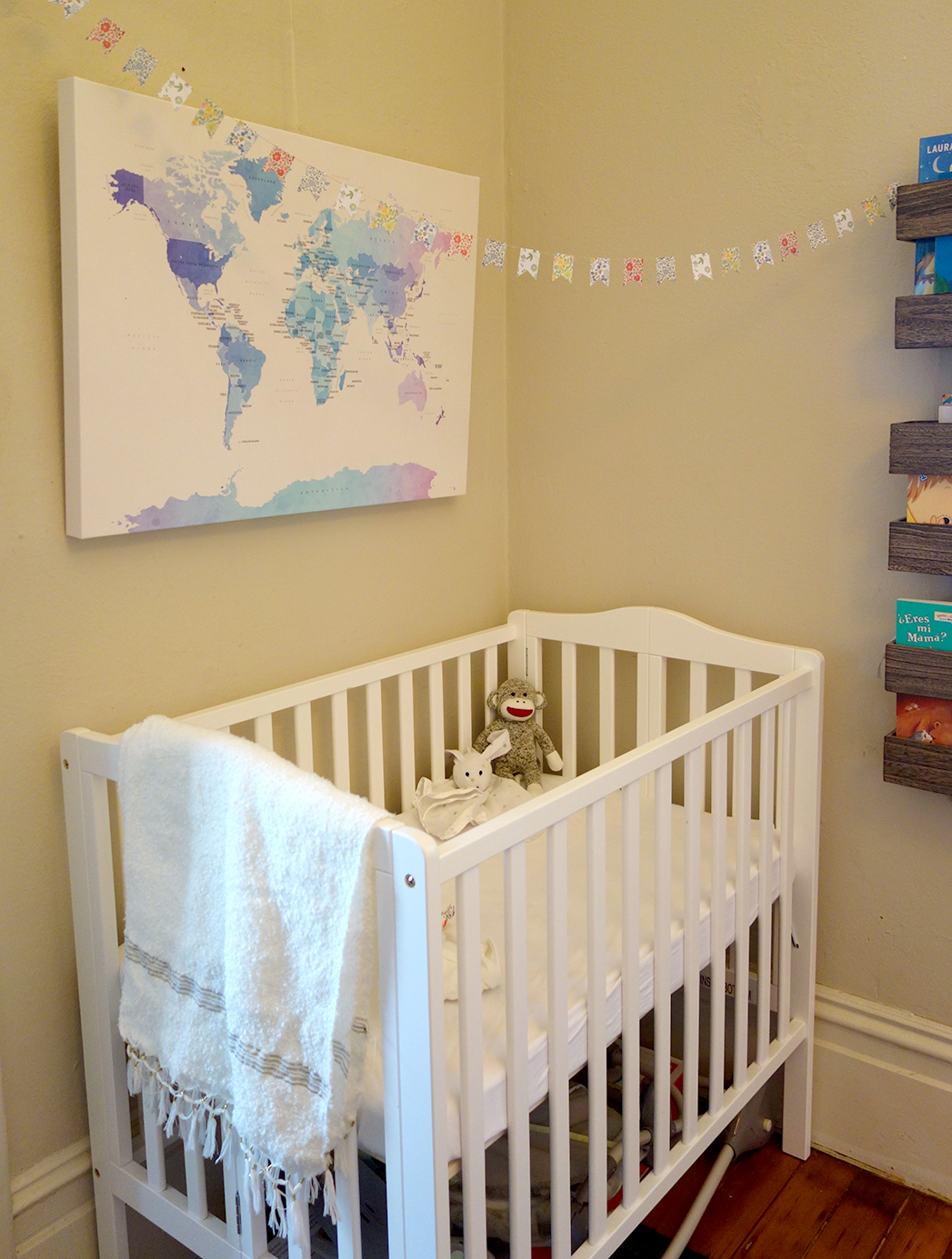 We have a woven moses basket on a rocking stand that will probably move to our bedroom for the first few weeks or by the living room bay window for naps. A simple set of narrow wire drawers is full with all the various creams, ointments, headbands, rattles and pacifiers we've been given. The black globe on top is an amazing home planetarium we bought in Japan that fills the ceiling with constellations and shooting stars at night. There's an open closet to the right of this with cloth bins and hangers of her clothes.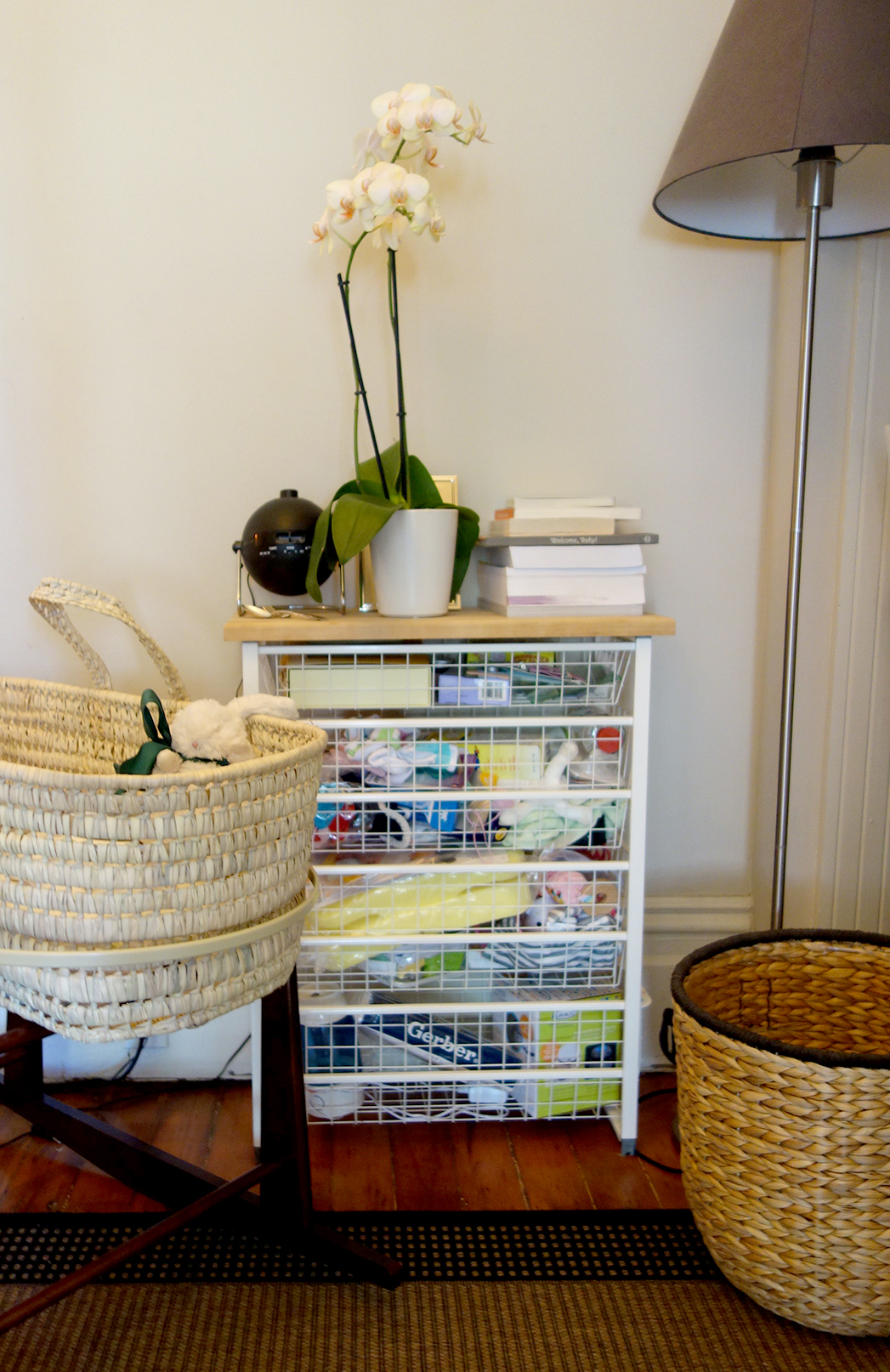 In the living room on the other side of the french doors, our Dutailier glider is set up and has already become my favorite place to sit in the house.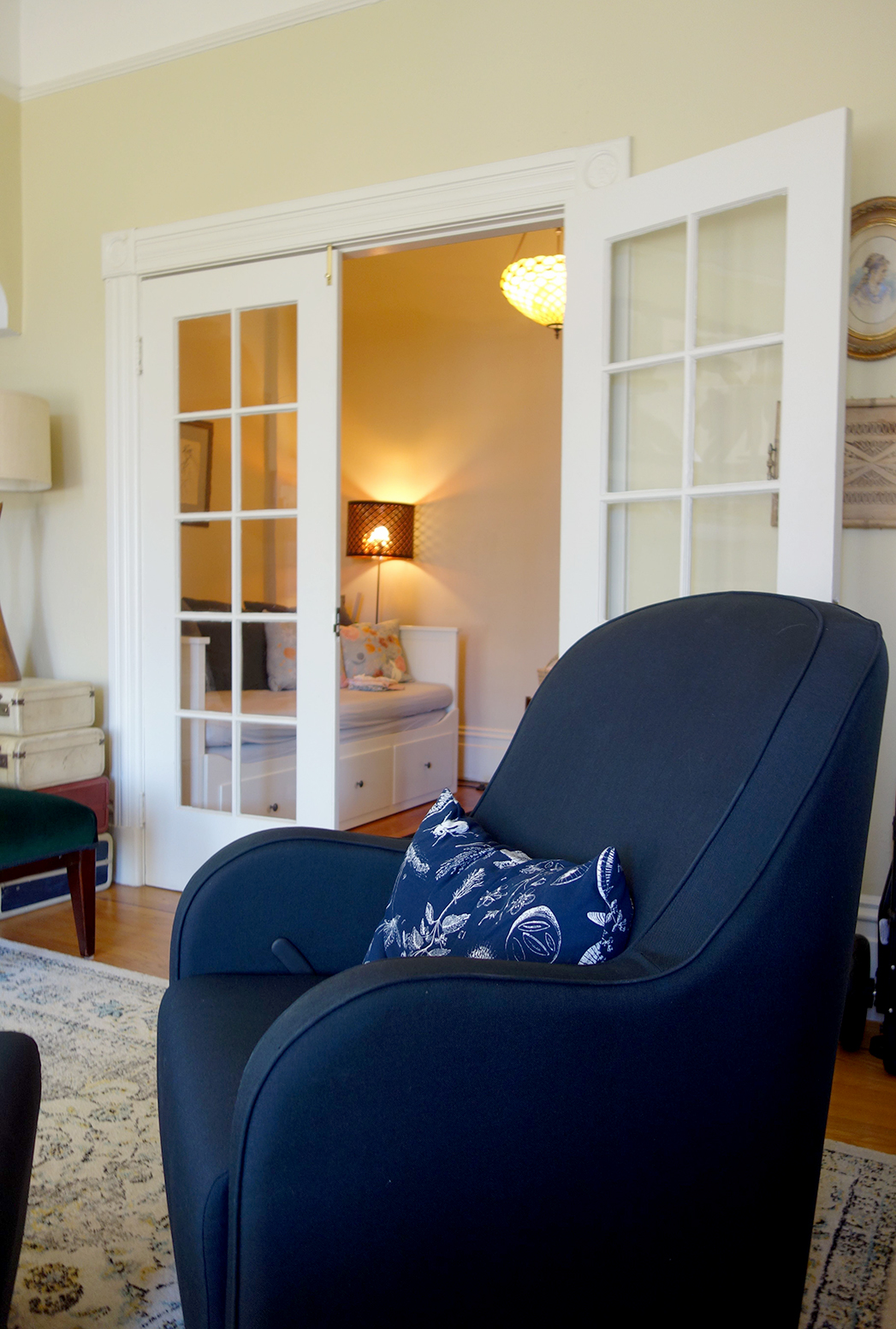 This Dutailier Uzon glider was our biggest baby splurge. There are a lot of nice, less expensive gliders on the market, but most are WAY bigger than this. This Uzon option was the smallest we could find to match the proportions of our other living room furniture.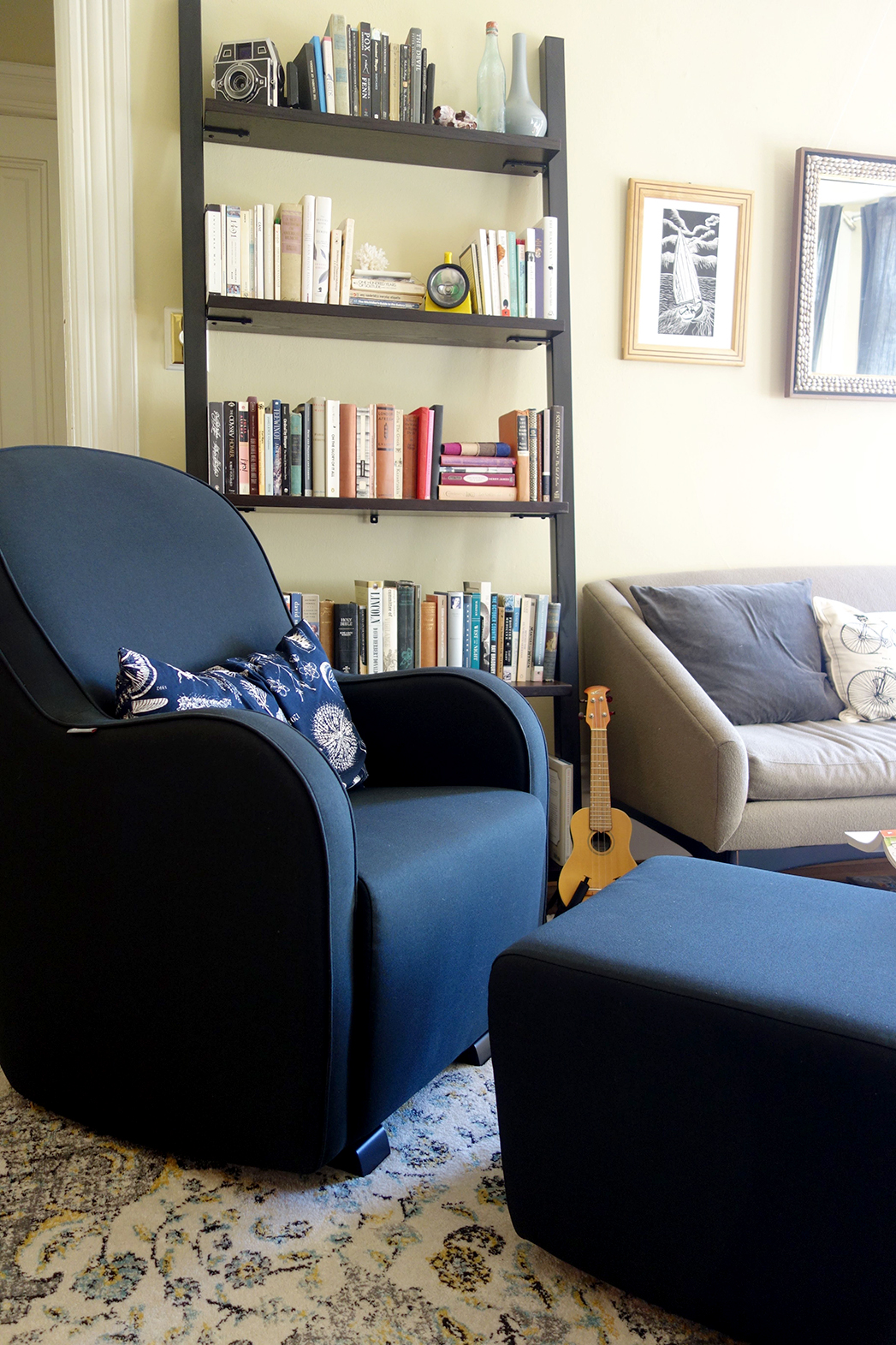 That's it! A simple and flexible baby nursery to fit into a classic San Francisco Victorian apartment. Just right for our little monkey baby due in a couple weeks (or days!).