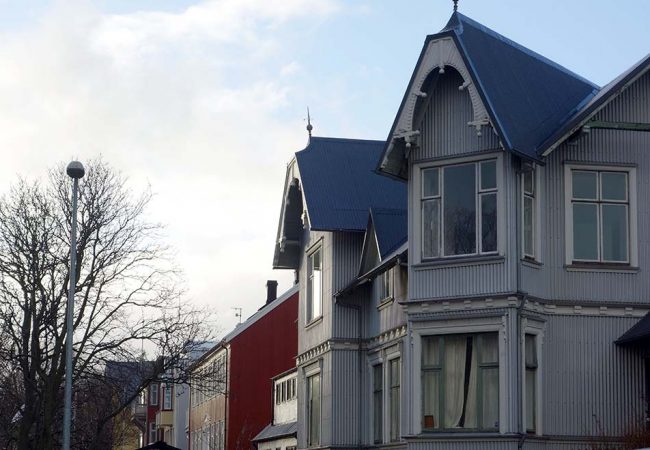 Starting our Iceland Adventure: A November First Day in Reykjavik
Iceland in November with a three month old baby…what a terrific idea! Rob was going to Reykjavik for work so why not pack up four friends, the stroller, the car seat and fly nine hours to an island in the arctic circle where there are just six hours of light each day? Despite all indications otherwise, this is turning out to be a lovely trip!
I was BURNT out from the election and a week of busy single-parenting-business-running but still managed to pack everything we needed.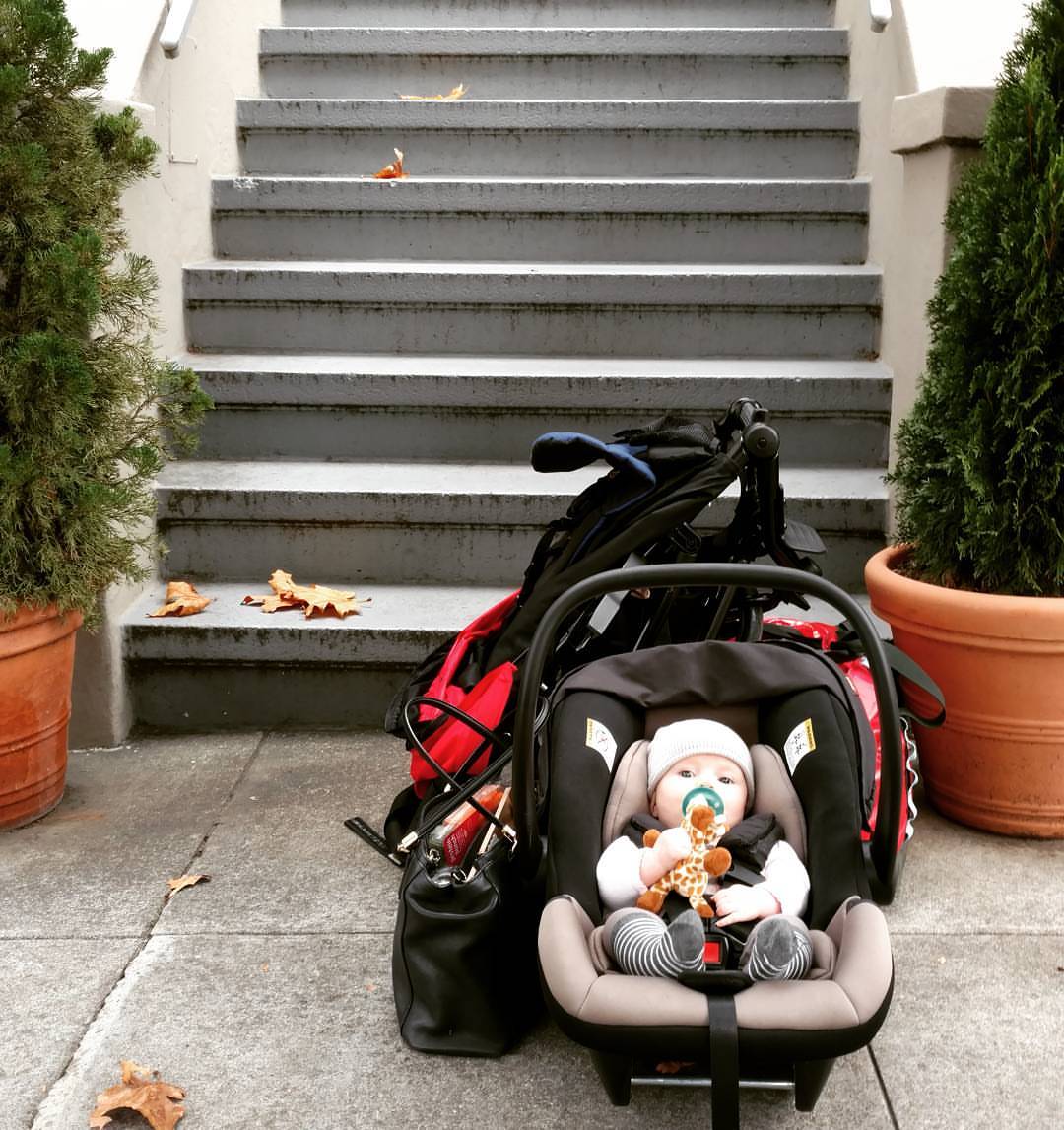 It helped greatly that Lucille is an easy traveler at this age. She was the only baby on our flight – so we had no one else to point fingers at if things went sour. She slept through almost all of the flight in her carrier and charmed the flight attendants. Greg, Kevin and Shane provided moral support and extra hands. As this photo shows, getting through the security check at SFO with the stroller, baby, breast milk and pump was the worse part.
We landed in Iceland at 3:00 am. The airport duty-free store is where all the locals stock up on beer and wine to avoid heavy local taxes – so we loaded up our cart with enough booze for a week in our jetlag-fogged state of mind. A quick, dark drive into the city to our adorable tin house at 53 Grettisgata just couple blocks off the high street. I crashed into bed for a long nap while Lucille chatted away – telling her father all about her week apart.
In the afternoon, we headed out into the capital city to explore. The architecture is pretty charming. Brightly painted tiny tin houses, each with a tiny yard with tiny trees.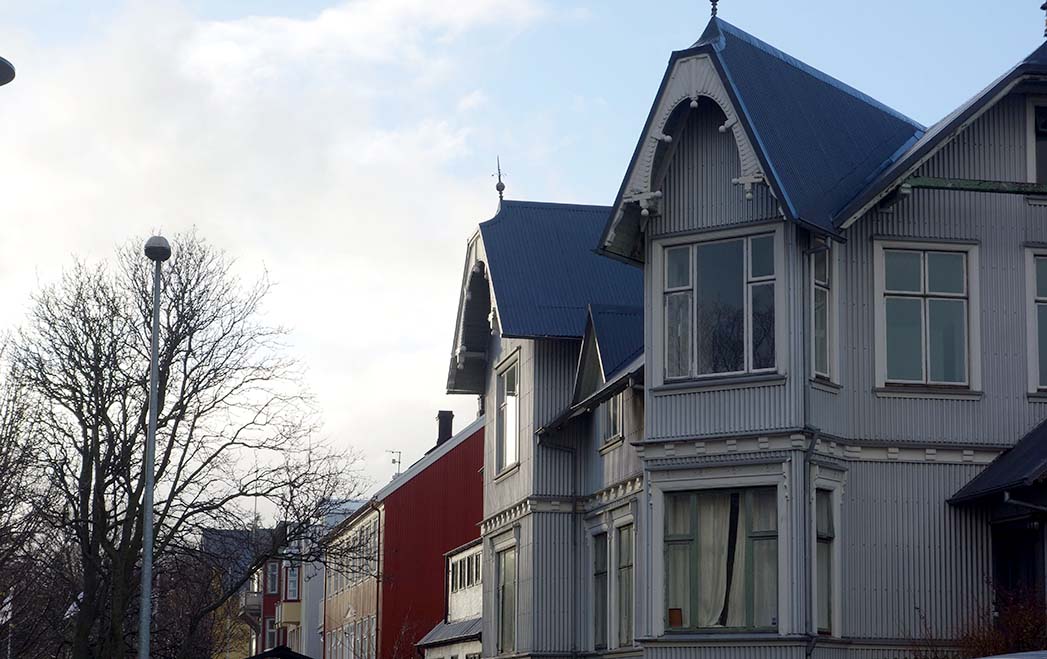 The rain cover we bought for Lucille's Mountain Buggy stroller kept her cozy and warm while we walked around.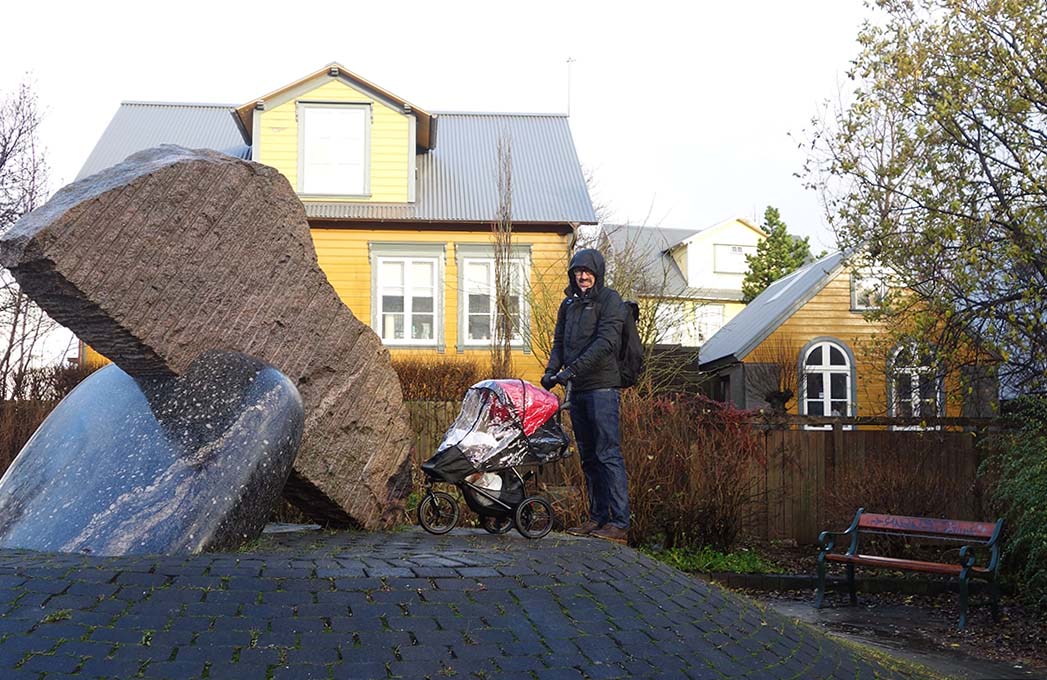 First stop, the city flea market where you can buy hand-knit Icelandic socks and sweaters along with baked goods, meats and other foods. Horse and whale meat were for sale, but we settled for some cured salmon, flatbread seasoned with moss, a gingerbread cake and free samples of fermented shark.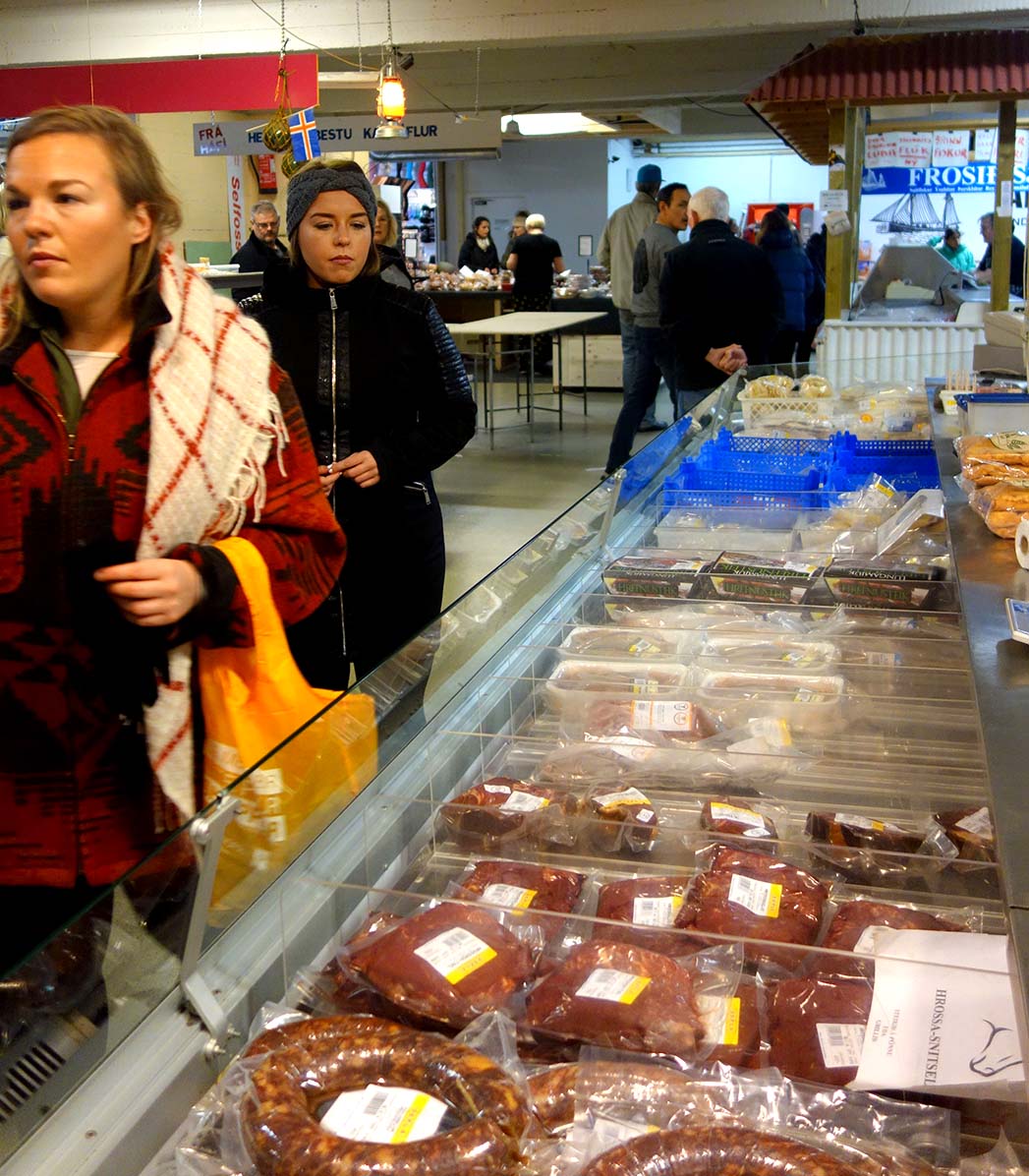 The whole town was already decorated with cheery lights and tiny Christmas trees nailed to doorways. It looked like Santa's village with all the red roofs. With the election at home, I don't think anyone had started thinking about the holidays yet – so this was a nice shift.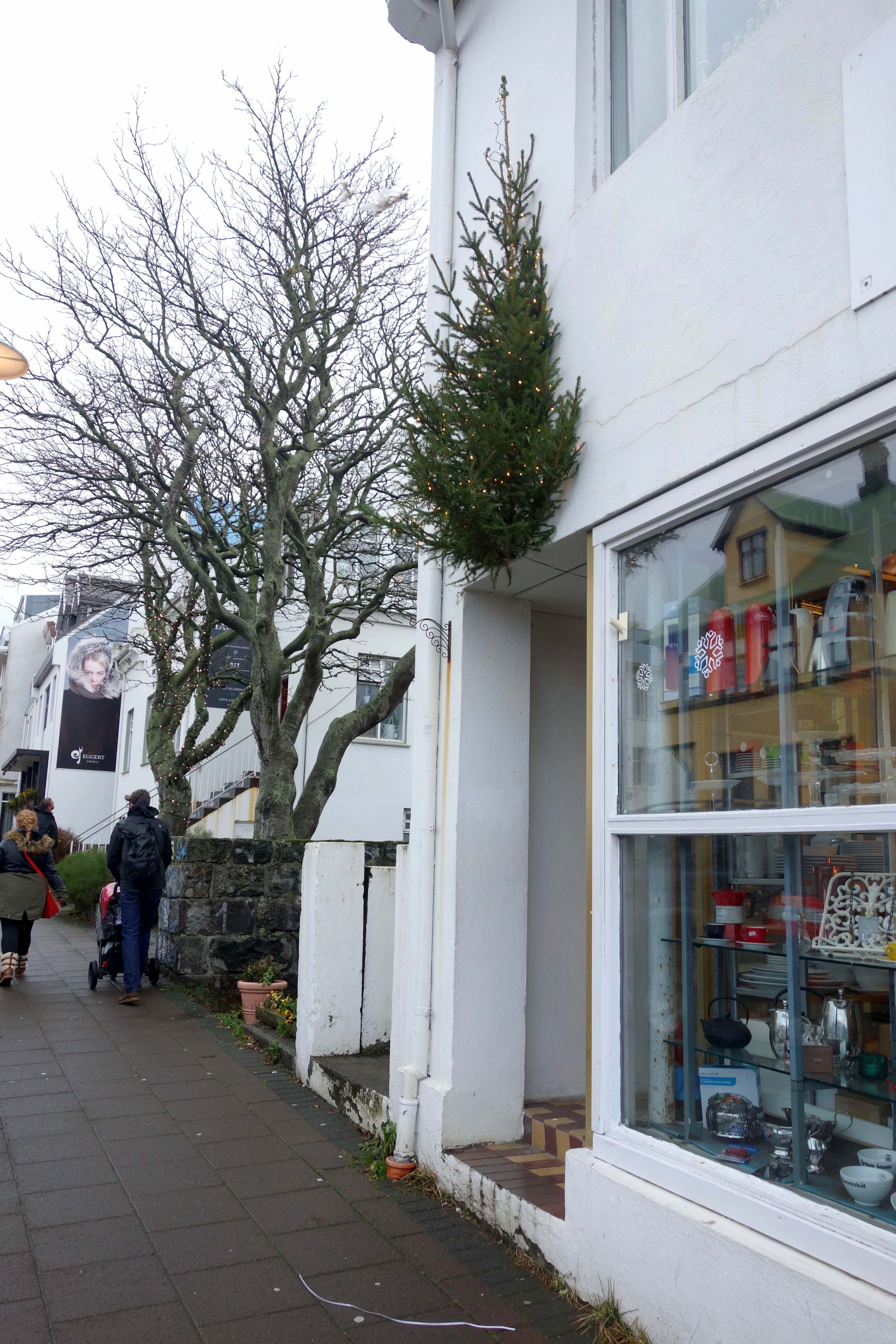 We walked over to the famous Lutheran church Hallgrímskirkja and paid to ride the elevator to the (very windy) top.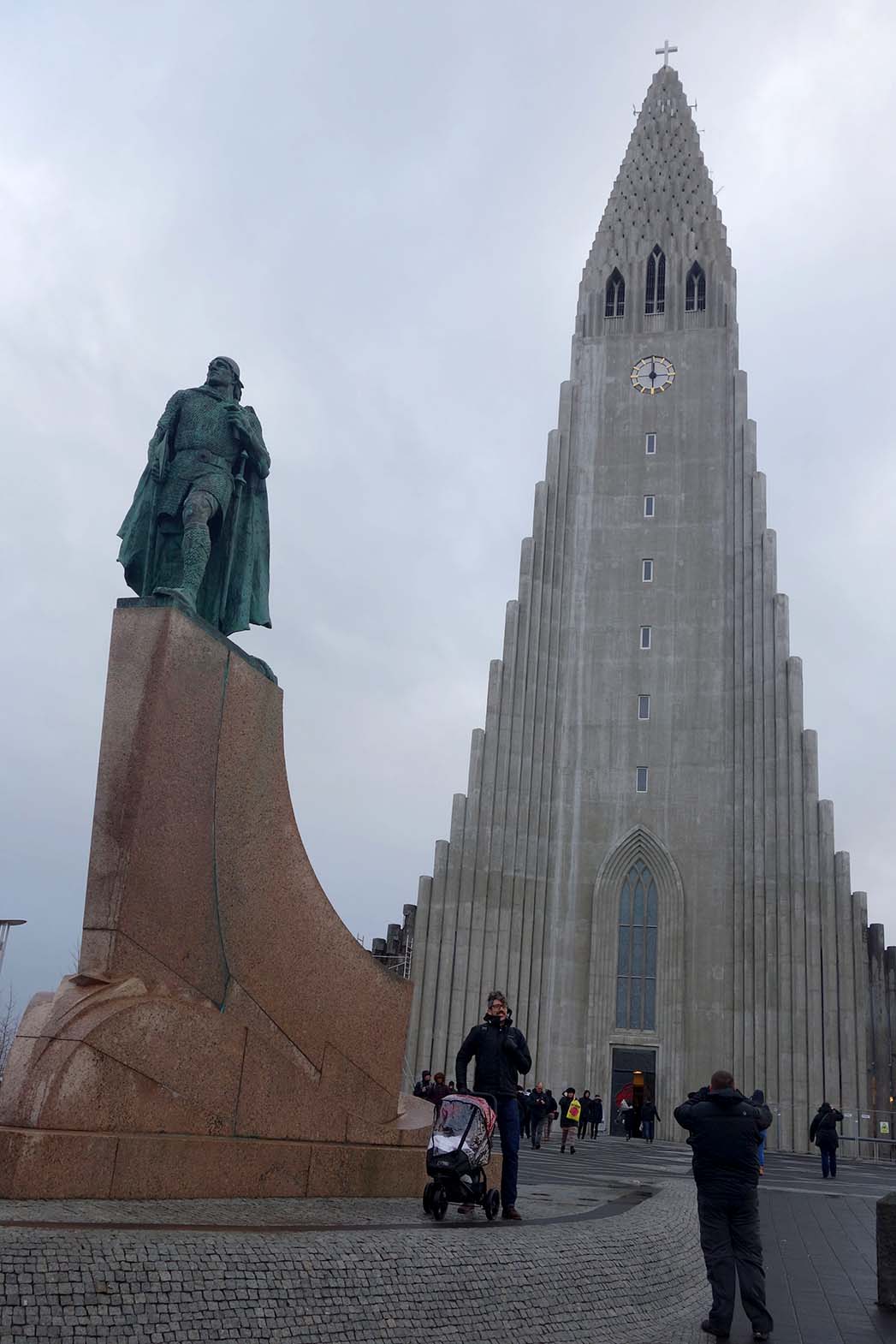 So cute!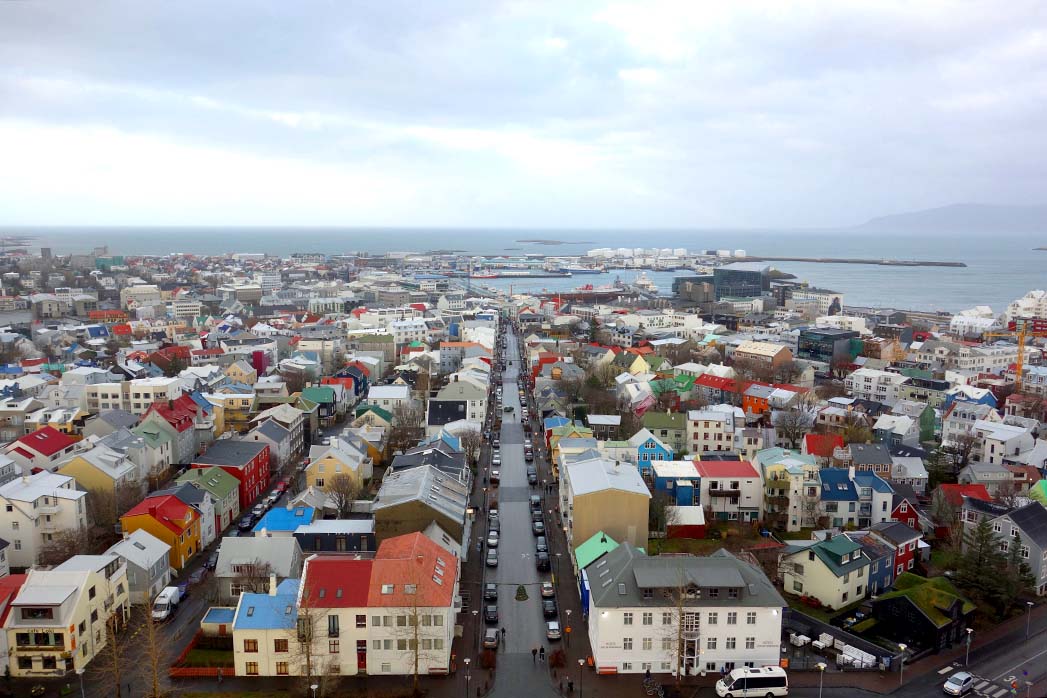 We stopped for a late lunch at Cafe Loki after – leaving our stroller out on the street like a local. This is where we discovered the delicious, traditional Icelandic fish stew (basically mac-and-cheese with the noodles replaced by fish, onion and potato). Their rye bread ice cream is also really good!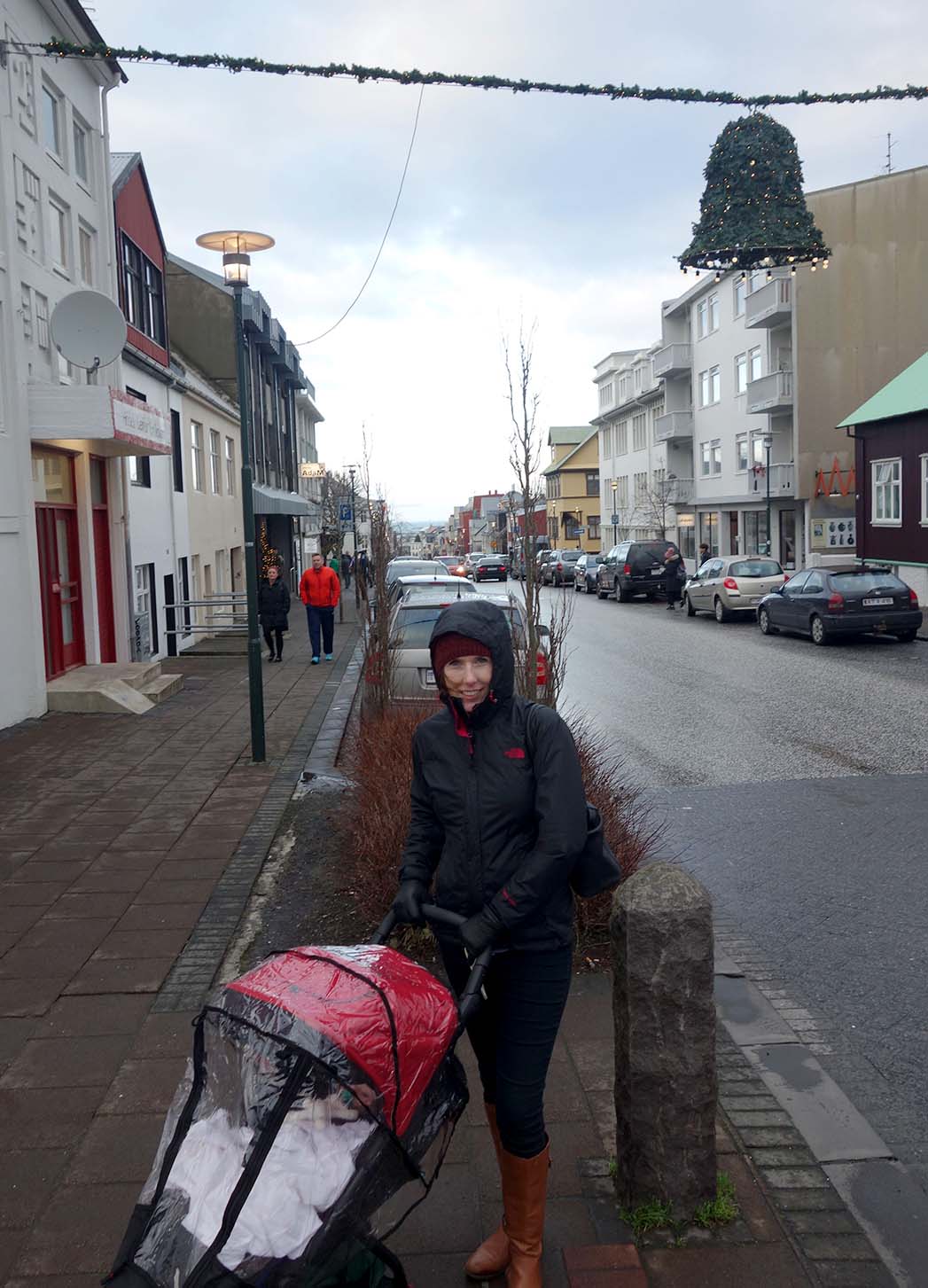 Back at the apartment we had just enough time to grab our bathing suits and drive to the Blue Lagoon for our 4:00 arrival appointments. This geothermal spa is a favorite destination for all tourists and a great way to relax (while still staying awake) after a long day of travel. The water is a distinctive blue milky color.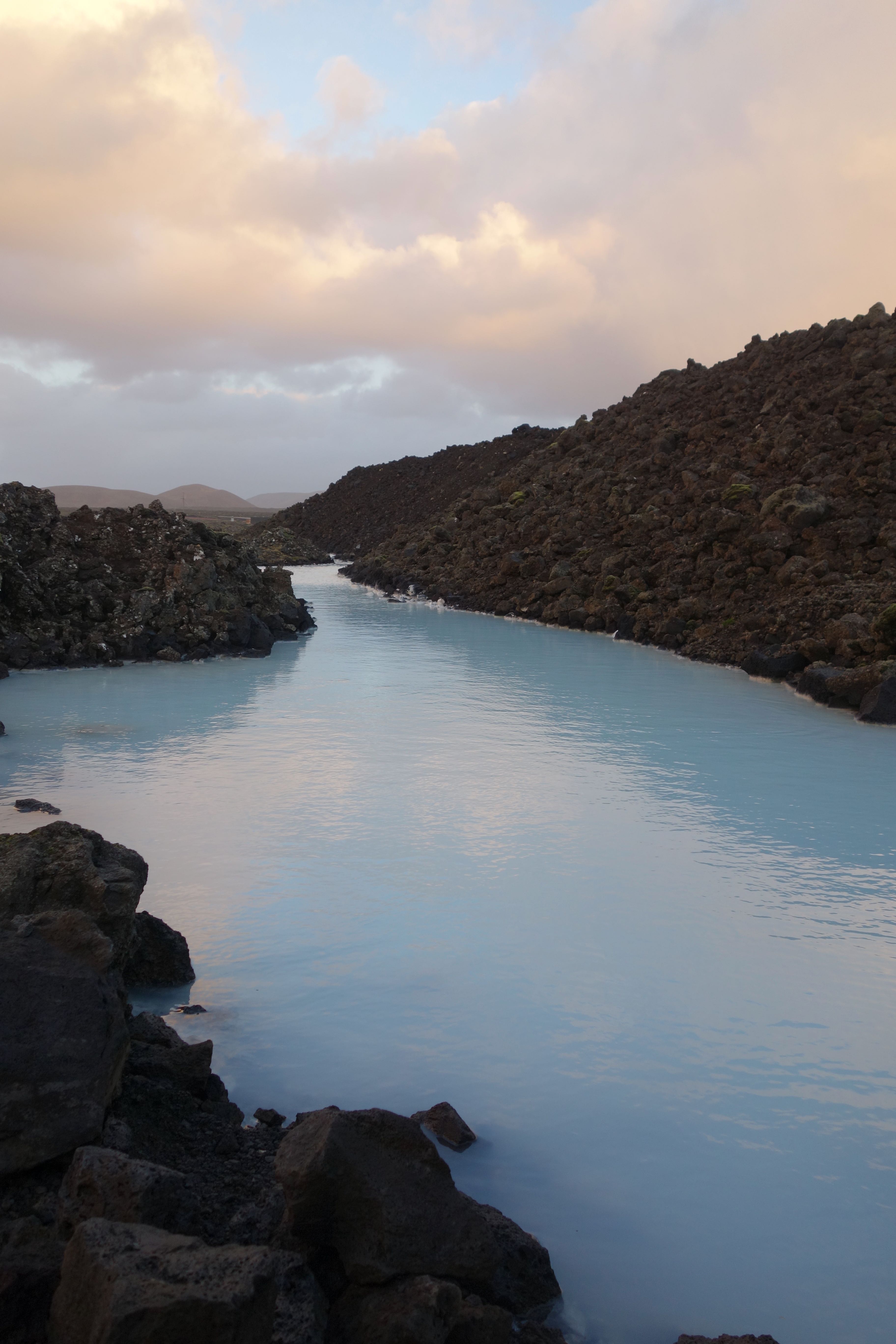 Rob and I took turns watching Lucille (kids have to be at least two years old to swim) and dipping in the massive pool surrounded by lava. There are silica and algae face masks to sample along with a steam cave, waterfall and swim-up bar. It was COLD outside of the warm water.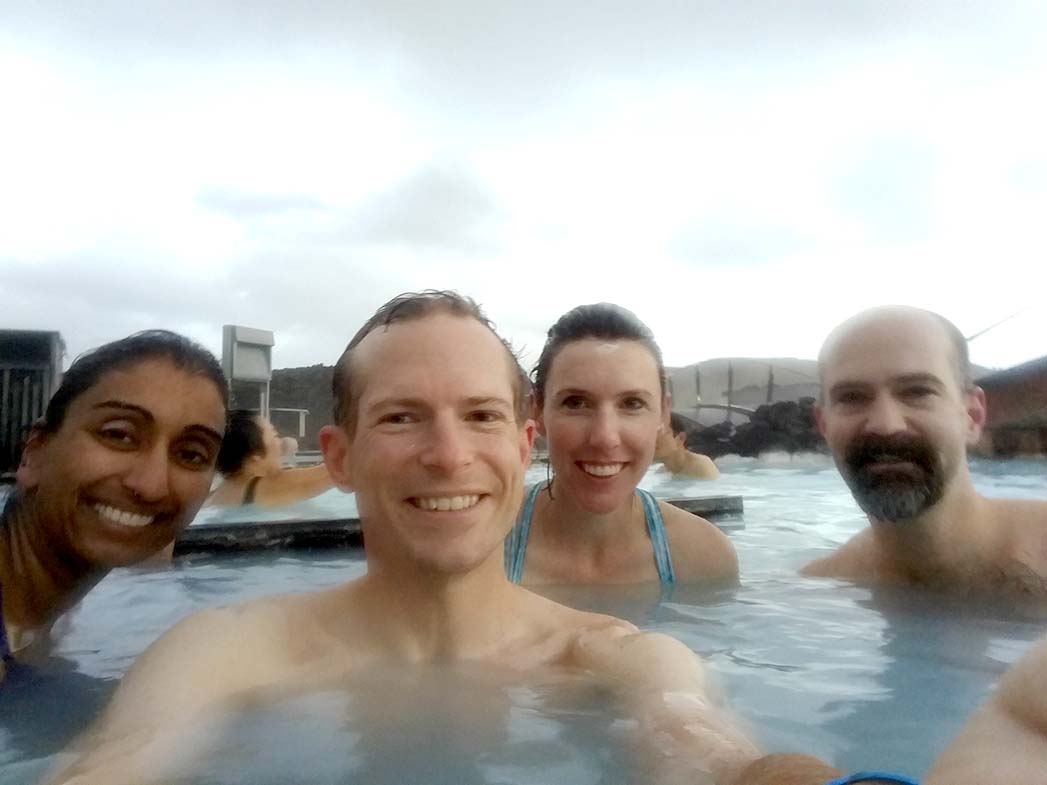 Lucille was such a sport! The lobby was a terrific place for people watching. Blue Lagoon is essentially a United Nations of people in bathing suits. Even in the off-season, there were hundreds of bathers here.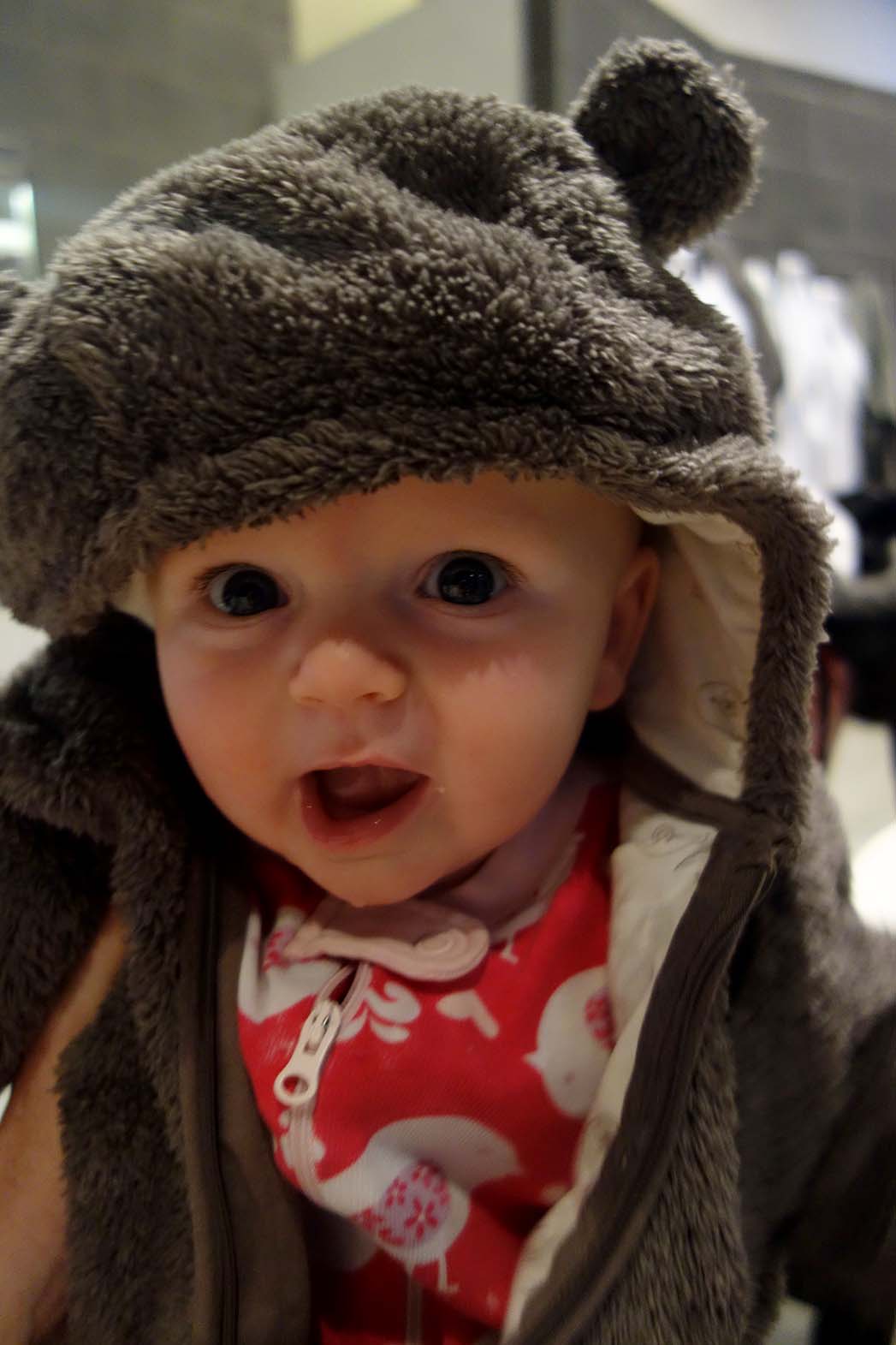 Back home with a stop at a local grocery store along the way. The gang ventured out for Thai food while Rob and I made a light dinner to eat at home with the baby. To bed in our cozy rooms outfitted with radiators and down quilts. Lucille had no trouble snapping right back into her once-a-night feeding schedule. The rest of us didn't overcome our jetlag quite so easily!