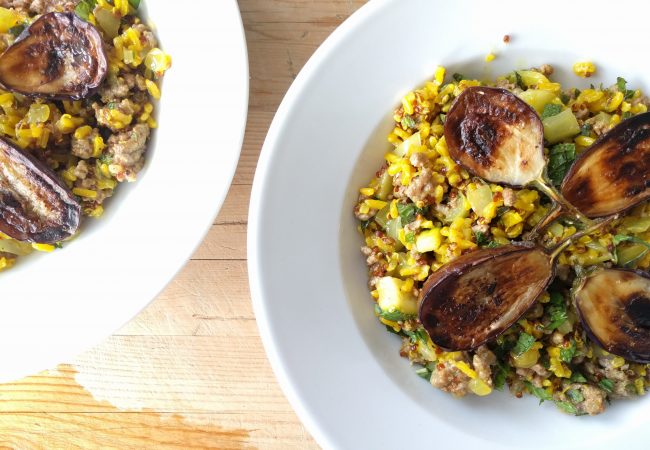 Lamb Pilaf with Preserved Lemons, Mint and Eggplant
I picked up the most gorgeous baby eggplant – the size of Cadbury Creme Eggs and almost as delicious – at farmer's market over the weekend. This recipe started with a plan to stuff the eggplant with the lamb rice mixture (inspired by this recipe) but that seemed too fussy once I started cooking. Instead, the tiny eggplant jewels were pan seared and rested on top of the brown rice lamb pilaf. This dish brings together delicious middle eastern flavors of preserved lemon, turmeric and mint.
Brown rice lamb pilaf with preserved lemons, mint and eggplant
Serves 4
Rice pilaf, step 1
1 cup of brown rice
2 tablespoons of red quinoa (optional)
1 and 1/2 cups of water
1 small yellow onion, minced
1 teaspoon of turmeric
2 tablespoons of raisins, dried currants or other dried fruit
Splash of olive oil
Lamb mixture, step 2
8 baby eggplants or 1 regular eggplant, sliced in half
1/2 pound of lean ground lamb
1/4 cup chopped preserved lemons (can swap for a mix of green olives and fresh lemon if needed)
1 zucchini, chopped
1 bell pepper, chopped
1 cup of chopped fresh mint
Hot sauce to taste, salt and pepper
Splash of olive oil
Start the rice first. Cook the chopped onion in olive oil for a minute until softened and then add the brown rice, quinoa, raisins and turmeric. Stir until mixed, add the water and bring to a boil. Reduce the heat to simmer, cover and leave to cook for 20 minutes.
Meanwhile, heat a splash of oil in a large saucepan until quite hot. Cook the eggplant until seared well on both sides – remove from the heat and set aside. Add the lamb to the pan and brown. Drain any excess oil that has cooked off the meat. Add the chopped zucchini, pepper and preserved lemon to the lamb and cook until just soft. Add hot sauce (I liked this with a LOT of Sriracha) and season to taste.
When the rice is finished, stir it in together with meat mixture and top with the chopped fresh mint. Serve in bowls with seared eggplant on top.