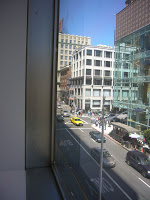 Weekend Round-Up: Lifestyles of the Rich and Famous (for Cable TV)
This was such a perfect weekend! I feel like I've been gone from work for a week. Let's see…Friday night was quiet. Rob and I blew off going to the gym in exchange for a quiet evening at home. We ate the last of the coq au vin, watched Survivorman and went to bed early.
We got up early the next morning to prepare for my friend's arrival. Breakfast of wheat toast, turkey bacon and french press coffee. Nicole drove in at 10 am and we quickly turned around to visit the ferry building farmer's market (it really is a spectacular display of produce). We were given free astropops by a Giant's promoter and walked back downtown on Market with our popsicles.
We shopped at Gap, Gump's and Kenneth Cole before lunch of clam chowder breadbowls in the Macy's Basement. More shopping at Macy's, Anthropologie and the Westfield before taking the train back home at 3:00. Nicole rested while I took more photos of the Miata for my potential buyer. Pretty soon it was time to get dressed for the evening.
First stop, Pacific Catch on Chestnut (of iPhone commercial fame). Pretty good food, too bad about the long wait for a table. After dinner, we had time to stop at a bar quickly before cabbing it up to The Fillmore to meet Matt and Amber for Old Crow Medicine Show. It was an excellent – and long – performance! I grabbed one of the Fillmore's famous red apples on my way out after the show. Such a perfect snack after three hours of intense bluegrass. Back home in a cab a little after midnight to crash into our beds.
Nicole, Rob and I all managed to sleep in until 10am on Sunday. Quite a feat with our neighborhood fire station running their drills at 9:00 each morning. We got dressed and took the N-train out to Cole Valley for brunch. After a long wait for a table, we got a seat in the patio at Zazie.
As soon as we ordered, we had a celebrity sighting: Tory Belleci from Mythbusters grabbed a table right behind ours. Awesome!
Breakfast was delicious! I had the gingerbread pancakes with lemon curd and poached pears. The sun even came out halfway through. We rode the train back home and Nicole left for Napa shortly thereafter. I had an hour to read the Sunday Times (I actually like the new skinnier pages) before Margaret showed up at 2:00!
We walked around Castro for a while in the sun. It is so nice to just hang out and talk with old friends! At 4:00, Rob and I had to get dressed for Matt's birthday dinner and say goodbye to Margaret. We took the bus up to Lombard Street for dinner at Boboquivari's. This steakhouse has an old fashioned charm and tiny steaks that are worth their hefty price tags. It was a great meal and Matt seemed to love the harmonica we gave him.
Back home again on the bus at 8:30. I quickly changed into pajamas and spent the rest of the night reading the paper in bed. Whew! Wasn't that a perfect weekend?!