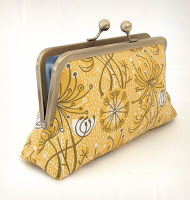 Things I Love Today: RedRubyRose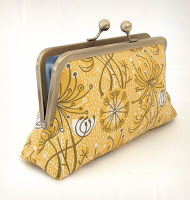 Rowena from RedRubyRose is officially my favorite Etsy superstar. Not only did she quickly deliver my custom bridesmaid clutches for the wedding, she did it with real aplomb.
The package came from the UK wrapped in brown paper (my favorite) with two lovely red boxes inside. Each clutch was wrapped in tissue, and that was then wrapped in a burgundy ribbon with a button and paper tag hand-sewn on (I'm getting a little worn out just thinking about it). To boot, she included a little yellow coin purse in the pattern pictured for me as a gift!