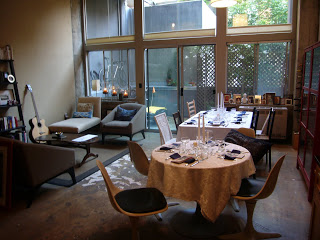 Party Recipe: Earthquake Commemoration
One of my favorite parties of the year and certainly the most educational! Our earthquake commemoration party is always a blast. This was our first time hosting the party at our new apartment. The new space worked out perfect for the candlelit evening.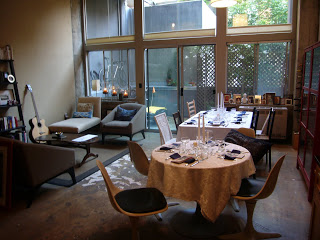 Guests: We were 13 all together, starting at 7:00pm. Just in time for dusk. The guests mingled together and newcomers learned the rules for this annual event.
Decorations: Patio furniture to the rescue when we ran out of chairs. White tablecloths, blue napkins, red cross brochures, candles in assorted glassware, chandelier crystals.
Appetizers: Smoked salmon treats, dried apricots and pink champagne.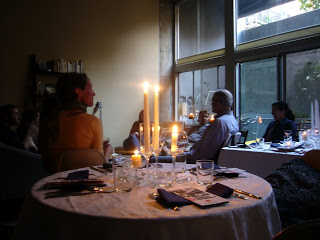 Activities: Our most interactive earthquake series yet! We started before dinner by splitting into teams. Rob taught everyone how to put their team's "victim" into shock position and check vitals. After dinner, we challenged the teams to make mini emergency shelters from paper, wood skewers and tape. The final challenge was to splint an arm or leg using materials in the living room. Winners took home freeze dried food, first aid kits and emergency ponchos.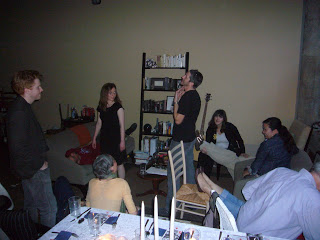 Menu: Green salad plated at the start. Followed by bowls of cioppino with salmon, crab, sole, shrimp, clams and calamari. Buttered sourdough bread. Chocolate chip banana bread compliments of Yvonne with ice cream for dessert.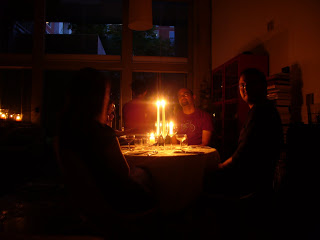 But you don't have to take my word for it (cue massive Reading Rainbow flashback), check out Susan's first hand-account.