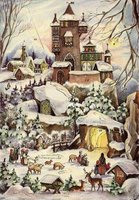 Advent Calendar: December 23
The holidays are finally here! I somehow managed to pack for my week-long vacation and prepare the apartment for New Year's visitors last night. I could definitely use a nap today!
Click on the advent calendar or here to see today's final holiday image. I'll be on vacation next week but should have loads of adventures to blog about when I return. Merry Christmas!