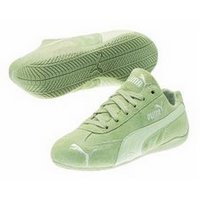 Things I love today: Puma
City life necessitates a comfy pair of stylish sneakers that you can wear with jeans. Weekend errands and long shopping trips downtown simply can't be done in heels. I bought a pair of La Bamba's a few months ago and have nearly worn them out.
I want to buy another pair of Pumas but it amazingly hard to choose a pair from all the crazy designs. This Speed Cat pair is pretty cute, right? At $70 for the pair, maybe Keds are starting to look pretty tempting instead!