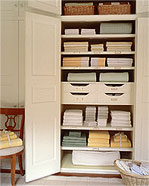 Organizing antique linens
I have some antique linens I inherited from my grandmother sitting in a big box at the bottom of my hall closet. They are ironed and divided into sets, but really hard to access without digging around. I have been trying to think of a better way to store these linens so that I could actually use them once in a while.
According to Martha, I should package them in acid free tissue paper. But this seems even more complicated and hard to access. Instead, I was thinking that I could buy some of these clear archival zip lock bags and store everything in an archival garment box under the bed? What are your ideas?