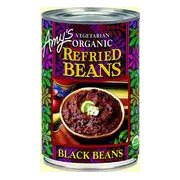 Things I love today: Houseguests and refried black beans
We've had one of Rob's old college friends staying with us the last few days. Matt arrived on Sunday for a chemistry conference and leaves today. It's one of the perks of living in San Francisco: lots of friends come through town for conferences and business. Plus, it's a great excuse to play hostess and cook up big dinners.
Last night we had the best bean tacos with all the fixings: cilantro, guacamole, red cabbage, limes, cheese, green onions, pico de gallo and salsa verde. I highly recommend these organic refried black beans, so delicious! Matt is from Idaho and was very impressed with our authentic southern California "heating tortillas on the burners" skills. He tried to do one himself but singed his knuckles and quit. All that was followed by a quick apple crisp with vanilla ice cream. Yum!
It's going to feel very quiet tonight at home without Matt. But only for a few days: Rob's parents are coming to SF on Saturday for a weekend visit!