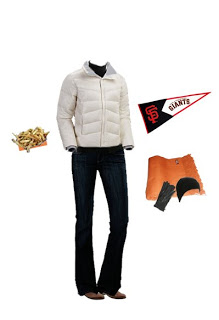 What to Wear: Giants Game
We have tickets to the Giants game tonight with friends. Mmm…Garlic fries and microbrew.
Of course, a night game in San Francisco is a recipe for freezing your tail off. Here's an outfit for an evening at AT&T park:
Down Jacket – A puffy is a must.
Turtleneck – I love a good black turtleneck.
Jeans – I have a new favorite wide leg pair from an inexpensive company called Just US.
Boots – Flat boots with summery skirts have been all over the city lately.
Throw – Our blanket isn't cashmere, but it is Giants orange.
Beanie – Warm!
Gloves – I have a long leather pair I've been dying to wear since I got them at Club Monaco on super sale.
Go Giants!