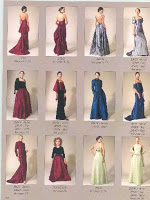 Sale Alert: Jessica McClintock Outlet
If you're in the market for a dress for the Black & White Ball, a wedding gown, bridesmaid dresses, a prom dress or a flower girl dress you should pencil in a quick stop at San Francisco's Jessica McClintock Outlet in the design district.
Yes, 85% of the dresses are terrible. But the remaining 15% are hugely on sale and some are quite nice. My cousin found her wedding dress there. One of my coworkers just picked up a really nice ivory gown for the B&W Ball for a whopping $34. All dresses are currently 50% off the sale price and all wedding dresses are $75. Sizes above 6 will have the best selection. They also have gloves, jewelry and veils for next to nothing.