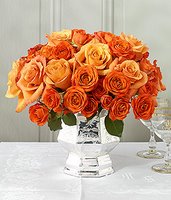 Birthday Wish List: Flowers
My gosh, it is turning out to be a crazy day. First I hauled across town for my orthopedic appointment. Two hours just to get a referral to a radiology and a warning that it will involve needles…long needles…inserted deep into the hip. Lovely. And the back at work, I missed my physical therapy appointment because I had a last minute pr interview with a big magazine. Whew!
Anyway, isn't it great when you get flowers at work on your birthday? Especially nice bouquets from MarthasFlowers.com? This site always has the best arrangements, totally devoid of extemporaneous ick like carnations, gladiolas and baby's breath. These orange roses in a mirrored vase would look perfect in my office!