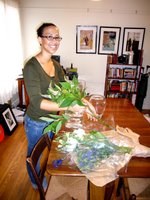 Reader Appreciation Day Tomorrow!
My friend Margaret (looking gorgeous while making french-style flower arrangements in the photo to the left) is having a tough week. So I thought I would embarrass her with a little "shout out."
Along with being extremely stylish and good at french-style flower arrangements, as we've already learned, Margaret is always thoughtful, really clever and a scary-good dancer. She's always right there to help me with some harebrained scheme. She's definitely the Ethel to my Lucy! Plus, she works every day to provide health care to underprivileged children. I think Margaret rocks!
Rebecca also rocks. She's a reader who wrote in this weekend with some nice comments:
I've been reading EmilyStyle for about 6 months and I love all the ideas for parties, dinners, cards and decorations, but it took the picture of the pumpkin on MUNI for me to realize, "I need to thank this girl!" That really is the best picture ever and it totally cheered me up today and gave me a much needed laugh.
You know who else rocks? All my readers! I am officially designating tomorrow as EmilyStyle.com Reader Appreciation Day. Tune in tomorrow to enter contests and win fun prizes!
PS: You can get in ahead of the crowd by sending me a favorite photo and some nice comments by email today!