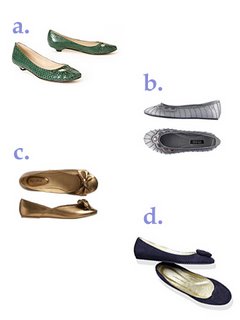 Reader Appreciation: Shoe Quiz
Happy Reader Appreciation Day! Here's your first contest of the day. Can you correctly match these four pairs of flat shoes with the store that sells them?
The first person with the correct answer in the comments section wins a pair of custom embroidered dishtowels. Here are your choices:
Bloomingdale's
Old Navy
Anthropologie
Alloy
Post your answers in the comments section now!