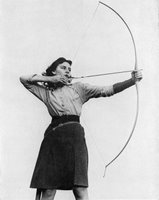 Reader Appreciation: What to Wear Challenge
This is the second contest in our Reader Appreciation Day trifecta!
Design an outfit that I should wear to my next archery session in Golden Gate Park. Keep in mind that I wore this to archery once and that I have a predilection for being wildly overdressed.
You can either enter your outfit in the comments sections using links or can create an image of the outfit following the standard "What to Wear" format.
The person who creates the best outfit will win a gingerbread scented candle from L'Occitane.