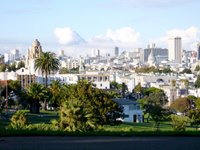 Remember yesterday when I said that the city was all shiny and fresh after the first rain of fall? I wasn't exaggerating! On the way home from the dentist and Lucca Ravioli, Rob and I stopped by Dolores Park for a view of the newly scrubbed San Francisco:

Look at that! It almost sparkles!

And it was lovely at Safeway too. The icky pigeons were replaced with chirpy grackles in front of the Lutheran Church:

And even the radio tower was in full splendor surrounded by clouds:

Follow all that gorgeousness with a dinner of homemade ravioli, fresh Italian sausage and marinara sauce from Lucca's and it is impossible not to feel some butterflies. It's days like these that you fall in love with the city all over again!