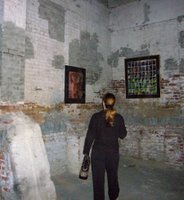 Weekend Up-Date: Napa & Friends
The weekend started out innocuously enough. Rob and started four loads at the laundromat after work and then walked over to Belcher Street for an open studio reception. Paul was showing his work along with a handful of other artists. My favorites were his paintings of Duboce Triangle at night.
We finished all our laundry and went to bed early in preparation for the next day's big adventure. Peter came over at 10:00 am. Before heading down to the Ferry Building, we visited our building's catacomb-esq garage that had been turned into an art gallery for Open Studio weekend:
After the impromptu art show, we bought three tickets to Vallejo on the ferry at 11:10, called Nicole to say we'd arrive at 12:30 and ate breakfast. It was a cold and foggy day in San Francisco but we decided to sit outside on the boat and enjoy the view. (I was going to do another "weekend illustrated" but the photos were just too cute!)

We passed a bunch of cool islands and sights during our 1 hour tour across the bay:

Nicole and Dave picked us up in Vallejo at 12:30 and we drove straight to our first winery, the villa at Domain Carneros. Using Nicole and Dave's trade business cards we got a free tasting and a discount on some fabulous sparkling wine:

Next up: the greatest pumpkin patch! We took photos in the sunflower fields:

And I picked out a ridiculously large pumpkin:

Two more wineries were on our schedule, both lovely properties with so-so wine. Nicole cooked us some really delicious fish tacos back at their house and drove Peter, Rob and I back to the marina. The 6:35 ferry left just in time for the sunset:

I realized around this time that I may have made a terrible mistake with the pumpkin. We now needed to carry 30 pounds of pure cucurbita maxima home by ferry, subway and foot. Here's rob goofing off with the pumpkin downtown
:
And here's the pumpkin hogging a seat on a crowded MUNI train. (I think this is the funniest photo ever, click to get a closer look at the other commuters!):

We made it home eventually and rested the rest of the evening. Sunday morning was spent relaxing at home (my physical therapist will be so proud!). Our friend Seth arrived from Sacramento at 1:30. Our Tahoe friends, Bill and Leslie, arrived at 2:15. Lots of coffee and pumpkin pie while catching up on everyone's lives:
Next up, a late lunch at our favorite hole in the wall: Truly Mediterranean. Hummus, feta, dolmas, schwarmas & couscous galore!

Follow that lunch with a trip to Bombay Ice Creamery for a scoop of Saffron Rose – how much more "Valencia Street" can you get!? Bill and Leslie drove off into the sunset, the rest of us descended into BART for a ride downtown to see Jackass 2 at the Metreon. It was terrible, scary and hilarious! On the way home I saw that the new Duboce Park Cafe finally opened. I can't wait to go there for a latte on a Sunday morning!
What a long post! It really was a nice relaxing weekend, albeit with a very distinct San Francisco flair!