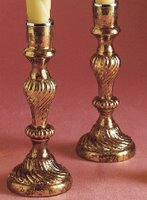 Gift Idea: Mecury Glass Candlesticks
Mercury glass tends to straddle that thin line between ugly/Madonna Inn and unique/lovely. I think these copper candlesticks from Gump's fall on the lovely side.
In the right setting, i.e. not on a maroon backdrop, they would be so perfect. Imagine a table set with dark brown linens, white roses and these candlesticks. Or on a bedside table with a stack of thick books. And only $40!