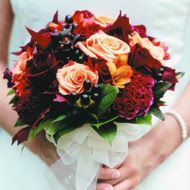 Ideas for a San Francisco Wedding
A certain relative of mine is getting married in San Francisco next year. Instead of being bossy and trying to chirp in with ideas, I'm going to post them here to get it all out of my system. Be less bossy…another good New Year's resolution to work on!
Theme – Both the bride and groom are teachers and the best weather in the city is usually around October so a fall theme would be fun. Orange, red and brown colors look very lush and warm when combined with ivory. Bulk apples would be an afforable way to augment the decorations or create place tags. Wood ruler favors might be a bit too much. Bridesmaids would look adorable in these brown J.Crew dresses tied with ivory satin ribbons. Chocolate engraved invitations or a letterpress design would help set the tone.
Church – Trinity Episcopal Church is gorgeous and so "San Francisco." It's a splurge at $1,800 but the families are religious and they wouldn't need to get flowers to decorate the venue. Really, it is only a few hundred more than other options like St. Gregory.
Reception Hall – Something cozy like the Sweedish American Hall would reflect their Scottish/German roots and would work well with fall colors. The Presidio also has lots of options.
Food – A good caterer could do wonders working around their vegetarian restrictions. They could even go vegan like this couple. The bride loves Mitchell's Ice Cream and could include a few favorite flavors along with cake or brownies for dessert.
Photographer – I think this is an important place to splurge. The photos are one of the only things about a wedding that lasts beyond a few hours. I recommed against digital (the skin tones aren't as good) and toward medium format film. Jordan's wedding photographer did a great job.
Exit – One of the lessons I've learned from helping Rob photograph weddings is the importance of a good exit. Too many weddings just sort of peter out at the end. Sparklers are fantastic if you can swing it. If not, at least have people line up and cheer with confetti poppers.
That was fun and very cathartic! I am so excited to see how the wedding turns out 🙂