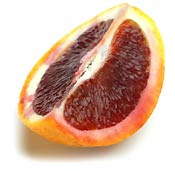 Recipe: Blood Orange Sorbet
When life hands you a ten pound bag of blood oranges…make sorbet! Blood oranges are so messy to eat, that it makes sense to use them for their juice in this way. The recipe couldn't be simpler or more delicious.
Blood Orange Sorbet
Juice and pulp from 6-10 blood oranges (remove the seeds)
Half cup of sugar (to taste)
Tablespoon of fresh ginger in large pieces
Combine the ingredients and stir until the sugar is fully dissolved. You may want to give the mixture a quick turn on the stove to blend the sugar and bring out the ginger flavor. Remove the ginger pieces and pour into an ice cream maker. After about 30 minutes, the sorbet is firm enough to serve. This was enough for five smaller bowls.
The bright pink color of this sorbet is so festive and the ginger gives it a nice kick. My worries that it would taste like orange juice concentrate were totally unfounded. This would be perfect as a "dessert" after a big brunch.