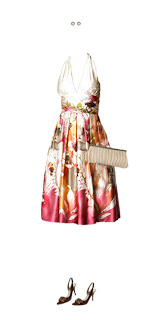 What to Wear: Formal Los Angeles Wedding
I love reader shopping challenges! Kristi wrote in with the following request:
I'm a fan of your blog and have a teeny bit of a fashion crisis which I know you can help me with! I am attending a wedding with my boyfriend down here in LA on May 12th. It is at the Bel Air Bay Club right on PCH. I had planned to wear a straw colored tweedy spring suit but then received the invitation and it's an evening wedding so my spring suit would be terribly inappropriate. Black tie is optional for the men and my date will be wearing a dark gray suit.

I know everyone wears black down here all year round but I refuse to wear black ever again to a formal event in LA. This town is filled with highlighted blondes wearing black and most parties look like a sea of floating heads. PLEASE HELP!
This is a really tough one! I think it calls for one serious dress. I wish DVF was still producing the Fran cut this season, it would be perfect for this event. I have the black and pink chain pattern version. You would stand out from the crowd, still represent for those label conscious fashionistas and look killer. Since there is no DVF Fran dress, here's another option that would work:
Dress – Find a cocktail dress that is super, super flattering on you. Patterns help you to not look like a wayward bridesmaid. This dress from Nordstrom seems very "glam LA at the beach" to me.
Shoes – The simple style of these Nine West sandals balances out the dress.
Earrings – Smoky topaz studs from Cost Plus. Really lovely with loose, romantic hair.
Clutch – I wanted to find something simple in brown satin, but this pleated ivory version from Target works too.
The end result looks really well put together, unique and fresh. And the whole thing only adds up to a surprising $278.