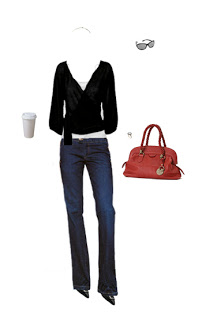 I'm so excited that my friend, Nicole, is coming in from Napa this weekend for a major shopping trip. I don't mind shopping by myself, but it is way better with a friend. With between 3-5 hours of trekking around Union Square ahead, it makes sense to plan the perfect shopping outfit:
Shirt – A knit top that ties in the front for easy on and off.
Cami – A white cami is often useful for layering under potential tops.
Jeans – Trouser cut jeans are great for a day of shopping downtown.
Flats – Comfortably low but also suited to test with skirts.
Purse – How cute is this bag? It's on sale from Anthropologie.
Headband – My hair gets really crazy after a couple dressing rooms. A headband restores a bit of order.
Sunglasses – I could use a new pair to replace my three year old Gucci's.
Ring – I love it more and more every day!
Coffee – Sugary snacks and caffeine provide much needed energy boosts.
Club Monaco, Nordstrom, Zara, Kenneth Cole, Anthropologie, FCUK, Macy's, H&M…I can't wait! I want to have a whole new wardrobe on Monday.