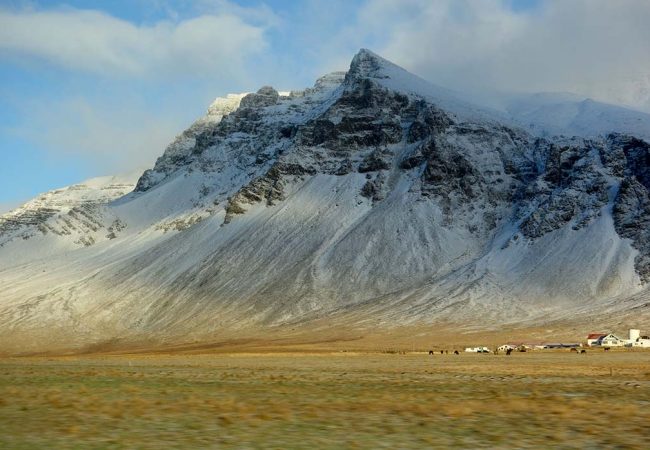 A Gorgeous Winter Drive to West Iceland with a Baby
On Wednesday, we headed from Reykjavik to drive to our next house in Bifröst (pronounced "beef roast"). We stopped at the local Target-equivalent, Hagkaup on our way out of town for groceries including reindeer meat. Bifröst is part of the Borgarfjordur region and is most famous for being the home of a 500-student university. The name refers to a rainbow bridge in Norse mythology.

After a stretch of cold rain, hail and snow, it was an unexpectedly gorgeous day in Iceland.  It wasn't long before the scenery on our highway drive turned breathtaking in the mid-day sun. Snowy lava peaks with tiny Icelandic horse farms at the base.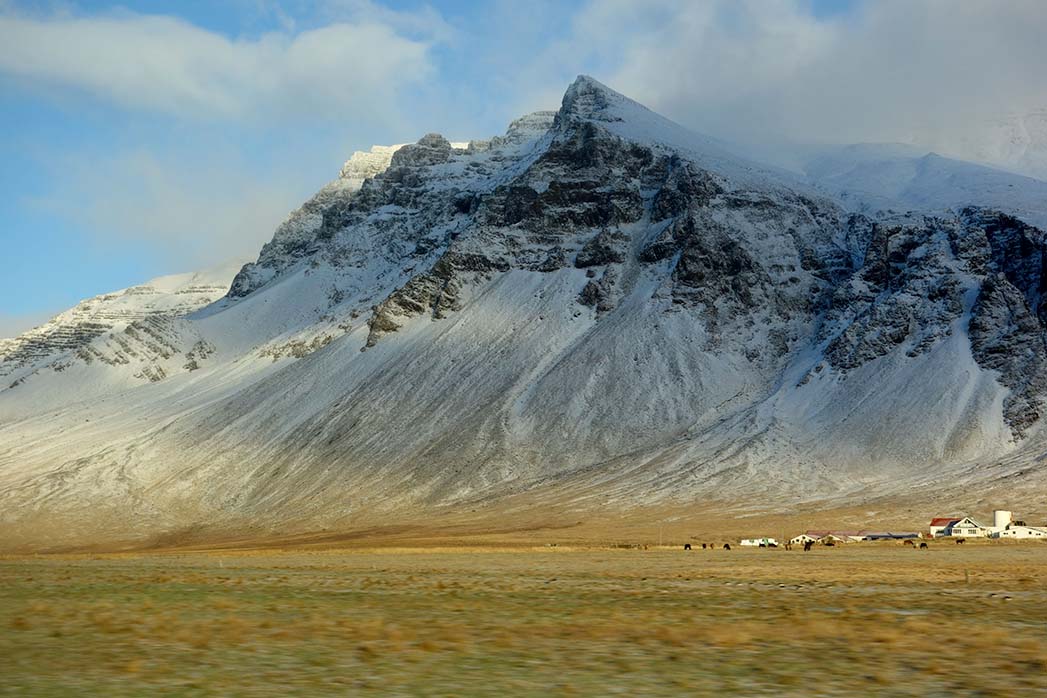 It's charming that the mountains here look like they're wearing their own versions of Icelandic sweaters, with a pattern at the top and plain below.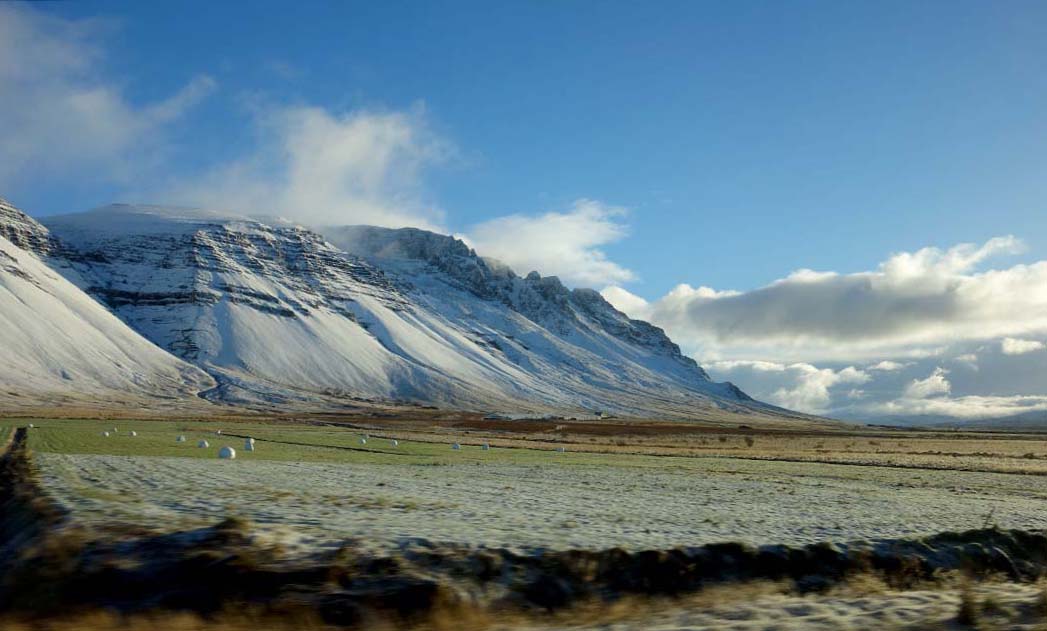 There's a long underwater tunnel that takes you across one of the fjords.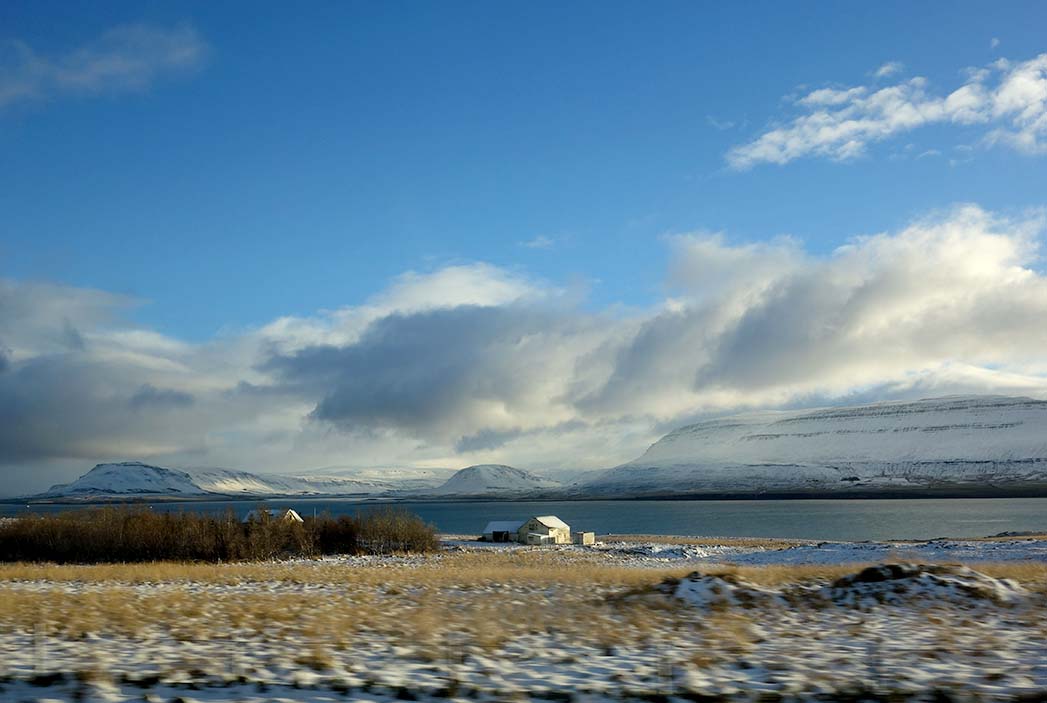 Even Lucille managed to stay awake for part of the drive to enjoy the scenery.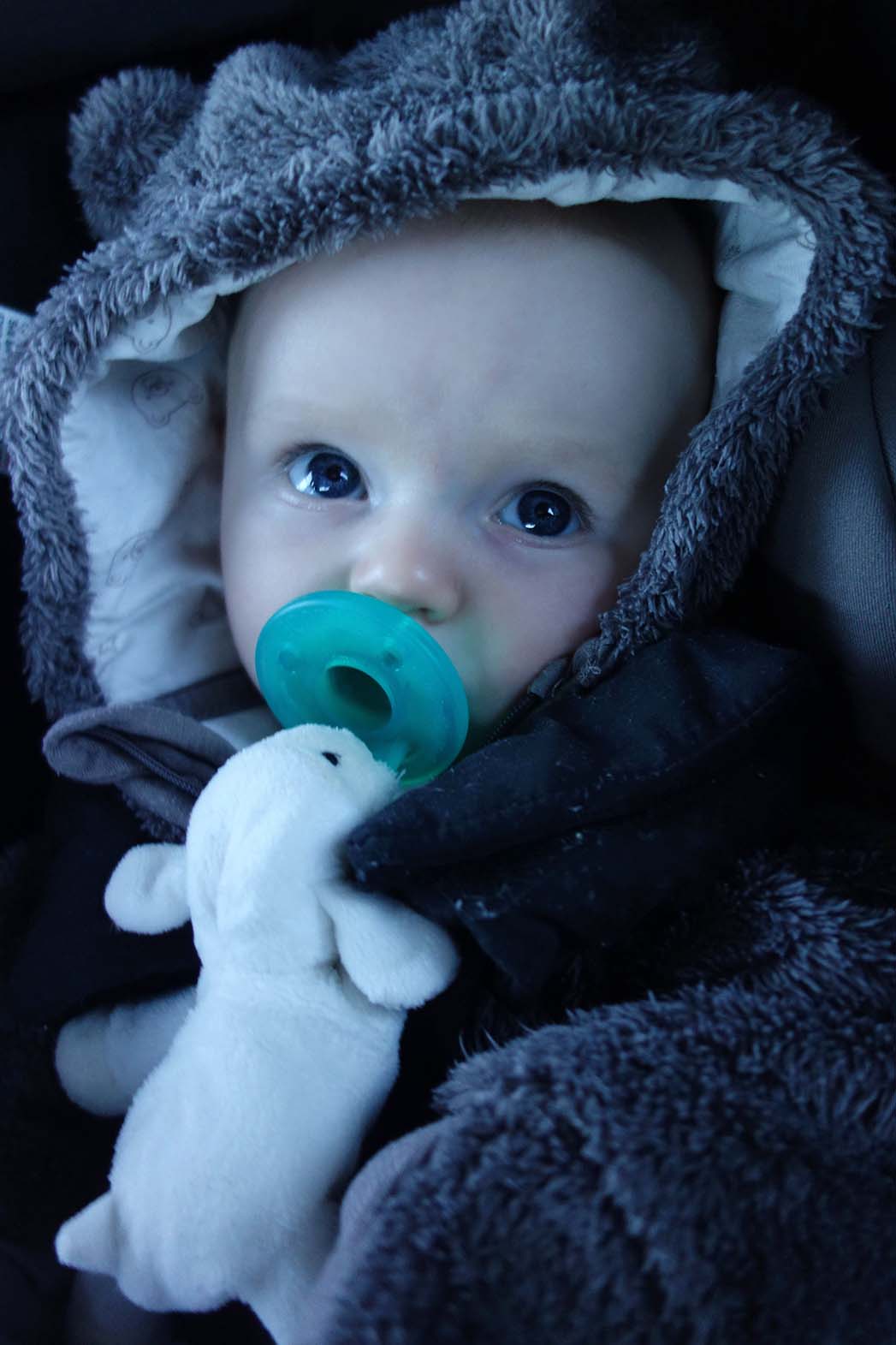 There are intricate estuaries all along the coast. Along with some very furry sheep.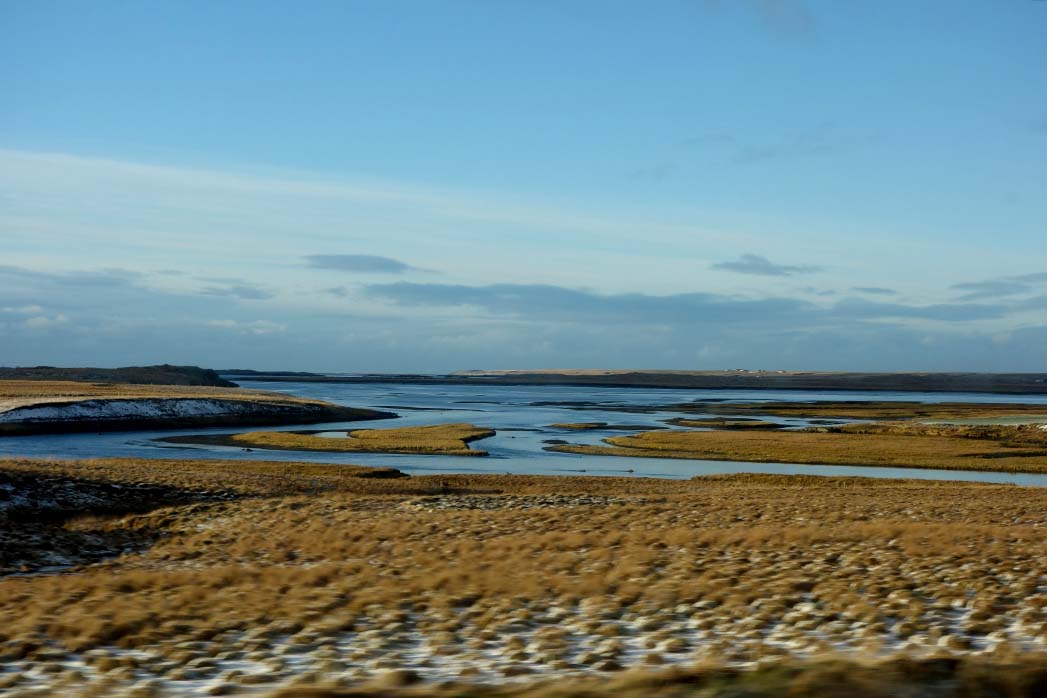 The sun never rises far up in the sky in winter.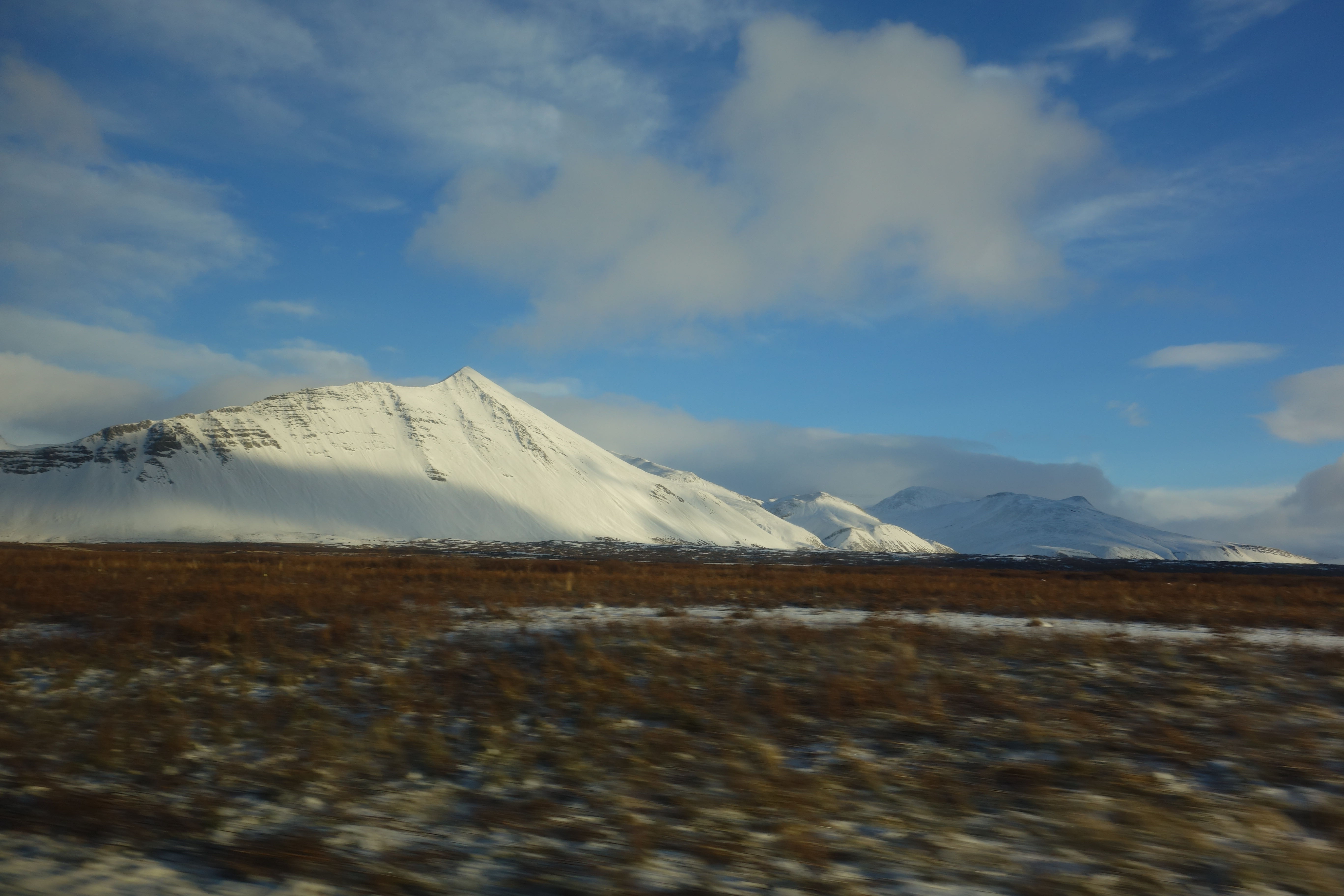 We made it to Borgarnes in time for a late lunch.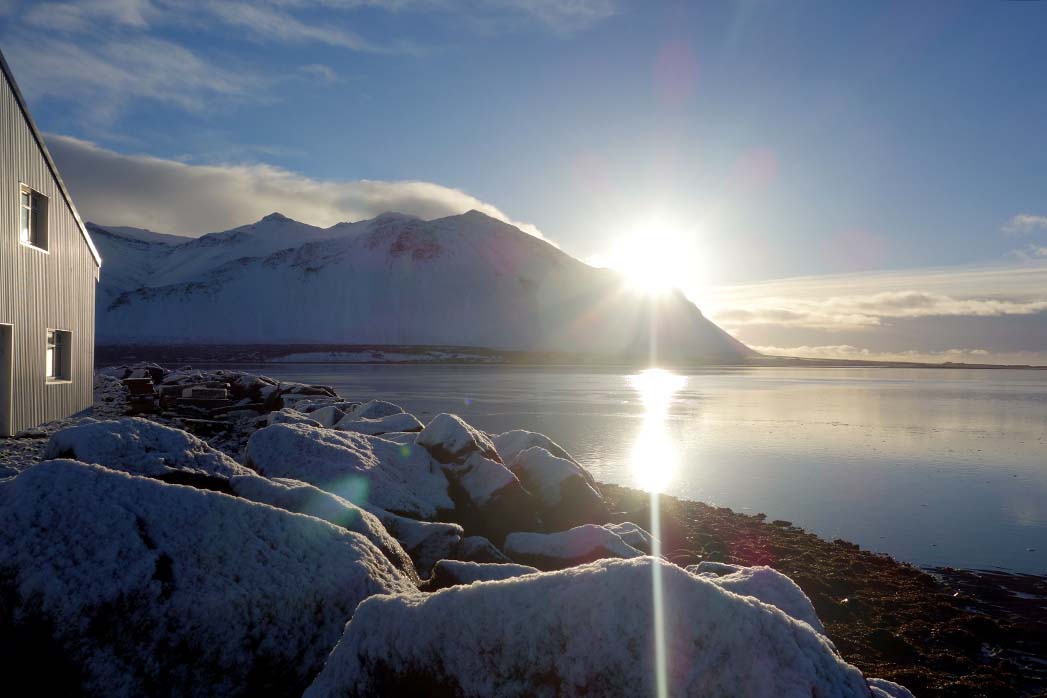 This little Suzuki does quite well in the snow. That's the town of 1,500 people behind it.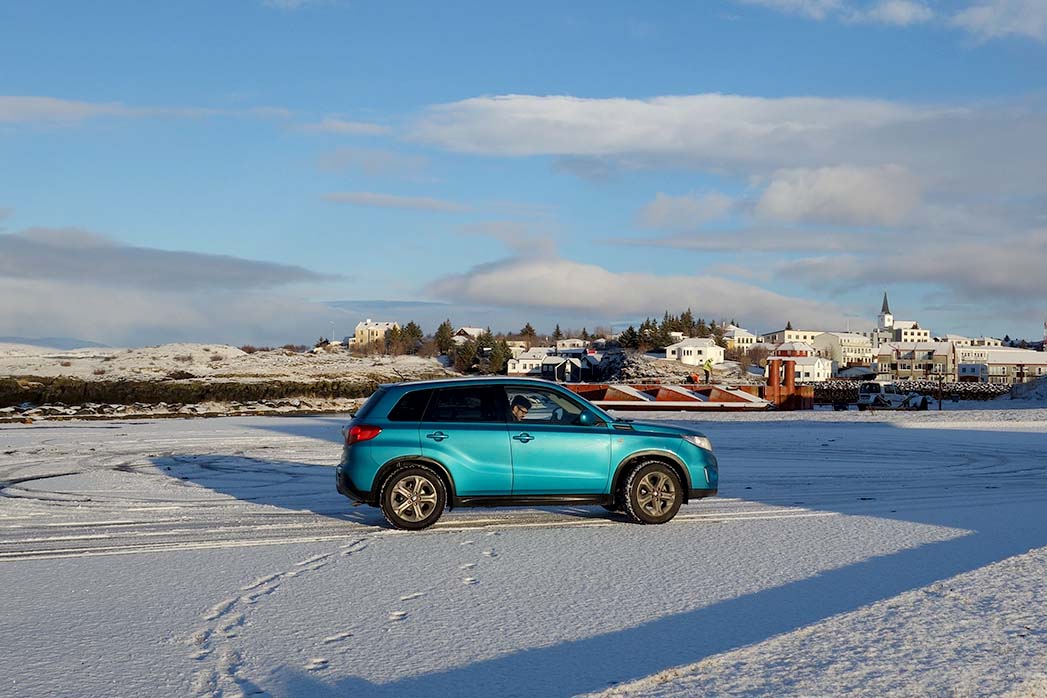 We all met up for lunch at The Settlement Center – a museum and tour bus stop with a very good vegetarian lunch buffet. It was the most fresh produce we had seen for days and also really strong, nice coffee. Carrot ginger soup with crusty bread, about 15 different salads and fresh fruit for dessert.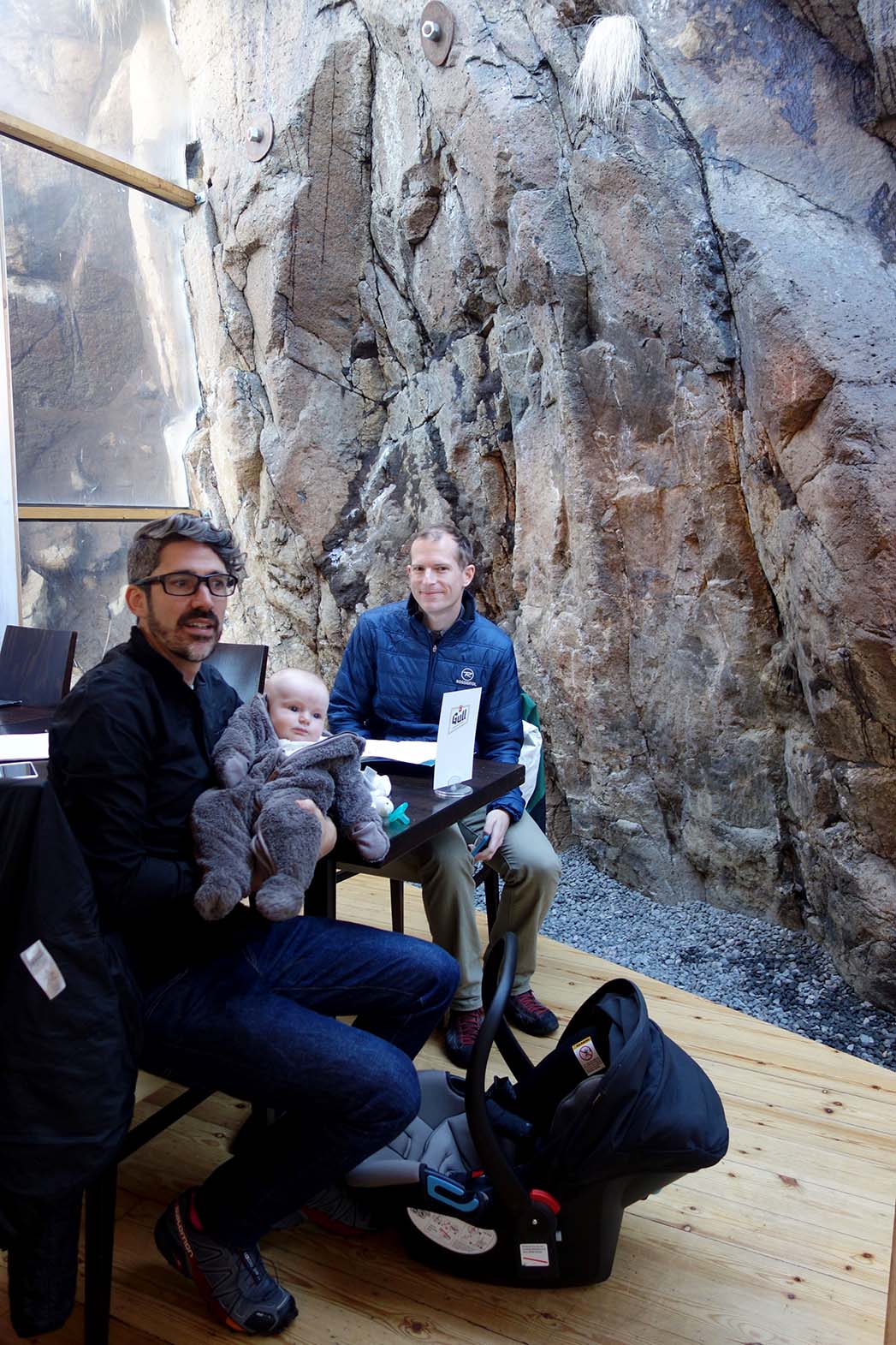 We made a quick stop at a farmer's market shop where I bought a bag of Icelandic moss (typically boiled in milk with sugar as a tonic). From there, we drove up the valley toward the Hraunfossar waterfalls on a snowy road.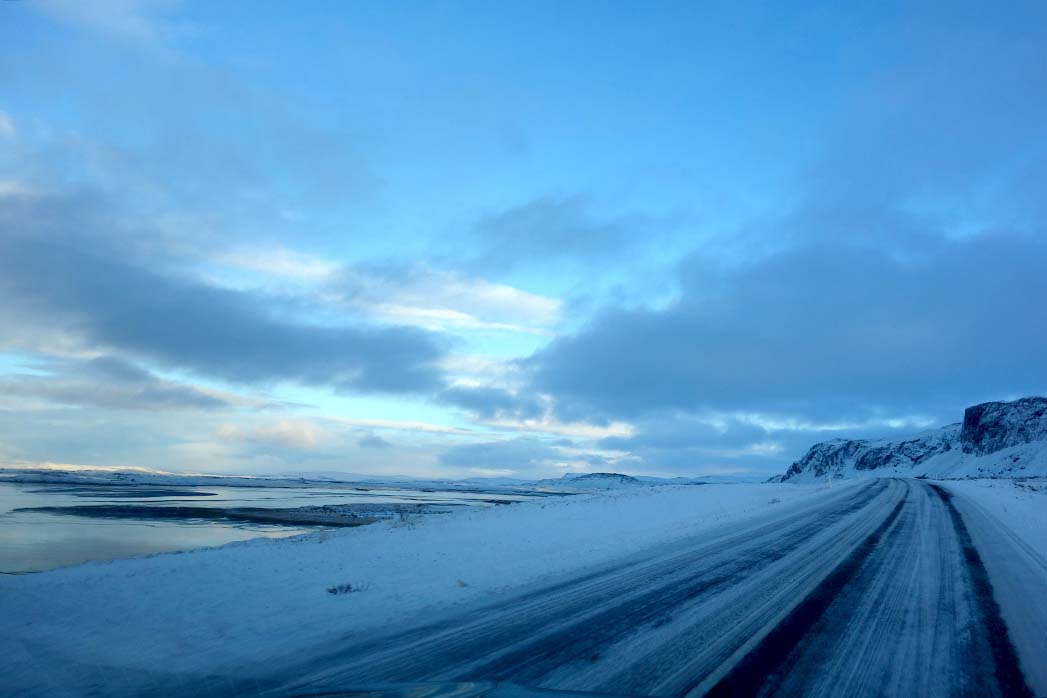 By the time we reached the river, it had started snowing. This location is famous for a series of waterfalls coming out from under the lava field to empty into the steely blue water.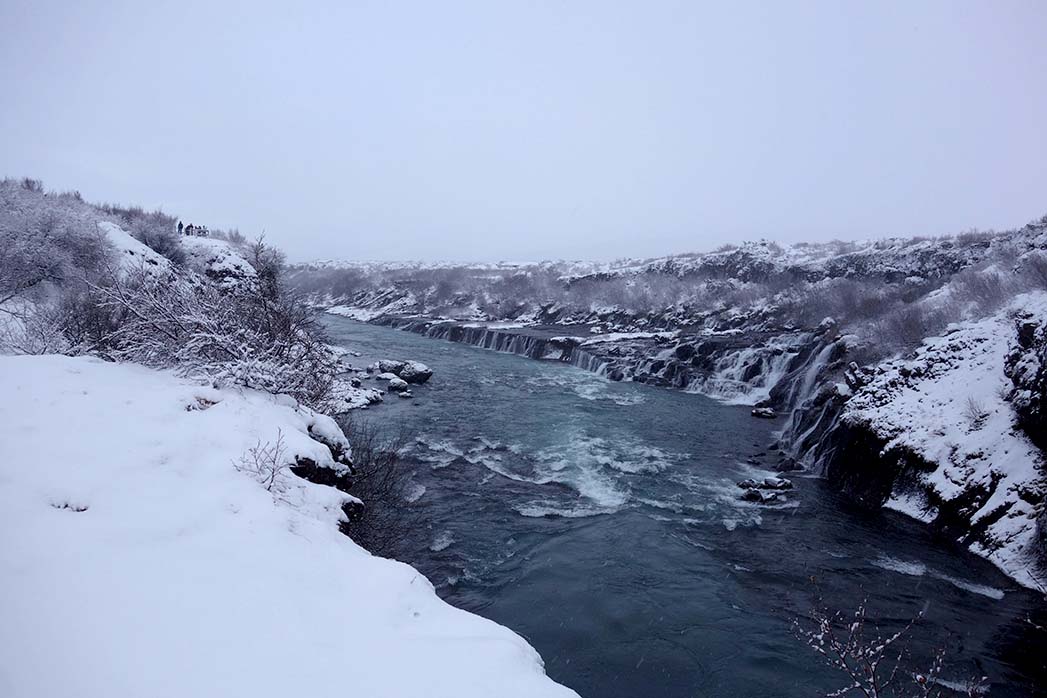 Lucille was a good sport about being bundled up in her Ergo while we hiked around. She's very cozy in her fuzzy bear suit.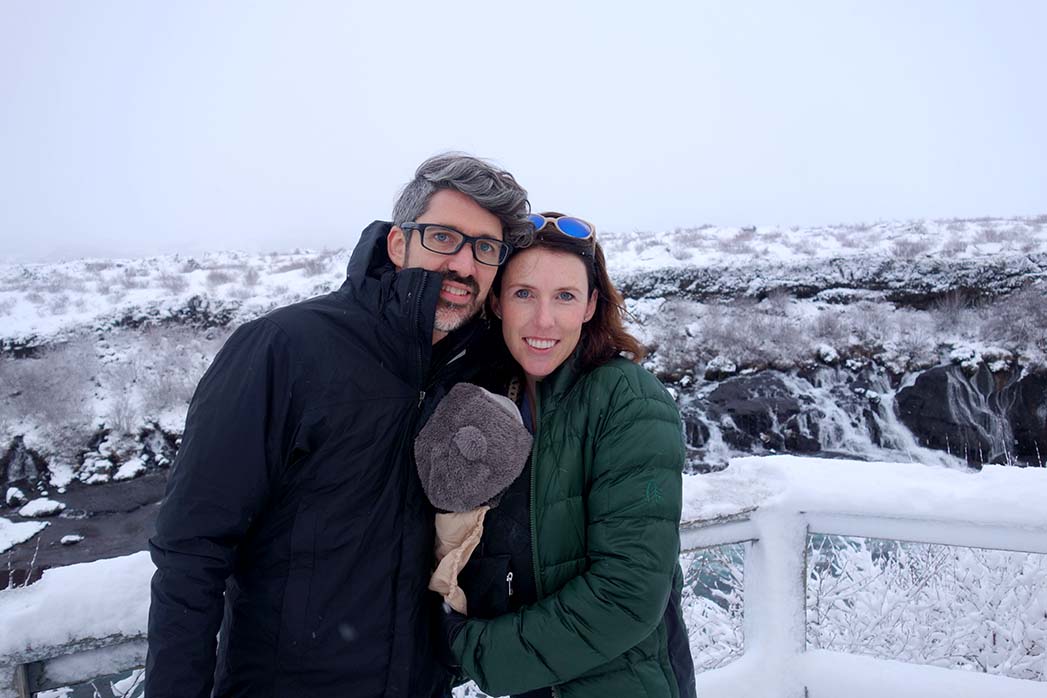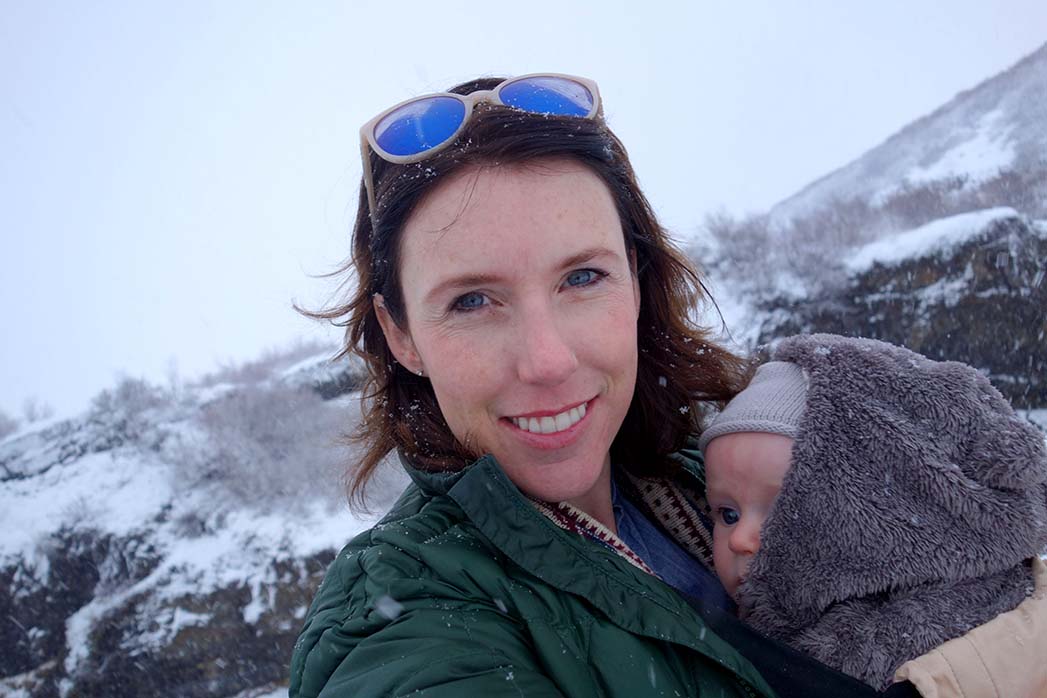 One last peek at the river and we retreated to feed Lucille in the car while everyone else continued to explore a bit longer.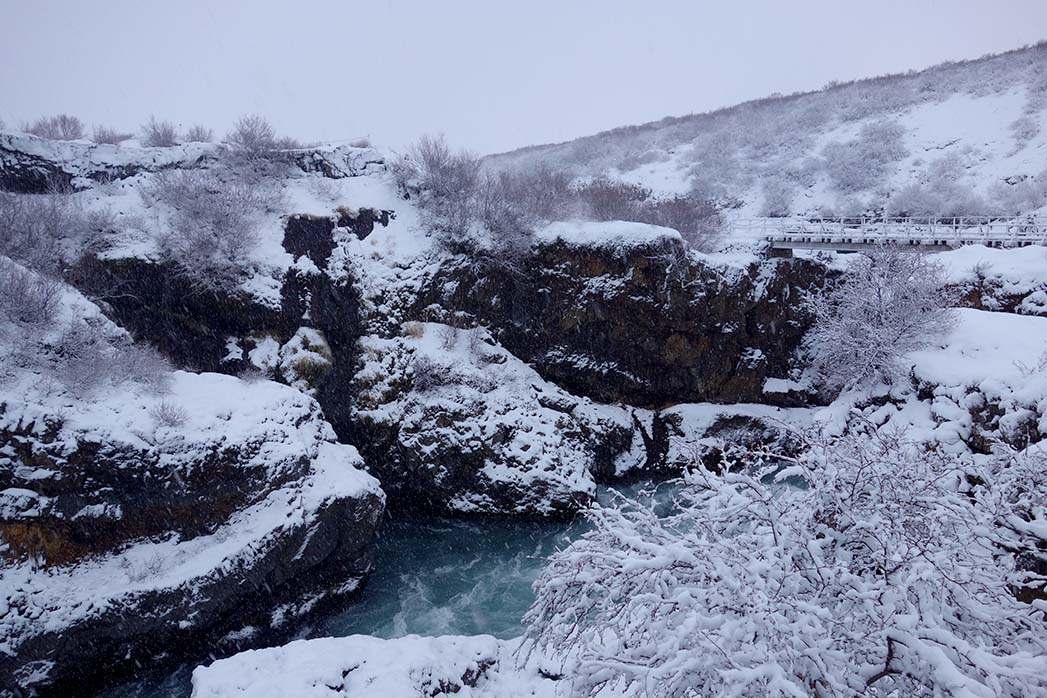 The drive over to Bifröst was quick with one stop. Lucy decided she was over being in her car seat and we pulled over to check on her outside a pretty horse ranch right while the sun was setting. A beautiful end to a spectacularly beautiful day in West Iceland!