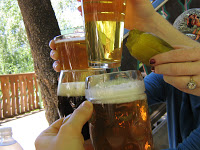 Weekend Round-Up: Indian, Thai and German
This was a great weekend! On Friday, Rob and I went to the climbing gym with Matt and his friend. I bouldered hard for over an hour and met a nice person at the same time. At 7:30, we met some friends visiting from Sacramento for cheap Indian and Pakistani food at Pakwan. After stuffing our bellies with curry, naan and lamb, we grabbed a few scoops at Bombay Ice Cream (try the jasmine tea, delish!)
I was exhausted from the busy week and slept almost 10 hours on Friday night! I woke up feeling so refreshed and so sore from the gym! Rob and I had a quiet morning in our pajamas designing and making our wedding website. At noon, we ran up to the Irish/middle eastern deli for fabulous turkey sandwiches. Rob geeked out more back at home while I baked cookies. Eric and Rachel came over at 7:30 for dinner at our favorite Thai restaurant. Everyone came back to the apartment for tea, cookies and conversation until midnight.
Matt and Amber invited us out on Sunday for a hike along the Dipsea trail in Marin to the Tourist Club. We hiked the steep 2 miles and made it to the German pub at 2:00. This bar and lodge was founded in 1912 by European immigrants. It was lovely to sit an outdoor table with beer, sausages, enormous pickles and a view of Muir Woods for a few hours. And thanks to the windy days we've recently had, you could see all the way past Oakland from the top of the hike back.
We made it back home at 6:30, fully exhausted from our day outdoors. My calves are burning!