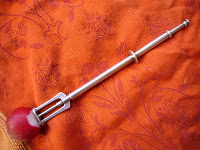 Things I Love Today: Crazy Fork
Rob and I went to an estate sale last Sunday on our block. The building used to be a dry cleaner's (established in the 1890's according to the sign) downstairs and an apartment for the couple upstairs. They must have done pretty well in the cleaning business according to the large collection of art, china and silver for sale.
In one of the misc. silver bins, I found this fantastic, spring loaded serving fork. Spear something on the end and then press the back of the handle to push it back off again.
Perfect for serving carved meats and other foods likely to get stuck on the fork. And the best part is that I bought it for only $2!