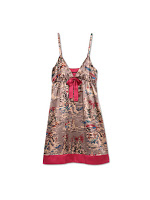 Paris je t'aime: Lingerie
The one splurge I afforded myself abroad was fancy lingerie. American options, at places like VS, are always way too big for my skinny frame. So it was wonderful in Paris to be surrounded by lovely frillies that actually fit.
Hands-down the most beautiful pieces were made by Princess Tam.Tam. I was obsessed with the brown and red holiday print satin, all of the bows and fun colors. This was also by far the most expensive option.
More affordable and still darling, Darjeeling is where I stocked up on embroidered bras, bottoms, teddy sets, slips and more. All decked in bows, lace and trimmings, of course. Neither store ships to the US, but that doesn't have to stop you from a little browser window shopping!