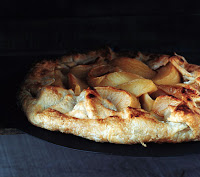 I'm having a "blah" day today. It's really cold and overcast. I'm not particularly fond of my outfit. My curly hair has gone flat in the back and frizy on top. Snarky anonymous commenters persist. Skipped lunch. Tough projects at work. Etc.
Dinner with visiting Margaret tonight is what I'm looking forward to. Here's what I want to make for this drab fall day:
Mixed Green Salad – In a giant wood bowl with my favorite balsamic dressing and some apple slices.
Pappardelle with Squash, Mushrooms and Spinach – I'll use this recipe as a starting point. Switch in fresh spinach, add shallots, lemon juice and truffle oil.
Apple Galette – Yum.
I'm feeling better already!