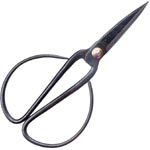 Things I Love Today: Chinese Scissors
My only souvenir from Sacramento (aside from two very sore calves) was a pair of "Chinese" scissors from the hardware store in Old Town.
Alternatively called "bonsai" scissors, the 100+ year old design of these handmade pairs is so elegant. You can buy a set of three for yourself here for $15. They'd be a good favor for a garden party this spring!