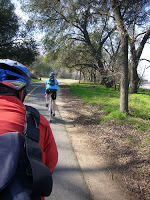 Weekend Round-Up: Suburban Mouse
In the past few weeks, we've been country mice and city mice. It was high time to be suburban mice! Rob and I spent our long weekend in Sacramento and Davis visiting friends and savoring the slow life. You can see all our photos here.
But first, a night out with the girls on Friday. Margaret came up from the peninsula and Nicole down from Napa for a 7:30 dinner at Oola. This tiny place on 5th and Folsom has a cozy, downtown atmosphere. Eating at the bar, I had their pork ribs and truffle fries. The ribs came recommended by the bartender and were amazing! We walked up to Irish Bank for a drink after and then called it a night.
Rob and I packed the car, loaded the tandem on the roof rack and headed to Sacramento. We arrived at Seth and Amy's place at 11. Just in time to unpack and hit the American River bike trail. 8 miles up to have lunch at an outdoor cafe in Old Town Folsom. Our total ride was about 16 miles and we averaged 15 mph; much faster without the intersections and obstacles of city riding!
We played cards in the afternoon and went for dinner at La Fogata. Some of the best Mexican food you can find in Northern California (I recommend the shredded chicken nachos). After dinner, Rob and I had a jam session with Seth on banjo. Folsom Prison Blues was our best piece. We shared a bottle of Veuve and called it a night.
On Sunday, we drove in to downtown Sacramento to have a crepe breakfast with our friends Fred and Alex who are expecting a baby in April. It was so fun to catch up, that we followed breakfast with a walk around the capital gardens. And that was so nice, that we then went down to Old Town Sacramento together. There's a cute old-time hardware store by the train museum that is especially worth visiting.
At 3:30, Rob and I said goodbye and drove to Davis for Sara's Ph.D. graduation party. It was a great party, full of notable professors and Davis celebrities. We spent quite a while talking to one woman who turned out the be the former mayor, lampooned on the Daily Show for building a toad tunnel.
Once the party ended, we drove back to Fair Oaks and had a quiet evening soaking in the hot tub.
Seth made us french toast on Monday morning and we went for another bike ride. This time we went south along the river and much faster. Our final total was 18 miles with a 17 mph average. Taking photos from the back of the bike was fun, also scary:
We stopped for lunch at a vegetarian burger joint called Sunflower Drive-In (get the nutburger patty melt). We packed up the car and headed back to SF at 3:00.
On our way back we stopped at Target in Sacramento for laundry detergent and other goodies. We don't have one in the city, so it is a treat. We quickly dropped into a huge new eco-Wal-Mart on the other end of town. It was gigantic and I don't think I'd shop there, but it was impressive to see the company going so green. Our last stop on the way home was the J.Crew outlet in Vacaville to load up on sweaters and basics.
We made it home to our lovely city at 7:00. After so long in slow suburbia, the city seemed to be absolutely bustling!