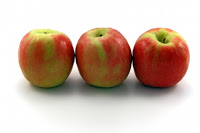 Recipe: Easy Apple Galettes
This easy recipe makes a simple dessert and a good breakfast the next day. You can experiment with all sorts of fruit mixtures inside.
1 refrigerated pre-made round pie crust (or make your own if you're fancy like that)
1 large sour apple
1 lime or lemon
2 teaspoons granulated sugar.
2 teaspoons brown sugar
1 teaspoon cinnamon
Ginger, nutmeg, etc to taste.
Pre-heat the oven to 450. Unroll the pie crust and cut into 8 triangle "slices." Cut the apple into one inch by quarter inch slices. Mix with lime juice, sugars and spices. Arrange 5/6 slices of apple on each pastry square. Your apple should fill all eight pieces. Fold in the edges a bit to make a loose tart shell on each. Bake for 15 minutes or until light brown. Let cool on the sheet.