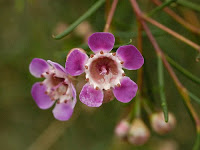 Things I Love Today: Waxflower
Waxflower is under-appreciated as a common filler for rose bouquets. With bright pink blossoms and a light "daffodil" scent, these $3 flowers are a great value for spring on their own.
I replaced my tulips in the two low green vases with bright pink waxflower from Safeway over the last weekend. They're still going strong.