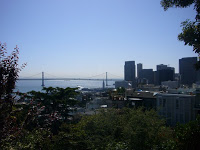 I had such a nice day off yesterday! It was a perfect multicultural San Francisco vacation bundled into 12 hours. I feel like I went around the world:
Paris – First stop was breakfast at the French boulangerie down the street, Cafe du Soleil. A giant latte and a ham and cheese croissant along with a couple New Yorker articles.
My plan was to then go to the Wells Fargo History Museum downtown for an hour. It turned out to be a lot smaller than I expected. So I decided to keep on walking!
Italy – North Beach on an empty weekday morning is a far different experience than on crowded nights, as I'm used to. It's lovely! I walked through the quiet, sunny neighborhoods and felt just like I was in Europe. This culminated in a hike up to Coit Tower, which I had never seen. Great murals and an amazing view of the city. On the way back down, I sat in Washington Square park for a while.
Greece – Heading back downtown, I stopped into a Greek cafe on Montgomery street. There are three in a row, must be some mini Mediterranean neighborhood. A feta and spinach pie did the trick perfectly.
America – Shopping could be anywhere, but I'll count it for the good ol' US. I went to Forever 21 to exchange a skirt for a bunch of inexpensive necklaces. And visited Bloomingdale's, Nordstrom, Anthropologie and Neiman Marcus to look for bridesmaid dress options.
At 1:45, it was time for my spa treatments. La Belle was pretty nice. Great bathrobes and some little extras to help you feel pampered (hot foot wash, fireplaces, warm flax seed pillows for your neck). My facial and pedicure both went well and I took advantage of the hot steam showers.
Back on the subway at 4:30 to chill at home. At 5:30, my visiting friend from Salt Lake City called about dinner plans.
Japan – We agreed to meet at Blowfish at 6:15. I decided to walk, which is about a mile and a half. I think I over did it a bit, with this and all the walking from the morning. We enjoyed happy hour at the bar (tempura pistachios!) and then a sushi-filled feast.
Taxi back home at 9:30. My back was burning at this point so I just flopped on the sofa until bedtime. I slept really well after this big adventure!