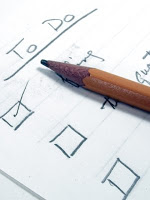 Wedding Wednesday: The Day
Wedding Wednesday is early because I'm off on a spa day!
It's funny, of all the things I've planned for this wedding…the actual wedding timeline hasn't received that much thought. Ha ha….okay, now I going to freak out.
We had been planning on the ceremony starting at 2:30. But that time looks a little weird on the invitations instead of an even "o'clock." Plus, that's six hours of wedding and reception. A long time for guests to commit, even it if it is a super fabulous party.
Sooo….back to the drawing board? Let's see:
2:00 – Shuttle from parking area starts.
3:00 – Ceremony.
3:15 – Ceremony actually begins…stragglers!
3:40 – Ceremony ends. Cocktail hour.
5:00 – Dinner.
6:30 – Dinner ends. Cake and coffee are served.
7:00 – Variety show.
8:30 – Grand finale. Guests leave.
I'm such a detailed planner that just thinking about this nitty-gritty schedule for this day makes me stress out. Once I get this piece done, I can build it out for the morning of and day before and start doling out tasks to generous helpers.
What do you think? Does anyone have a timeline for their wedding that they loved?