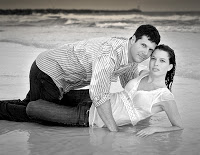 Wedding Wednesday: Engagement Photos
Rob and I are doing our engagement photo shoot on the 26th. I think I want to get a little more dressed up than the traditional sweater and jeans recipe. Maybe a cute dress for me, slacks and shirt for Rob? And some sort of prop…A vintage suitcase to go along with our honeymoon road trip?
And you know what I will not be doing? I will not be getting soaking wet in the ocean a la Deborah Kerr…crazy people!