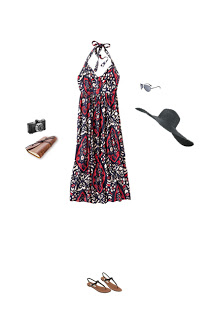 Ignoring the fact that it is currently 55 degrees outside in foggy San Francisco for a moment, let's think of warmer days. I bought this sundress at Old Navy last weekend for my honeymoon collection. I don't normally wear this sort of thing, so I'm planning ahead.
Dress – So cute for only $24!
Hat – I have zero tolerance for the sun.
Sandal – I love the look of these on other people, not sure how they do on my twiggy pale legs.
Sunglasses – My latest aviator acquisition.
Will I fit right in in Santa Fe? Will I automatically insist on carrying a cardigan with me everywhere just in case the "fog rolls in."