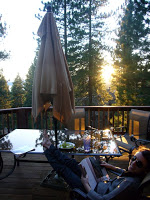 I'm feeling a little "delicate" today after coming back to the city from Tahoe at 1:30 am last night. Other than this late night dash across California, this was a fun little weekend.
We drove up to Tahoe on Saturday morning for our friend's wedding weekend. Rob and I made it to Kings Beach and the rented cabin around noon. There were a ton of old friends from Rob's college days in town; great for catching up. After chatting for a while, we went to the Char-pit for a light lunch and waded around in the water at the beach.
Feeling out of shape, we came up with the bright idea of buying a ball and playing catch on the sand. The only one we could find was this rock-hard glow ball. After the first two broken nails, it added an element of danger to the game….after the busted lip, I started to re-think the plan.
Back at the cabin, I sat on the deck with an 800-page Vogue and a bowl of jalapeño stuffed olives for an hour or so, watching the sunset. Lovely!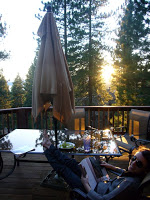 Once it got cool, Rob and I spent the evening in and out of the hot tub. Up late with all our friends. Finally turning in to the walk-in closet that was our room for the night around 1:30.
Lazy breakfast on the deck the next morning. Everyone showered and dressed for the wedding and took off for Homewood around 12:30. Our outdoorsy friends arranged for their wedding ceremony to take place on the top of the ski run at this resort. Providing for an entertaining ride via ski lift and a gorgeous view of the lake. Adorably, the bridesmaids and bride "processed" to the ceremony on the ski lift too.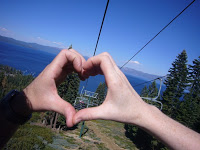 After the ceremony, we took the lift back down and drove back to Kings Beach for the reception. The hall they chose was right on the beach with another great view. They decorated with red lanterns and fire and ice roses. The groom's brother – a music major – composed a wonderful classical piece and made a slide show to accompany it for the pre-dinner entertainment. The father's toast was such a tear jerker…I don't think there was a dry eye in the house.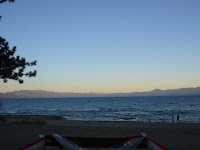 After dancing the final rounds of "shout" and "hot, hot, hot" we grabbed our bags at 9:30 and drove back to San Francisco. Very tired. But feeling inspired about our own wedding in just 12 days.