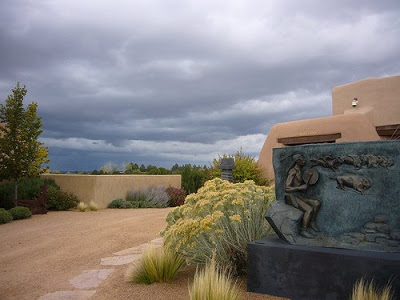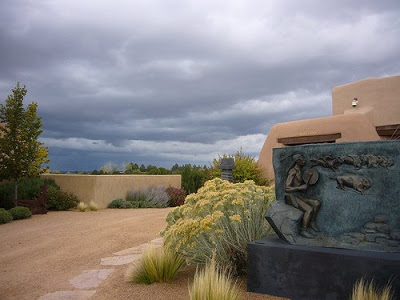 Thank heavens that our time in New Mexico improved vastly after our first night. We drove to the square in Taos and had great coffee at a little cafe. We spent a lovely morning at Taos Pueblo; taking a tour with a local guide, buying from the artists and sitting by the creek. The adobe villas there have been occupied continuously for 1,000 years.
Onward to Santa Fe from there. We booked two nights at the Sage Inn in the new Railroad District and settled in. We walked around town and had a green-chili-filled dinner at The Plaza Cafe. The brightly lit churches downtown made for a romantic stroll.
The next day, we bought freshly made red and green chili powder at the farmer's market, saw the Georgia O'Keeffe Musuem and visited the pueblo-style home of my fancy great aunt and uncle for lunch. By this time, dark clouds were rolling in. While we were at the Museum of Indian Arts and Culture, a huge hail storm passed through. Chinese for dinner that night.