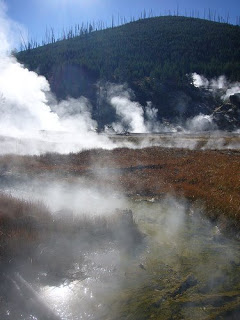 We left Sundance and headed to Yellowstone, kicked out of eden as my mom said. We passed Craters of the Moon and Macks Inn on the way, and were in Montana for about 15 minutes before crossing into Wyoming.
We camped the first night at Norris near a field of sulfur springs. It was a very cold night even with a bonfire and extra blankets! So we moved to much warmer Mammoth for the rest of our stay. I love camping! I had never been before I met Rob, so it's a special part of us.
Yellowstone is an amazing, if not quite attractive, place. There are hundreds of different "thermal zones" that bubble and spit sulfur water. We tried to hike at least 3 miles everyday and saw buffalo, elk, mountain goats and all kinds of birds.